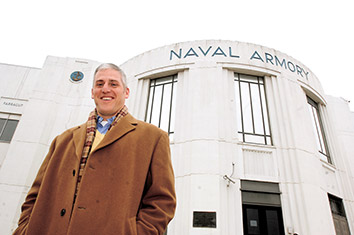 As an attorney who was being deployed by the U.S. Navy Reserve to serve his country, there was no question that he would go. The support received from his firm for the year he was away made the experience manageable.
U.S. Navy Reserve Commander Rodney Retzner, a partner and chair of Krieg DeVault's estate planning and administration practice group, has been in the U.S. Navy Reserve since the late 1990s. But he's been with the U.S. Navy since he graduated from Rose-Hulman Institute of Technology in 1990 with a degree in mechanical engineering.
In his last year at Rose-Hulman, he saw the Navy booth at a career fair and decided to enlist. While an active member of the Navy, he received his Master of Science in nuclear power, helped run a nuclear power plant in Charleston, S.C., and spent time on the USS Alabama – the submarine featured in the movie "Crimson Tide."
 
Jeffrey C. McDermott, Retzner's friend and the executive partner to the firm's Hamilton County offices, said he once saw Retzner's very brief cameo when he caught a scene that was shot on the submarine while Retzner was serving there.
In 1995, Retzner went to University of Cincinnati College of Law and received his Juris Doctor in 1998. He's worked for Krieg DeVault since that time. Until recently, his U.S. Navy and legal experience rarely, if ever, intersected. But in the last few years, he has had the opportunity to call on his experience with nuclear power as part of the firm's alternative energy industry group.
When he told the management team that he may be mobilized in 2009, there was no question that they'd support him. Retzner said he had the option to bow out of the Navy if he didn't want to be mobilized, but because he had never received that call before and had spent all those years as a reservist, there was no question in his mind that, if needed, he would go.
The firm had not experienced the deployment of a partner, McDermott said, at least not in recent history. They wanted to make it work for Retzner.
McDermott said the firm also considered Retzner's wife, Denise, and their four sons, now ages 18, 10, 8, and 6, while Retzner was actively serving. The firm worked with Retzner on financial support for his family and his client relationships for the year he'd be away.
Retzner also said that he realized his job, no matter where he was deployed, would be much easier than what his wife, who would stay behind and need to run a house with four kids, would be faced with handling.
He returned to his practice in mid-January and the transition has been seamless. "Some of his clients may not have realized he was gone for a year," McDermott said.
While on active military duty, Retzner kept in contact with clients and remained involved in their projects as much as he could, he said, as long as the work didn't interfere with his military service. He was also able to visit his family at least once a month and would sometimes meet with clients while in the Indianapolis area.
The deployment
Retzner received orders in October 2009 that he would serve for one year starting in January 2010 at MacDill Air Force Base in Tampa, Fla., working with the U.S. Central Command, a joint effort by all branches of the military to cover the area of the world between the European Command and Pacific Command. His role was to work in the Coalition Coordination Center to provide support for other countries involved in Iraq and Afghanistan.
He left home for active duty Jan. 8, 2010, and returned to his practice full time Jan. 10, 2011.
At one point, Retzner was told he might be sent to Iraq. The closest he got to the Middle East was a trip to Germany for a Central Command meeting in August 2010 that involved coalition forces from about 60 different countries.
His 2010 deployment also involved a rare intersection of his legal and military backgrounds. His first assignment was a desk officer's role, focusing on five countries, and as the desk lead of the Maritime Operations Desk.
Less than a month after he started, he was promoted to oversee the operations side of the Coalition Coordination Center as deputy chief of operations. In that role, he was only a few steps under General David H. Petraeus, then later under General James Mattis.
There he used his skills of negotiation and contract writing, including memorandums of understanding between the U.S. and the countries involved with the coalition forces.
The efforts of Retzner and a team of officers produced new forces for Afghanistan from more than 10 partner nations, more than 4,000 coalition personnel who would support operations "Enduring Freedom," "Iraqi Freedom," and "International Security Assistance Force." The team of officers also handled logistics and support for more than 50,000 coalition personnel already in Afghanistan.
At the end of his service, both Retzner and his wife received awards for their efforts. Retzner received the Defense Meritorious Service Medal and his wife received the Military Spouse Award from Army Major General Steven Hashem, a two-star general Retzner worked for during his deployment.
The certificate that was awarded with the medal to his wife, Retzner wrote, says it all: "The Spouse does not wear a uniform yet they serve their country. They do not acquire nor wear ribbons showing where they have been yet they go. They did not ask for the duty they perform yet they unwaveringly serve to their best ability. … The [medal] signifies the lonely nights you have spent and that you have kept the home fires burning … the unwavering devotion you have shown for your spouse and their service to their country. This Medal is gratefully given to those that do not ask, those that stay on the home front so that their spouse can serve for they also proudly serve their country."
Retzner also reflected on a few historical events that occurred while he was on duty.
He witnessed Air Force cargo jets that took supplies to Haiti following the January 2010 earthquake; from his office window, he saw the U.S. president disembark from Air Force One when he visited; he was there when Central Command provided support to Poland after a number of that country's high-ranking officials, including the president, died in an airplane accident; and he helped support people affected by flooding in Pakistan.
"Of course, my individual role there was minimal given the 3,000 other members on that staff but the contributions of U.S. Central Command, taken as a whole, had and continue to have significant, real world implications. It was truly a remarkable experience to be part of it," he wrote.•
Please enable JavaScript to view this content.