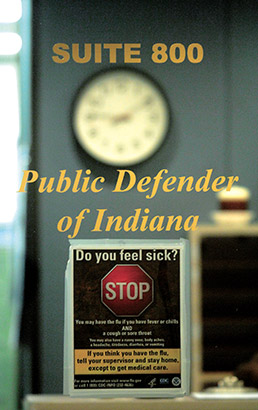 If there had been more job prospects for English literature graduates in the early 1970s, Susan Carpenter may not have ever become Indiana's state public defender.
Shifting her focus and going to law school in Bloomington paved the way for her to become a historical force for Indiana's public defense bar. Under Carpenter's leadership, the state's public defender agency has entered new and sometimes murky legal waters that the state agency had never faced before.
During her 30-year tenure, Carpenter has reinforced and strengthened the state's longstanding appellate defense standards while navigating an exploding prison population, creating a capital defense unit at a time when the death penalty was being reintroduced nationally, and stopping Hoosier trial judges from violating state and federal laws relating to juvenile incarceration.
"We don't win a lot of cases, but the ones we do are very meaningful," Carpenter said. "I'm very proud to be a part of what this office does."
Carpenter is retiring in May from the position that has put her in charge of ensuring representation for indigent prison inmates and those challenging convictions and sentences. She followed in the footsteps of the late Harriett Bailey Conn, who died suddenly in mid-1981.
During Carpenter's tenure, the office has tripled in size.
"She earned the respect of the bar for her lifetime of distinguished service in pursuit of the civil rights and liberties at the core of our democracy," said Indiana University School of Law – Indianapolis professor Fran Watson, who worked with Carpenter in the state public defender's office in the late 1970s. "She will be missed, but the mission will continue, much strengthened by her leadership over many years."
A graduate of Indiana University Maurer School of Law, Carpenter has been practicing in the state public defender's office since August 1976 when she joined as a deputy state public defender. She left for a brief period, but returned when her former boss died.
She completed her undergraduate work with honors from Smith College in Northampton, Mass., in 1973, but Carpenter says the forecast was dim for finding a job with her English language, literature, and Spanish education. So she turned to the law, despite not knowing much about it and having no family connection to the legal community.
"But I liked to read and had read a lot, so I figured it would be a good fit," she said.
Carpenter recalled that she had always been interested in criminal law, and a deputy state public defender had visited the law school about "alternative legal careers" outside traditional law firms, so after graduation she applied to that office. When Harriett Bailey Conn hired her, Carpenter said she was the first female deputy to be hired by the first-ever female state public defender.
"At the time, people were concerned about how clients would respond to us … because there weren't a lot of women public defenders then. But it was never an issue," she said.
Carpenter describes it as an "honor and privilege" to have served in that position, but she doesn't hold herself out as anything more than a person who was a part of a larger legal team that continued the long-established role of state public defense in Indiana. The state established the right to counsel on capital cases in 1854, and the Indiana Supreme Court in 1883 became one of the first nationally to establish post-conviction remedies, she said.
Those traditions are what she's worked hard to carry on, Carpenter said. But she's been able to take on many new challenges and novel issues in carrying out that function.
Overall, caseloads have skyrocketed in recent decades, in large part because of rising prison populations that have quadrupled in the past 30 years and created more demand for the state public defender's assistance. The office has about 1,150 cases ongoing, including two capital cases.
When Carpenter started as a deputy state public defender the office had 23 staff members. The number is now at 67. In those early years, and as a result of the growth experienced during the 1980s, Carpenter said the office didn't have any discretion over which cases it took. They couldn't say no, she says. But litigating every case wasn't practical, and the court eventually offered some discretion in the early 1990s, giving the public defender's office the ability to decline any cases that might not create any present consequences to a sentence or convict.
"We have a backlog, and there are more people in prison than we can get to," she said. "But not having to investigate a 1955 burglary conviction for a murderer in 1995 when it wouldn't do anything gave us more options."
 
Looking back over the years, Carpenter describes the capital defense unit and issues relating to juvenile incarceration as the two issues that have led to the most interesting and unique aspects of her work. When she began practicing law in the late 1970s, capital punishment was prohibited. The Supreme Court of the United States ruled in 1972 that capital punishment was unconstitutional, effectively putting a hold on executions. Executions were allowed again in 1977, but the practice didn't resume in Indiana until 1983.
"This state hadn't had any capital death penalty cases since before I was in law school, and so in many respects nobody knew how to do capital litigation," she said.
Carpenter found herself in another unique situation in the late 1980s after the U.S. government determined that Indiana had been sending all juveniles to adult prisons, in violation of the Juvenile Justice and Delinquency Prevention Act of 1974 that then-Sen. Birch Bayh had helped craft. The state could have lost federal funding by not complying, so the federally funded Juvenile Jail Removal Project was born in 1989. Because the state public defender's office was charged with handling post-conviction cases and appeals, Carpenter determined she needed Indiana Supreme Court authorization to intervene on the juvenile detention issues. The court issued an order in 1989 allowing that, with only Justice Alfred Pivarnik dissenting because of home rule concerns.
Carpenter traveled the state meeting with judges, attorneys, and court officials to work out how judges would detain juveniles before adjudication.
The effort resulted in the 7,372 violations previously found being reduced to only about 200 within three years, and Carpenter said the state has remained compliant since then. The Department of Correction ultimately allocated money for local jails and holding facilities to be renovated or expanded to accommodate juveniles, and Indiana has more than two dozen juvenile detention centers statewide.
"Judges were basically between a rock and a hard place about where to put these kids, especially if they were repeat runners or offenders," Carpenter said. "Not everyone was thrilled about us coming in and doing this at the time, but everyone pulled together and we prevented any lawsuits that might have happened otherwise."
In addition to those issues, Carpenter's office has been involved in the appeals of four convicts who were ultimately found to be wrongfully convicted.
"One thing about this job is it's never boring," Carpenter said. "The law evolves and so this always moves and stays interesting. I'm just proud of what we have here in Indiana, because in many states there isn't a separate office or right to counsel in this way. That's appalling to me, and shows Indiana is quite unique."
Chief Justice Randall T. Shepard said that Carpenter's ability to be both zealous and elegant has allowed her to do one of the toughest jobs in government and that has made Indiana a place of greater justice.
"She leads that office in a way that's very effective without much backlash, and that's not a small thing," he said. "You have her at the helm of one of the 20 largest law offices in the state, and she's nurtured and trained a cadre of people who have gone out and worked to make Indiana able to do what it does. They all reflect that we're tough on crime while at the same moment devoted to basic fairness."
The chief justice said Carpenter has a job that is unpopular, especially since those being defended have already been convicted at some stage in the legal process. But it's an essential role that Carpenter has helped continue and strengthen in the past three decades.
With her retirement effective in about three months, the court is working on finalizing the process to appoint a successor. Court spokeswoman Kathryn Dolan said those details will be announced soon.•
 
Please enable JavaScript to view this content.