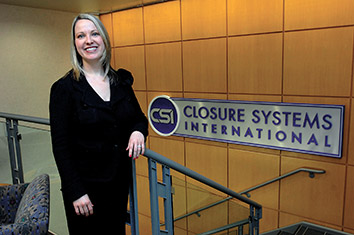 A soda or water bottle on the desk at work or a jug of juice in the refrigerator at home might be merely a refreshing drink for most people.
But it's a day at the office for Stephanie Blackman, a corporate attorney in the business of bottle caps or, as they are known in the food and beverage industry, closure systems.
As a vice president and general counsel at Closure Systems International (CSI), the Vanderbilt University Law School graduate works as the sole legal counsel for the Indianapolis-based company that has 31 manufacturing sites in 20 countries worldwide.
Though her position may entail some of the same legal responsibilities that other corporate counsel face in their jobs – human resources, contract review, corporate governance, and product review – Blackman's position is unique in that it was created specifically for her about three years ago when the Indianapolis office opened.
 
"This has really been different from private practice, but it's been eye-opening, rewarding, challenging, and fun for me," Blackman said. "What I've noticed most is that with in house, there are a lot of balls in the air all the time."
While in private practice she was able to focus on one case for a long stretch of time, now Blackman said her days involve much more project management and she must be diligent about keeping all of the balls in the air.
After graduating from law school in 2001, Blackman and her husband decided to move to Indianapolis despite not having any family or personal connections here – they just liked the city and what it offered, she says now. She began her legal career in Indianapolis working as an employment and labor law associate at Barnes & Thornburg.
On March 1, 2008, Alcoa completed the $2.5 billion sale of its packaging and consumer businesses to the private New Zealand company Rank Group Limited that included CSI, Flexible Package, Reynolds Food Packaging, and others. At the time, the packaging businesses had approximately 9,300 employees in about two dozen counties worldwide.
But there wasn't an Indianapolis office, and within three months Blackman had traded her private law firm office for the new corporate counsel position. It was one of many other jobs created because of that sale, but Blackman says hers was and remains the only legal position here.
Her boss, CEO Lance Mitchell, said the legal position was created specifically because of the sale and subsequent revenue growth that's meant new products, geographic expansion, and acquisitions.
"As one would anticipate, that growth has created a higher legal workload in intellectual property, customer contracts, purchasing contacts, and manufacturing footprint agreements," he said, pointing to the first reason for the job's creation. "The second reason is that Stephanie earned the opportunity for increased responsibility and career growth due to her demonstrated performance since joining our company."
Responsible for all of CSI's international business, Blackman's scope of business includes the type of labor and employment work she once did privately, along with commercial and real estate issues and general corporate governance.
The nature of this closure business has changed dramatically during the past decade as the industry has been transformed by economic and environmental changes. These changes have translated to the creation of smaller, more lightweight caps and a growing trend to be more "green." A standard 20-ounce bottle now has a closure about two-thirds to one-half the size of what it used to be, while a bottle of water might have a cap that's half the original size. For those in the closure business, that means making caps with less surface area for someone to grip when opening or closing – a focus that gives Blackman much to do in the area of patents and intellectual property.
That IP area is one that Blackman says she's found to be among the most intriguing aspects of her job.
"We're talking about plastic closures – bottle caps – and they are surprisingly complex. There's a whole range of IP issues wrapped up in any closure because we're trying to create the best, lightest, smallest, and most tamper-resistant closure," she said.
The company holds patents across the globe, and that means exposure to many differing cultures and laws within those countries, Blackman said. Most of the time, she deals with one specific geographic location and doesn't need to compare laws between that region and the U.S., since the manufacturing sites and offices are located as close to the customer as possible.
"This company has such a global footprint, I don't see much interplay between the U.S. and foreign laws," she said. "I'm more able to make comparisons between our laws and theirs, and there have been a lot of surprises. Nothing radical or bad, just some things I didn't expect and make this work even more interesting."
For example, Blackman pointed to China where legal documents have to be signed in a certain type and color of ink – something that doesn't warrant differences in legal strategy or policy but offers a twist that must be kept in mind when dealing with legal issues in that country.
"A seemingly easy task of getting something signed becomes a little more complicated because of different customs," she said.
To keep up on some of those differences, Blackman said she tries to make at least one international trip each year. The company is divided into regions, and she goes to one of those spots to visit. This year, her plan is to visit the Asia-Pacific region.
No matter what she's doing or where she's at, Blackman said she tries to keep a sense of humor and good attitude about the work. An open-door policy making the legal department accessible and pleasant for everyone is very important to her, she said.
A resource Blackman said has helped her through the years has been the Association of Corporate Counsel. Blackman has been a board member for the Indiana chapter since 2009, giving her the chance to network and participate on the national level.
That has helped her to learn some of the nuances of the corporate counsel world that she is not able to learn from a mentor or fellow in-house lawyer at her specific company.
"The thing I love the most about being in house is that everyone within the company is on my team," she said. "I'm very focused on creating solutions to any issues and trying to prevent problems that might come up."•
Please enable JavaScript to view this content.