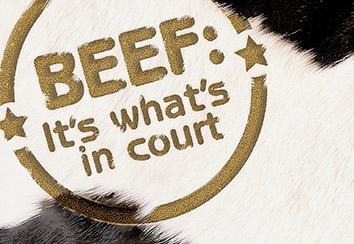 Before taking on a livestock bankruptcy case stretching into multiple states and encompassing millions of dollars, Indianapolis attorney James Knauer hadn't had much exposure to the cattle industry.
He'd handled millions of dollars in Ponzi scheme, investment and transactional cases and oversaw the management of missing cemetery funds, but cattle weren't on his radar until late last year.
Now that the veteran attorney is serving as U.S. trustee on a massive cattle fraud case against a collapsed Indiana livestock brokerage company, Knauer's perspective has changed and he is doing something that has more twists than what he's been exposed to in the past. The need to keep all parties in the litigation informed has led him to turn to the blogosphere to help get word out about how the bankruptcy case is progressing.
 
"This is pretty unique, not just the business of cattle being at the center of it, but the kind of fraud that occurred isn't something you see every day," said Knauer, a partner at Kroger Gardis & Regas. "Every time you get involved in a case involving white collar crime or fraud, they're all unique to an extent and it's tough to relate them. But this presented some new areas for me."
Southern Indiana's Eastern Livestock Co., formerly one of the largest cattle brokerage companies in the country with operations in multiple states in the South,
Midwest, and West, was forced into an involuntary Chapter 11 bankruptcy by its creditors in December. That happened a month after Cincinnati-based Fifth Third Bank froze the brokerage's accounts based on allegations that the large-scale cattle brokerage ran an elaborate check-kiting scheme. An Ohio court complaint from November shows that a bank audit discovered what Eastern Livestock owner Thomas P. Gibson had been doing.
That investigation showed the brokerage company reported $3.9 billion in sales for fiscal year 2010, more than three times the amount that had been reported a year earlier. Money was being moved from the Fifth Third Bank in Ohio to Gibson's own account at Your Community Bank in New Albany, and an investigation showed the purpose of the transactions was to manipulate the communications lag between financial institutions in order to create an artificial balance that Eastern Livestock could then withdraw from.
Days before hot checks started hitting last fall, the lawsuit says that Gibson deposited $7.9 million into Eastern Livestock's operating accounts, and the money was then withdrawn and deposited into the other account. Funds were ultimately frozen after the company defaulted on a $32 million loan and was overdrawn by millions of dollars.
A Grain Inspection and Packers and Stockyards Administration investigation estimates Eastern Livestock owes more than $130 million to 743 cattle settlers in 30 states, the result of bad checks written. Now, hundreds of those creditors and cattle industry players are wrapped up in the bankruptcy proceedings in the Southern District of Indiana. Knauer is responsible for winding down Eastern Livestock's business, executing outstanding cattle contracts, and figuring out where the money went.
The FBI in January seized $4.7 million from Gibson's bank account, and that money appears to have come from Eastern. Knauer said the FBI won't keep the money and plans to distribute it to Eastern Livestock's victims, but details haven't been finalized on how that will happen. One possibility is for a receiver to be named in the bankruptcy case, allowing creditors to file claims and have the money properly allocated.
"One of the unusual aspects of this case is the FBI seizure of that bank account, and you have the criminal system and bankruptcy court processes intertwining," Knauer said. "That's almost a new emerging area of law, where these criminal justice seizures are colliding with the influence of the bankruptcy… that's a hot ticket right now."
Nationally, the collapse of such a large cattle brokerage company has hit the livestock market hard in many states. Indiana hasn't suffered much, despite Eastern Livestock being based here, but larger livestock states such as Kentucky, Oklahoma, and Texas are among the hardest hit.
"This has quieted down some since it first came out, and luckily our state's impact has been minimal compared to others in the Midwest and southern states," said Joe Moore, executive vice president of the Indiana Beef Cattle Association.
Early on, Indiana saw some impact based on money received from Eastern Livestock for cattle bought. The association received $1 from every head of cattle sold, as it goes to the qualified beef counsel for the particular state of origin. The Indiana association saw some initial remittance checks from states of origin, but of the $25,000 to $30,000 of cattle going through Eastern Livestock each month, Moore said that fewer than $500 was from Indiana because most don't use those large-scale brokerage companies. Instead, most rely on the 23 smaller businesses located statewide.
This has been an expensive but significant lesson for those in the industry, Moore said, signaling that more regular audits need to be done of these types of cattle transactions, especially for larger outfits.
"But while it hasn't hindered the process here in Indiana, this mess has put some cattle producers to the point of bankruptcy," he said.
Knauer said he still doesn't know the total number of people and businesses in the livestock industry that this has impacted.
The entire case entails some different aspects from regular commercial disputes he's used to, Knauer said. The industry is replete with unusual contract forms because most involve multiple livestock and multiple parties, between the cattle raiser and seller, broker, buyer, and auction house. Knauer said many transactions aren't well-documented or paperwork isn't helpful in this type of meltdown.
As a result, that's caused many contract disputes over what everyone's rights are, he said. Knauer obtained court permission to immediately sell most of the remaining cattle inventory as soon as possible, and any liens attached to the cattle would be transferred to the proceeds. Other cattle purchasers didn't know what to pay Eastern, and it was a mess.
Interpleader actions surfaced nationwide from feedlot owners who paid money owed to Eastern into a local court, so Knauer pushed to have all of those suits removed to the Indiana bankruptcy court so that inconsistent procedures weren't adopted. A list of those actions and progress is on the webpage Knauer set up for this case, as well as a blog he's posting to periodically to update aspects of the litigation.
He's writing and updating online at www.easternlivestockbkinfo.com. Over the course of a few months, Knauer has posted invitations for parties to make claims about owed funds or payments and about findings such as discovering that someone wrote a $578,000 check for a cattle shipment and apparently used the signature stamp of someone who died long before the check was issued.
"My thinking for doing this blog is that we could post information about hearings and general progress of the litigation as a way to let people know what's going on and developing," he said. "There's a whole host of issues that have yet to come to light publicly, and can't because of the legal restrictions, but I'm enjoying being able to update as we go along."
Despite the size, significance and interesting nuance of a case involving cattle, Knauer said this case is similar in many ways to what he's done before.
"Other than the unique laws that I've mentioned, a lot of it is still just an enormously large amount of commercial law disputes," he said. "When you boil it down and look outside the fraud and cattle, the case itself is about checks and payments and sales issues. Whether it is cattle or automobiles or anything else, the issues tend to be similar in the end."•
Please enable JavaScript to view this content.