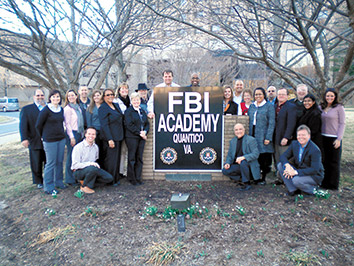 To continue to improve community relations, the Indianapolis office of the Federal Bureau of Investigation has expanded its Citizens' Academy programs. Sessions in Indianapolis as well as northwest and northeast Indiana, and day-long programs for organizations around the state, offer individuals the opportunity to get a behind-the-scenes look at the federal law enforcement agency.
"We are targeting non-law enforcement individuals and are specifically seeking top business/minority/religious/civic leaders who are active within the community and may benefit from an insider's look at the FBI. From the nominees received, a class of 30 will be selected. All applicants will have to undergo a limited background investigation," Kathy Sipes, FBI community outreach specialist, wrote in an e-mail seeking applicants.
The program consists of eight evening courses that include discussion from FBI experts on a variety of topics including terrorism, foreign counterintelligence, violent crimes, organized crime, drugs, civil rights, and white-collar crime. Also included is a "range day" where participants have the opportunity to see a SWAT team demonstration and shoot FBI-issued guns with FBI arms instructors.
During the 2010 class, participants learned not only what the FBI does, but how and why. The agents discuss how they train agents on legal issues so they do not violate anyone's civil rights.
Legal issues are also addressed during a session on deadly force. Following that discussion, participants can use a firearms training simulator that displays various scenarios on a large screen. It's up to the individual to decide if or when to shoot.
Following these scenarios, which include a carjacking in a parking garage, a kidnapping, a drug bust, and a woman who uses martial arts against the officer to get his or her gun, an FBI agent will show which shots hit a target. The agent will explain what went right or wrong in the scenarios.
Following the session last fall, agents noted that the participants took the activity very seriously and ultimately walked away with a better understanding of what actually happens in these situations in real life.
Irving
There was also a memorable session that included the story of a woman whose children were abducted and taken to her home country in Africa. In that situation, the woman worked with a family law attorney, as well as the FBI and others, to ultimately reunite with her children a few years after their father took them away.
At the end of the eight-session program, participants meet with the agents at a reception and receive plaques for their commitments.
Each spring, participants from the previous fall class in Indianapolis have an opportunity to travel with a group of other Citizens' Academy alumni to the FBI training facility in Quantico, Va., and FBI Headquarters in Washington, D.C. In early March, a group from Indiana, including three attorneys and other community leaders from around the state, traveled east for this experience that gave participants an expanded, behind-the-scenes look at what the FBI does.
At Quantico, visitors saw Hogan's Alley, a mini-town with various types of housing, hotels, a used car lot, business fronts, and even a movie theater where FBI agents interact with actors in various real-world scenarios. Participants also visited the Tactical and Emergency Vehicle Operations Center where agents learn how to react to scenarios involving automobiles.
In a warehouse setting, participants marveled at the number of windowless white doors that agents will eventually break through during SWAT trainings. Visitors walked through a portion of an airplane to see many paintball-like splatters from past training exercises.
Participants were fascinated by their conversations with FBI laboratory and criminal behavioral science experts and the descriptions of their jobs in Quantico. They explained the differences between the dramatized versions of these jobs as seen on television and in movies, and how long it actually takes for them to do their research.
At FBI headquarters, experts discussed national security when it comes to chemical and biological warfare and the role of legal attachés who work with foreign countries through U.S. embassies.
Charles Dunlap, executive director of the Indiana Bar Foundation, was among those who traveled to Washington, D.C., in early March. He was in the fall 2010 class in Indianapolis.
After last fall's Citizens' Academy, he said, "I came away with a lot of respect for the broad array of things that the FBI does as well as the dedication and professionalism that the members of the FBI have to their work. … I was extremely impressed with the work that the FBI Academy does and how much new special agents have to learn before they graduate.
Alumni of FBI Citizens' Academy classes in Indiana traveled to Washington, D.C., March 2 to 3, including a visit to various FBI training facilities at the FBI Academy in Quantico, Va., March 2. (Provided photo)
"The focus on doing their work inside the limitations of the Constitution and individual rights was also something that, as an attorney, made an impact on me," he continued. "Sometimes you have preconceived notions about police agencies and their level of respect for civil liberties and the various individual protections in our Constitution and laws, but I was certainly very pleased to see how serious the FBI was about (how much) they stress what is legal and acceptable in our society under the rule of law. In my mind, that respect and adherence to the limitations they face as a law enforcement agency under our constitutional and legal system only served to increase my level of respect and support for their work and the people who work to keep our society safe every day."
Another attorney on the trip, Marisol Sanchez of Bose McKinney & Evans in Indianapolis, also enjoyed her experience. She was in the Indianapolis class in 2007 after her husband, attorney Rafael Sanchez of Bingham McHale, participated in the fall 2006 Citizens' Academy in Indianapolis.
"I wanted to be more educated on what the FBI does and how we as citizens can assist the FBI in carrying out its duties," she said. "I also believe it is a great organization in which to be involved as an attorney because there are different aspects of the FBI and the role it plays that may intersect with my path as an attorney. … It was such a great and fun experience that connected me to so many people and as an alumnus, it continues to do so. The trip was the icing on the cake and brought to full circle and into perspective what we had learned about through the academy. I highly recommend this to anyone."
Dunlap
A third attorney on this trip, Shontrai Irving, a corporate attorney with State Farm Insurance Litigation in Crown Point, also enjoyed his time in Washington, D.C. He participated in a Citizens' Academy class in Merrillville in spring 2008.
Organizations that would like to host a shorter version of Citizens' Academy, known as the FBI Community Relations Executive Seminar Training, or CREST, can work with Sipes to set up a session. Minimum number of participants is 25.
CREST event planners can choose two or three of the following topics: counterterrorism, foreign counterintelligence, cyber crime, public corruption, major thefts/violent crimes, white collar crime program, civil rights, and recruitment and hiring.
Applications, resumes, and cover letters for the fall 2011 Citizens' Academy program, which will take place Tuesday evenings Sept. 6 through Oct. 25 in downtown Indianapolis, are due April 15. For more information or for an application, contact Sipes at 317-321-6119, or [email protected]
Reporter Rebecca Berfanger participated in the FBI Citizens' Academy in Indianapolis in September and October 2010. She traveled with a group of Citizens' Academy alumni to Washington, D.C., March 2 – 3. That group included Irving, Sanchez, and Dunlap.•
Please enable JavaScript to view this content.