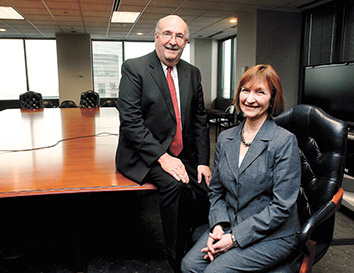 Two longtime leaders in the U.S. Attorney's Office for the Southern District are retiring this month, taking with them more than a half century of combined legal experience.
First Assistant U.S. Attorney Timothy M. Morrison, who served as interim leader three times during his 23 years in the office, is leaving; along with Christina McKee, who's spent 22 years as criminal division chief in this jurisdiction after a decade in the Northern District of Indiana.
Together, they have more than 55 years of legal experience. Two longtime staff members – a receptionist and paralegal who have helped run the office for the past couple of decades – are also retiring.
"Just because they're leaving doesn't mean that deep bench of knowledge goes away," said former U.S. Attorney Susan Brooks, who left the U.S. Attorney's Office for a corporate counsel spot at Ivy Tech about three years ago. "It is a lot of experience to lose at one time, but I'm certain the next generation has been trained well."
For Morrison, this ends a career that has repeatedly given him a chance to take over as interim leader while a new presidentially appointed U.S. Attorney was vetted and confirmed by the Senate.
He started in the office in 1988, after working as a chief deputy prosecutor in Monroe County and a supervisory deputy prosecutor in the Marion County Prosecutor's Office. The Indiana University Maurer School of Law graduate served as interim leader in the U.S. Attorney's Office for a total of five years, briefly in 1993, from 2000 to 2001, and again for more than three years from 2007 to 2010.
McKee has been leading the Southern District's criminal division since February 1989, capping the 10 years she'd previously served in the much-smaller Fort Wayne office where she handled both criminal and civil matters. She worked for a state trial judge and as a deputy prosecutor in Allen County before moving to the federal system, she said.
Their retirements come just months after the confirmation and investiture of U.S. Attorney Joseph H. Hogsett, but Morrison said the timing is directly a result of the federal government offering an incentive for longtime employees to retire.
They leave the office at the end of March, with their successors starting the first week of April. Josh Minkler, chief of the Organized Crime Drug Enforcement Task Force who's been with the office since 1994, will take over as first assistant U.S. attorney. Attorney Joe H. Vaughn, who's been with the office since 1995, will take over for McKee.
Morrison and McKee talked about how the U.S. Attorney's Office, as well as the legal community at large, has changed significantly since they began their careers, from the advent of computers and litigation technology to the overall litigation practice in court.
"The principles of lawyering are the same, but technologically it's where you can tell the difference in the office and what you do in the courtroom or preparing for trial," Morrison said, noting the evolution of computers and e-filing and e-discovery process that have been implemented gradually.
He laughed about how that's even changing the nature of how they prosecute cases, from relying on computer records, biological evidence, and even cell phones present at the time of an incident. His last bank robbery case about five years ago brought in a handful of cell phone calls and reports from people to use in the prosecution, something that just didn't exist back in the 1980s when he started.
"I haven't had anyone take a picture with their cell phone of a person robbing a bank, but it's bound to happen at some point," he said.
Morrison said he's been most fascinated with the general complexity of the legal work and watching the evolution of crime through the years. It is interesting to see how cyber crimes, he said, have given criminals and fraudsters more opportunity. Keeping up with the changing times has been a tough task, he said, but one that everyone in the office and system has helped do.
"Having the technological knowledge to protect yourself from this is one thing, but prosecuting this is even more intense," he said.
McKee said that while the types of crimes may have changed, the nature of what they do has not.
"It's still greed that drives a huge chunk of the crimes that are committed," she said. "So that's what we are here for."
From an administrative perspective, the leadership roles that Morrison and McKee have played and the respect within the office have motivated their bosses to maintain the status quo. Brooks described the office as a "well-oiled machine" when she started in 2001, and it would have served no purpose to replace either Morrison or McKee.
"That's why they have such a high conviction rate, because they understand judges and juries and know what a case needs," Brooks said. "That is probably one of the legacies they're leaving with the office."
The second time he served as interim leader, which lasted nearly two years, Morrison administered a move from the fifth floor of the Birch Bayh Federal Building and Courthouse to the current location on Market Street in downtown Indianapolis.
Defense attorneys praise the work McKee and Morrison have done through the years, establishing solid relationships and earning respect in the system. Indianapolis criminal defense attorney Bob Hammerle with Hammerle & Cleary and Larry Mackey with Barnes & Thornburgh, formerly in the federal prosecutor's office, said Morrison and McKee have made the U.S. Attorney's Office what it is today.
"No computer has the capacity to calculate the number of immensely important law enforcement decisions they've made over the decades, but there is no doubt about the great public good these two have brought to all of us," Mackey said. "Organizations take on the personalities of their most important leaders and the (Southern District) U.S. Attorney's Office will long bear a striking resemblance to these traits of sound judgment … and always doing what is right and fair."
With their retirements, both McKee and Morrison said they don't have any specific plans except to relax and do more of what they love.
Morrison is excited about playing more golf and teaching, as well as writing about the history of the Southern District and that office where he's spent most of his career. McKee said she doesn't plan to enter teaching, but hopes to spend more time volunteering with children in Indianapolis.
"The whole purpose of this office is to do the right thing … how often can you say you get do a job where she's just doing the right thing?' McKee said. "That has been such a privilege."•
Please enable JavaScript to view this content.