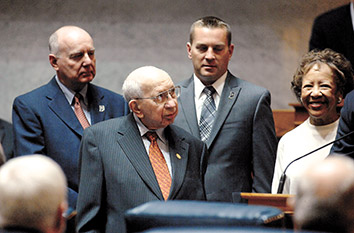 Teacher, lawyer, businessman, farmer, statesman – Elmer Hoehn has held many titles in his life. In 1945, Clark County voters elected him to serve in the Indiana Legislature. He served two terms as state representative before becoming an oil and gas expert – first at the state level as the director of the Indiana Natural Resources Division of Oil and Gas, and later for the administration of President Lyndon B. Johnson.
This month, Hoehn, now 95, returned to the building where his political career began to make remarks at an event in his honor.
On April 7, Sen. Jim Smith, R-Charlestown, introduced Senate Resolution 74, honoring Hoehn for his life's work. Smith talked about Hoehn's role as federal administrator of the U.S. Oil Import Administration. He said President Johnson publicly praised Hoehn for his work in getting oil to England and France during Egypt's 1967 blockade of the Suez Canal. Smith mentioned many other highlights from Hoehn's long career before the 45 senators present voted to adopt the resolution. Surrounded by his family and friends, Hoehn spoke at the podium.
"I'm very happy and pleased to be here, "Hoehn said. Reflecting on his time in the Legislature, he told the Senate, "It was one of the great experiences of my life."
Indiana Sen. Richard D. Young, D-Milltown, told the Senate he had known Hoehn for years, as the two had worked together on projects in Southern Indiana.
"I think we could recognize him for community involvement," Young said, adding that he had been previously unaware of all of Hoehn's earlier accomplishments.
Sen. Richard Bray, R-Martinsville, said, "Listening to his lifelong achievements … it's a history lesson for all of us."
Before the ceremony began, Hoehn, standing in the hall outside the Senate chambers, talked about how different the Statehouse looks now, compared to six decades ago. He said back then, lawmakers worried they might be crushed by falling chandeliers that dangled precariously from frayed cables.
"There was a great big chunk of plaster that came loose and fell on the floor," Hoehn recalled. By 1948, the state had fixed the faulty wiring and many other neglected areas of the Statehouse as part of a massive remodeling project.
Hoehn's friend, Clark Circuit Court Judge Daniel Moore, came to the Statehouse for the presentation. Moore said he invites Hoehn to serve as bailiff in his courtroom, and that Hoehn drives to the courthouse and listens to cases, some that last up to three days.
Moore said Smith approached him with the idea of honoring Hoehn. "And I became the go-between – the organizer – and I'm happy to do it," he said.
Hoehn earned his Master of Business Administration degree from Northwestern University in 1937 and his law degree from University of Louisville Brandeis School of Law in 1940. He is a member of the Indiana and Kentucky bars, and is a former member of the District of Columbia Bar, where he kept a law office for 22 years.
Hoehn was a charter member of the Ohio River Greenway Commission and a benefactor of the George Rogers Clark homestead cabin. He and his wife, Frances, were chief benefactors of the Clark Memorial Hospital Interfaith Centre. Frances died last year at the age of 100.•
Please enable JavaScript to view this content.