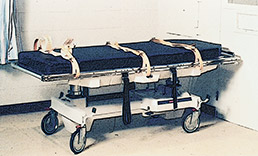 Putting a price tag on the cost of capital punishment isn't easy, and so trying to answer the question about whether the death penalty is worth that cost is even more difficult.
Society can mull the morals of whether the state should execute the most violent offenders. Prosecutors push to speak for those victimized by these "worst types of crime" and keep communities safe, while defense attorneys advocate for the rights of those accused or convicted to make sure the process works correctly. Meanwhile, the courts navigate that long road full of murky legal issues while policymakers debate the death penalty from all sides.
In the end, none of those involved in the debate seem to have a clear picture of what the true cost of capital punishment is, and the answer to the question of whether it serves the intended purpose depends on who is asked.
"The possibility of actually executing a person for whom the death penalty is sought is less than 5 percent, and any other government program that had such a dismal 'success' rate would be scrapped in a New York minute," said
Indianapolis defense attorney Monica Foster, who's handled as many as 40 capital cases within Indiana but has consulted on hundreds nationally. "We spend astronomical amounts of money trying to kill people who do not end up being killed by the government. If we really care about preventing violent crime and its victims, a good place to start would be to redirect money spent trying to kill people to programs that have proven to decrease childhood poverty, neglect, and abuse."
That is what many states are already doing, and others are considering.
Death sentences nationally and statewide have plunged to their lowest levels in recent years due to concerns about wrongful convictions and executing the innocent, procedural hurdles within the legal system, and the high financial cost of capital punishment that typically comes with these cases.
In March, Illinois became the 16th state to stop using this penalty, following a legislative moratorium imposed in 2000 and studies revealing how flawed the capital system has become. Part of that Illinois law reallocates money that would have been used for death penalty cases to services for victims' families and law enforcement training.
Indiana hasn't stopped utilizing capital punishment, despite a report in 2007 that recommended a moratorium because of some of t
hose same flaws and arbitrary uses of the death sentence here.
But now, the Indiana attorney general is leading an effort to scrutinize the economic impacts of the death penalty to help decide whether it should stand. A first-of-its kind criminal justice summit was held in November at Notre Dame Law School, bringing about 75 members of the legal community from all sides of the debate together to consider that impact.
 
"So, it is time that we in the criminal justice system have a candid conversation about the economic impact of capital punishment here," Attorney General Greg Zoeller said. "I don't claim to know the answers; but as state government's lawyer sworn to uphold the laws of Indiana, I hope we can trigger a frank discussion of these questions."
Moving target
Finding an accurate accounting of the costs is difficult, largely because a comprehensive study hasn't been done recently and scattered information paints incomplete pictures.
Nearly a decade ago, the Indiana Criminal Law Study Commission issued a report on capital sentencing and found death penalty costs are generally more than 20 percent greater than the total cost of life without parole, depending greatly on whether death sentences are overturned and defendants are resentenced to life in prison. That report analyzed both the trial-level and appellate phases, as well as incarceration and other aspects that address the cost.
Nothing that comprehensive has been done since, although the Legislative Services Agency did a cost analysis during the 2010 legislative session of data from 2000 to 2007 to assist lawmakers considering a bill that allowed judges to enhance sentences for certain crimes and added aggravating circumstances for murder cases.
Specifically, the analysis used Indiana Public Defender Commission figures from six cases during those years to calculate an average cost of $449,887 for the death penalty trials and direct appeals. This did not include expenses for prosecutors, sheriffs, and courts. Comparatively, the average cost of trials and appeals seeking life without parole was $42,658, according to the non-partisan agency.


All Hoosier counties can receive 50 percent reimbursement from the state for defense costs in capital cases under Indiana Criminal Rule 24, and that data is what has been used to compile the cost-analyses. Similar state information isn't tracked by the prosecution side and it's often weaved into the budgets for local prosecutors or the state AG's office that handles these cases on appeal. Some states' bar associations survey their attorneys and prosecutors on these costs and have found estimates range between $200,000 and $250,000 more than the costs of non-capital trials.
Former Vanderburgh County Prosecutor Stan Levco, who spent three decades in that position before leaving at the end of 2010, says the current capital system in this state is nearly broken.
"It's almost to the point where it's no longer viable, and unless we decrease the costs, it's not worth it," he said.
Stewart
Clark County Prosecutor Steve Stewart, considered an expert on the death penalty and the author of an annual update on cases and issues statewide, argues that it's the defense costs that run so high because of Criminal Rule 24 and courts often rubber stamp any requests that are made.
"Prosecutors are scared to death about filing a death penalty case and risk their office budget, or bankrupting their county budget," he said. "If it doesn't change, those costs are going to force us out of the capital punishment business."
Even if the system needs change, Stewart and others are adamant that capital punishment is worth keeping on the books because it offers what even life without parole does not: a guarantee that someone will not be able to further endanger society.
Prosecutors contend the reimbursement structure needs revision, possibly balancing the cost or giving prosecutors more of a voice in what can and cannot be expensed. Defense attorneys agree that something does need to change, but some of those arguments go to the deeper question of whether capital sentences are needed in the first place.
Landis
Larry Landis, executive director of the Indiana Public Defender's Council, says the debate about the death penalty boils down to a philosophical difference between the two sets of attorneys and he wonders now why there's still a question about whether capital punishment is worth it or not.
"You really have to wonder why we're going through this death dance, banging this drum the way we do when it's so unnecessary because many are willing to plead out to life from day one," he said. "But rather than doing that, we go through punishment for the sake of punishment and the meter is running the whole time to get to the same result."
• Coverage on this capital punishment cost will continue in the May 11-24, 2011, issue of Indiana Lawyer, with a look at the long path through the legal process and what that can cost emotionally for those on the victim's side.•
Please enable JavaScript to view this content.