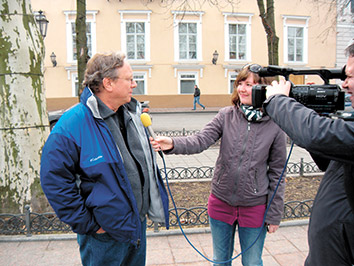 A recent trip to the Ukraine in Eastern Europe has brought new energy and ideas to improving public access and civic involvement in Indiana courts.
Dave Remondini, the second-in-command of the Indiana Division of State Court Administration, made a 19-day trip to the Ukraine in March as part of an ongoing effort the United States is making to help the Ukraine improve its judicial independence and establish more of a democracy.
His visit comes at a time when Indiana, and courts throughout the U.S., are pushing to improve public access to the nation's judiciary and strengthen civic knowledge and involvement among those who live here.
"The people there are working so far to do the right thing in terms of opening courts up to the public and getting people more involved," said Remondini, who serves as the division's chief deputy director. "It gave me a lot of hope and confidence, just a lot of belief, that some of that same energy can be used here."
As part of a U.S. Agency for International Development program known as the Ukraine Rule of Law Project, this effort works to increase the country's judicial independence and transparency as well as strengthen the ability of people to access justice through a still-developing democratic system.
This visit ties in with several through the years that maintain the ongoing relationship between Indiana's judiciary and those in the Ukraine, bringing judges and legal community members to Indiana periodically to see how the state system operates. The last visit was in 2010 and focused on legal aid. Remondini said this was his third visit to that province in the past four years.
"We have similar goals of trying to open up communication within our courts," he said.
Organizationally, the differences between the Indiana and Ukraine judiciaries are vast – 90 judges sit on appellate courts in the Ukraine. In that country, about 60 percent of the judiciary is female and the appellate courts are divided up regionally into four general jurisdiction levels: civil, criminal, administrative, and military. The court there considers more than 12,000 cases a year by 25 judges, with generally only about 30 percent having arguments.
But that country's court structure is still in its infancy, since there was no judicial review or any Supreme Court under the Soviet Union before its collapse in 1991. A new constitution created in 1996 formed the current judiciary, but global criminal justice studies and even reviews done by the Ukraine's own justice ministry in recent years show that judicial independence is outlined only in principle. The public tends to regard the courts as corrupt, with only 10 percent trusting the system and less than 30 percent believing a fair trial is even possible.
In February, Ukraine Supreme Court Chief Justice Vasyl Onopenko told a newspaper in Kyiv, "Courts as judicial bodies and judges have lost their independence. This is a direct threat to the judicial protection of human rights."
As it stands now, permission is needed from five judges in lower courts to allow that Supreme Court to even review a case. If a case isn't allowed to proceed, the parties have no other choice but to appeal to the European Court of Human Rights that governs a larger group of countries and areas within Europe.
Remondini compared the Ukraine's current social and economic structure to what the U.S. looked like in the early 20th century, with huge corporate and economic interests holding a lot of sway and some influential power brokers setting the tone for how the country operates.
Sitting on a panel with other U.S. and Ukrainian court officials, Indiana's Dave Remondini discusses media relations and court access as part of a federal project helping that eastern European country's judiciary become more accessible and transparent. (Submitted photo)
"There's some concern among the U.S. that the Ukraine is backsliding away from democracy, and there are many there who are very interested in forestalling that," Remondini said, noting that the country's cultural dichotomy is split geographically between the West and the rest of Russia and that creates tension in how everything is run. "With this project, we'll see what the U.S. government thinks about what is going on there in the courts and what happens next."
Despite vast differences in structure and type of courts, the U.S. and Ukraine systems are able to communicate generally on issues such as the focus of Remondini's recent visit – media relations.
"The project is trying to increase transparency in the court system there," he said. "The idea is that people can have confidence in a system if the cases are assigned randomly by a case management system and attorneys or politicians aren't picking judges. That's one way to fight corruption."
Some of the political and structural issues spill into media relations within the Ukrainian courts, he said. As a result, there's a higher degree of reluctance generally to engage with the media there.
"Some have vivid memories of Soviet Union control, and there's still a hangover from that time that makes them reluctant to question authority and branch out their own initiatives," he said. "That slows down court progress and they're still wrestling with that."
Still, some of the issues that the Ukraine courts are facing look similar to what courts in the U.S., including Indiana's judiciary, are going through in terms of court access. He spent nine full days teaching courses to judicial staff, judges, and their chief administrators for various court divisions on those topics.
"It's amazing to travel to the Ukraine and hear some of the complaints about how judges and journalists get along … that they only write about sensational legal stories, that coverage of flashy trials trump the nuts and bolts of the judicial system, and just as a reporter gets knowledgeable he or she moves on. I think they have about the same success as we do here," Remondini said.
One of those similarities involves the implementation of a widespread case management system connecting all of the courts, in order to make court records available to the public. In both America and the Ukraine, some local courts have systems while others do not, and court officials in each jurisdiction face many of the same issues in trying to network all of that together, he said. The same corruption issues might not exist here, Remondini said, but having all the courts maintain websites and putting records online creates the access to make people more involved in the judiciary.
As of now, the CMS in the Ukraine is scattered and some of the IT employees are struggling to create web pages for the individual courts, he said. Remondini mentioned one option is to create a Facebook page for the court to provide that access, even though social media penetration in the Ukraine is much lower than it is in this country.
Overall, he said judicial officers there feel like they're the least powerful branch and are always subject to attacks by the other two branches. They've started to realize the courts can use the media to their advantage in reaching a larger audience, he said.
After returning, he submitted a report, which basically completed his role in the project. He isn't sure how that report will be distributed, but it will likely be used to help determine how successful the project is and whether it will be continued.
Reflecting on his Ukraine visit, Remondini said he's interested to apply that knowledge and desire for civic involvement back home.
"We take for granted some of the freedoms we have here and the ease of access to courts in comparison to the Ukraine," he said. "This enables me to think that there's more we can do to make our courts more responsive to the public."•
Please enable JavaScript to view this content.