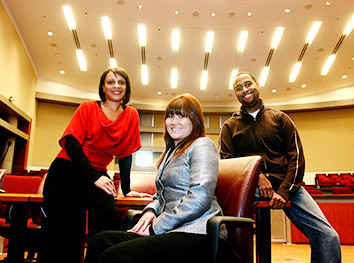 Ask if it is important for law firms to comprise a diversified group of lawyers, and the answer will be a resounding "yes." Mirroring society's cultural mix, expanding the firm's thought pool, and improving the ability of clients to identify with their lawyers are all reasons diversity makes good business sense.
The need for a diversified professional team is on the radar of many law firm management committees and has motivated partners to revisit their recruitment and retention policies. Some mid-size firms in Indiana – those in the 25 to 50 lawyer range – have found their size can be a plus in attracting a diverse group of associates.
"The larger a firm becomes, the greater challenge it is for the firm to personalize the way it does things," said John Trimble, managing partner at Indianapolis firm LewisWagner. "We can get all of our equity partners around a table, and that may make it easier to make decisions."
An award-winning approach
"Commitment by the top" is cited by law firm management strategists as a key to successful diversity recruitment efforts. When the commitment starts at the top, it is all the better.
Indianapolis lawyer Robert Wagner formed one of the first racially integrated law partnerships in Indiana – Fasig Goebel Chavis & Wagner – in the late 1960s. That firm evolved into LewisWagner.
"It was Bob's passion at a very early age to have a diverse law firm," Trimble said. Early on, that meant hiring women; today it means creating a complete cultural mix, he added.
If Wagner's early personnel practices raised a few eyebrows, he didn't notice.
"The notion that we needed to focus on diversity really didn't occur to me," Wagner said. "I don't think black/white or woman/man."
Drummy
Wagner said his eyes were opened in 1969-70 when he managed a U.S. Senate campaign for Vance Hartke. It exposed him to a lot of intolerance.
"In the business world, there were very few minorities – women or African-Americans – on boards of directors, and that hasn't changed much," Wagner said. "We have a (state) supreme court without women. We are continually pushing the stone up the hill."
While the firm's commitment to diversity has existed from day one, it has been formalized over the last decade, Wagner said. Goals targeting recruitment of lawyers, paralegals, and staff representing diverse racial and ethnic backgrounds are included in the firm's strategic plan. A diversity committee supports those goals and develops initiatives that create an inclusive professional environment.
Racher
"We have specific goals in the (strategic) plan to make sure our firm is a reflection of the community at large and that members of the firm receive training on diversity," said Stefanie Crawford, a partner and diversity committee chair.
LewisWagner is a long-time participant in the Indiana State Bar Association's Gateway to Diversity Program, which links legal employers with minority law students, as well as the Indiana Conference for Legal Education Opportunity fellows. Crawford's association with the firm began when she was hired as a summer clerk through the Gateway program in 1996.
Weaving a culture of inclusion into the daily life of the lawyers and staff is an important part of the law firm's diversity program. As a community expression of the commitment to diversity, the firm recognizes Martin Luther King Jr. Day as a business holiday. Social events like hosting a "celebration of diversity through food" begin with emails sharing recipes from countries around the world and culminate in a firm-wide pitch-in lunch.
This year, the diversity committee has taken on a new project. It is partnering with Noble of Indiana to create an internship/externship program for people with developmental disabilities.
LewisWagner has been recognized on several occasions for its commitment to diversity. In 2010, it became the first Indiana law firm to receive the DRI Law Firm Diversity Award, and it received the Mayor's Workforce Diversity Award as part of the City of Indianapolis' Celebration of Diversity. LewisWagner has also been an Indiana Lawyer Diversity in Practice award finalist and received the Indiana State Bar Association's Rabb Emison Award for diversity.
"I don't think anyone does this for recognition, but you feel warm inside when, by doing a good job, you can show that it works," Wagner said. "There is still a lot of prejudice in our society, but I think people we have here feel as I do. You don't permit it. You call them out on intolerance when you see it. We are all teachers to some degree."
A proactive approach
Diversity of personnel leads to diversity of perspective, and law firm leaders are challenging themselves to create legal teams that represent a mix of gender, racial, economic, and ethnic groups. Programs that connect firms with prospective employees have proven effective.
Kightlinger & Gray has partnered with Shortridge Magnet High School for Law and Public Policy in Indianapolis to encourage minority students to begin considering law as a profession. The firm will host a high school student as a summer intern to provide a taste of what life is like as a lawyer.
And if those students decide to pursue a career in the law, the hope is they will remember Kightlinger & Gray.
"We have a heavy concentration of litigation; and diversity of perspectives, ideas, and thought is very important as we prepare a case for trial and an ever-diverse jury pool," said John Drummy, a partner and member of Kightlinger & Gray's legal personnel committee.
Scott
Participation in bar association diversity job fairs, such as the fair hosted annually by the Indianapolis Bar Association, and the ICLEO program has proven a successful way to connect with a diverse group of summer clerk and associate candidates.
"The ICLEO program exposes the firm to highly qualified attorneys who, because of their economic situation, may not have (otherwise) been able to go to law school," said Peter Racher, a partner and chair of Plews Shadley Racher & Braun's human resources committee. "I am proud of the fact that we have attorneys here who come from families that have few who have gone to college, let alone law school."
In addition to gender and ethnic diversity, it is important for a firm's diversity goals to embrace having men and women who bring perspectives from a variety of economic backgrounds to the firm's leadership positions. Understanding the totality of clients' disputes, which are often fraught with human emotions, Racher said, will be effectively done when the firm has diverse viewpoints around the table.
Lewis & Kappes' large immigration practice magnifies the need for a diverse legal team.
"We have a good number of attorneys and staff who are bilingual; one staff person who is from China speaks five languages," explained Deanna Cope, the Indianapolis firm's administrator. There is an added level of trust, she said, when clients can talk with people they feel a familiarity with. The firm also offers, in Spanish, an exact duplicate of its website.
The need for diversity is integrated into the firm's culture, Cope said. While many firms recognize Thanksgiving, Christmas, and other traditional American holidays, Lewis & Kappes also gives attention to the Chinese New Year, Cinco de Mayo and other cultural celebrations. It helps lawyers and staff better understand the mindset of the clientele, she added.
Location can present challenges when recruiting a diverse legal team, and "you just have to use what you have more creatively," said Laura Scott, a partner with Bamberger Foreman Oswald & Hahn. The firm is based in Evansville and has offices in Indianapolis, Mt. Vernon, Poseyville, Princeton, and Vincennes.
Like other firms, Bamberger has participated in the ICLEO summer jobs program and created a diversity page on its website to attract attorneys with a range of backgrounds. The diversity committee of the Evansville Bar Association has also been a helpful resource, Scott said.
The EBA collects resumes from minority students interested in working in Evansville and distributes those to potential employers. Firms can apply to the EBA for funding to help cover the cost of hiring summer clerks or interns. The EBA has helped area law firms reach out to groups of law school students around the state and convey the benefit of working in small- or mid-size firms and those located outside of Indianapolis, Scott added.
"We have the flexibility to be able to think outside the box and hire interns and use them in nontraditional ways," Scott said. "We can make our decisions fairly quickly and without a lot of red tape because we are a smaller firm."
Edward D. Thomas joined LewisWagner as an associate after graduating from law school in 2009. He served in the military after receiving his undergraduate degree, and he knew he wanted to practice in the size of firm that would let him hit the ground running and give him immediate hands-on experience.
"I think diversity in a law firm or any business is crucial in light of the global economy we have today," Thomas said. "Law firms that take that to heart will benefit in the future. Law students who really understand the big picture and what they need to bring to the table will have a head up over their peers. It is not specific to law firms – any business model needs to embrace diversity to remain ahead of the game."•
Please enable JavaScript to view this content.