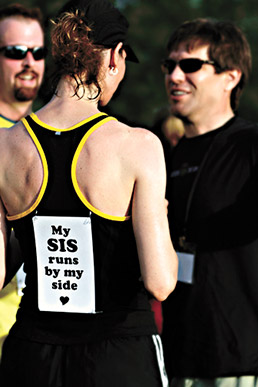 Anita Day has learned a lot about melanoma since 2002. Back then, she didn't know that the disease kills one person every hour. But when her father and a family friend died of melanoma in the same year, she began searching for answers. And she hasn't stopped since.
Day is one of many people who – inspired by a personal tragedy – has formed a non-profit organization that honors the memory of someone lost. At least three such charities have roots in Indiana's legal community.
Raising awareness
Kate Carmichael's heart stopped beating before she was born. Her parents, attorneys Michelle and Kepten Carmichael, were distraught – they had gone to the hospital expecting Michelle to deliver a healthy baby girl.
"Most people don't even know what stillbirth is," Michelle said. "I didn't either, until it happened to me."
Doctors had detected no problems with the pregnancy – the second for the Carmichaels, whose daughter was 20-months old when Kate died. In her hospital room, Michelle cradled Kate in her arms, wondering what had gone wrong. She still wonders today.
The Carmichaels were surprised to learn that few records or data existed about stillbirth. Their frustration at the lack of information is what motivated them to start the Kate Carmichael Stillbirth Program, or Kate Cares. The organization aims to help parents understand and cope with stillbirth and, through the support of Indiana University Health, has begun collecting statistics about stillbirth so that others may someday have the answers the Carmichaels never will.
Day – a founder of Outrun the Sun – was frustrated when she learned how few treatments existed for melanoma. She said a lack of public awareness about this potentially deadly, yet preventable, cancer may be why more treatments are not available. She, along with her sister and cofounder Jonna Kane MacDougall, were determined to raise funds for melanoma research after losing their father and a family friend to the disease.
"Once you have awareness, then you can have education, and once you educate, then people understand the magnitude of the situation; once they understand the magnitude of the situation, then support and funding follows," Day said.
Raising awareness was one of the goals Vivian and attorney John Maley had in mind when they founded the Joseph Maley Foundation, named in honor of their son, who died at the age of 18.
"Joseph, our oldest son, had a myriad of disabilities and four younger brothers who lived a quote-unquote normal life," Vivian said. "To them, there was nothing out of the ordinary. And yet, they saw it wasn't that way when we would go places. They knew that somehow, they were looked at differently."
The children recognized a need to educate the public.
"It was Tony who said 11 years ago, 'Mom we've got to do something about teaching people about disabilities,'" Vivian recalled.
What they do
Day's husband was a good friend of another Outrun the Sun cofounder, Jenny Patton Sarno, whose husband, Gary Patton, died of melanoma in 2002 at age 38. The same disease killed Day's and MacDougall's father, John Busse, just 11 days earlier.
"As our two families kind of went down this path together, and we shared our challenges and frustrations, it became very apparent that melanoma needed to have some strong force behind it," Day said. She said that the founders realized that hosting a large community event would bring attention to the cause. They had seen how the Susan G. Komen Foundation had grown from a small grassroots charity to a global leader in breast cancer research after starting its annual race, Susan G. Komen for the Cure.
A runner wears a sign in honor of her sister at 2010's Outrun the Sun. The annual race raises funds for melanoma research. (Photo courtesy Outrun The Sun)
"We started with a simple idea for having a run/walk – it was at least a way to get awareness out," Day said. The first year, they expected maybe 200 or 300 entrants in the race, and they were stunned, she said, that 1,600 people participated, which amounted to about $50,000 raised for melanoma research. This year, the race will be on June 4 at Fort Benjamin Harrison in Indianapolis.
The Carmichaels have raised $280,000 for stillbirth research, creating a fund through the Riley Children's Foundation in 2003 that accepted donations in Kate's name. The donations allowed them to launch the non-profit organization in 2006.
Michelle said that doctors may handle stillbirth cases differently in different parts of the state. Especially at smaller hospitals, the technology and resources may not be sufficient to conduct a thorough autopsy and take tissue samples that could help determine a child's cause of death. Sometimes, she said, a baby born still may be whisked away by staff before the mother even sees the child, which Michelle thinks is a disservice to any family. She is thankful that her husband had the strength and foresight to take photos of Kate, so that they can remember her. She keeps the photos in a large white scrapbook, filled with cards and letters from friends.
The Carmichaels received a $70,000 grant from the Clarian Health Values Fund for the production of DVD's that demystify stillbirth for medical professionals and families. They hope that the DVD's will help spread the word about the need for stillbirth research; currently, the Kate Cares program is in place in all Indiana University hospitals, and St. Francis Hospital.
"We will help any hospital that wants to jump on board," Michelle said.
The Joseph Maley Foundation, Vivian said, aims to teach children of all abilities about the importance of helping others.
"Because we have all kinds of children in our life, we really didn't want to serve or concentrate on one group of children," she said. But the foundation does work with young people to teach them how difficult life can be for someone who has limited physical or mental abilities.
"We have a curriculum, pre-K all the way through eighth grade – by the time they reach eighth grade, they take on a disability," she said. "They know which disability they're going to take on, but we try to keep it random. We try to get across that your life can change at any moment."
Students who participate in the program may – as their final project – spend a day in a wheelchair, or they may have to figure out how to cope with some other physical or mental limitation. Afterward, students participate in a type of exit interview and are asked to share their views about the experience.
The Maley Foundation also travels to schools to produce puppet shows that teach children about disabilities. The shows – along with much of the public service work the foundation engages in – are performed by children. The foundation also hosts an annual 5K Run/Walk/Roll, which will be July 9 this year.
Future plans
Day said that because of funds raised from the annual race, they've been able to support researchers who are working toward treating melanoma. Outrun the Sun has begun exploring how to work with other cities to set up annual races, and it is working with USA Track & Field to reach its more than 100,000 members – people who are at higher risk of melanoma due to their exposure to the sun.
Vivian said that she wants to expand their disability awareness programs into more schools and make school officials aware that they can ask for components of the program that suit their needs.
Michelle hopes that Kate Cares may eventually become fully endowed so it can be self-sustaining. With little revenue, the organization can afford only one part-time employee. Kate Cares relies heavily on the doctors and nurses at IU Health who volunteer their time to help put together a clearinghouse of stillbirth data.
But equally important to her is that people begin to change their view of stillbirth.
"It's dealing with babies, and it's dealing with death, and people aren't comfortable talking about it," she said. "That's not typically how life is supposed to work."•
 
Please enable JavaScript to view this content.