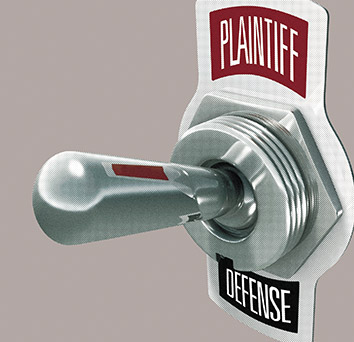 Bloomington attorney Mike Phelps was a successful defender for insurance companies for nine years. State Farm, Allstate, Monroe Guaranty – he represented some of the biggest names in the business. But a personal injury case that he won on behalf of the defendant caused him to question whether he was ready for a change. Phelps is now among a handful of lawyers in Indiana who've made the switch from defender to plaintiffs' counsel.
Making the change
In 2005, Phelps represented a farmer defending a claim against his Allstate insurance liability policy. Phelps said that the farmer was clearing debris from his property and had piled cardboard boxes in a heap, doused them in gasoline, and asked a friend to burn the boxes. The friend was severely burned when the spark from his lighter caused an explosion.
"The jury found that despite all the facts, the farmer did not act negligently," Phelps said. "And because of that, the plaintiff did not recover a dime."
Phelps said he believed the injured man's hospital bills exceeded $100,000.
"That case just really, really made me feel bad," Phelps said. And while he was mulling over the outcome of that trial, he got a call from personal injury attorney Ken Nunn, inviting him to join his practice. Phelps seized the opportunity to reinvent his career.
Tess White had worked for several insurance companies in her 13 years as a defense attorney before she decided she wanted to head in a new direction.
"In 2008, after working for Liberty Mutual for about three years, I just felt like on the defense side that we weren't really practicing law, and I was ready for a bigger and better challenge and decided to start my own firm and switch sides," she said. She started the Indianapolis law firm White & Champagne with colleague Joan Champagne, who focuses on family law – a staffing choice that was practical, White said, because litigators don't get paid until they win a verdict.
"The idea was that Joan would focus on hourly work, to keep the lights on," White said.
Working for insurance companies was "more about being a cog in a corporate wheel," White said. Her decision to begin representing plaintiffs was largely due to her desire to help individuals, rather than corporations.
Jon Schmoll's decision to change sides was motivated by his respect for a peer.
"I think it was a situation where I had great opportunity to practice law with an attorney that I've known for a long time – Steve Langer – and I've always respected Steve for his competence, his work ethic, and his ethics," Schmoll said.
Schmoll worked primarily on medical malpractice cases for Merrillville firm Spangler Jennings & Dougherty for nearly 42 years before joining Langer & Langer in Valparaiso. He said his work as a plaintiffs' attorney isn't fundamentally different than the work he performed on the defense side.
"I don't think there's a lot of difference… obviously the main difference is that the plaintiff has the burden of proof," Schmoll said. He said that he thinks attorneys on both sides are working hard to help their clients, so in that respect, he sees their roles as essentially the same.
Pete Palmer, partner with the New Albany firm Palmer Thompson Law, said he thinks clients increasingly expect attorneys to have clear allegiances. And Schmoll said, "The insurance companies make it very clear that you can't be on both sides of the equation when it comes to doctors and hospitals."
Peer reaction
Defenders-turned-plaintiff lawyers say that, despite the sometimes adversarial nature of trials, they haven't experienced any significant criticism of their decision to switch sides. Just as athletes who play with intensity during a game are able to shake hands after the final buzzer sounds, opposing attorneys are also able to interact amicably at the end of a trial. In fact, Phelps tried several cases against attorneys from Nunn's office before joining the firm.
Schmoll also said that he has not noticed any difference in the way his peers have treated him since switching sides.
He said that the professional relationships he built as a defender have endured, despite the fact that he may be representing different parties nowadays.
Job satisfaction
White seems to have found that human element that was lacking in her former position.
"It's been much more rewarding, because I actually have a human being client that is depending on me to help them – somebody who's never been through this process, who doesn't know what to do, who's injured, has bills mounting – so that's much more rewarding, but it's also more demanding."
Phelps also has found in plaintiff work the personal interaction that was missing from his role defending insurance companies.
"I had a trial probably about a year and a half ago – my client was hurt really bad. To this day, he calls me on Christmas, he calls me on Thanksgiving to say, 'Hey I appreciate it,'" Phelps said. "That's something you don't get from an insurance company."•
Please enable JavaScript to view this content.