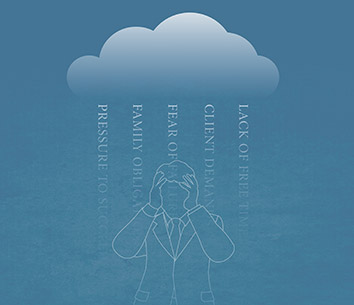 Dedication to clients, competitiveness, and a strong work ethic are qualities that many successful lawyers share. Those same traits may put attorneys at greater risk for major depression if they end up demanding more from themselves than they're able to give.
Because their livelihoods depend on their ability to seem reliable and inspire confidence in their clients, some lawyers may worry that talking about their depression could hurt their careers. But people familiar with mental illness in the legal field say that lawyers are better off asking for help than dealing with depression on their own.
Lives lost
In 2010, lawyer Stephen Terrell lost his friend of nearly 30 years – Ron Hansell – to suicide. In a tribute to Hansell, Terrell wrote that when he was planning the first Indiana Solo & Small Conference 10 years ago, Hansell was his traveling companion. The two attended conferences around the Midwest, searching for speakers and learning the nuts and bolts of organizing such an event. That same year, Hansell moved to Montana.
Terry Harrell, executive director for the Indiana Supreme Court's Judges and Lawyers Assistance Program (JLAP),
recalled Hansell's contributions to Indiana's legal community. "He stayed a member of the Indiana bar and would participate in that conference every year," Harrell said. "When he died, it touched a huge number of lives."
The treatment of depression, according to the American Association of Suicidology, is effective 60 to 80 percent of the time, but less than 25 percent of people with depression receive adequate treatment. Untreated depression may lead to other mental health problems, and it carries a greater risk of substance abuse and suicide.
Harrell said it's difficult to estimate how many people in the legal profession suffer from depression, as some may never seek help, but she said that most seasoned lawyers know of someone in the profession who has died from suicide. And Terrell said most lawyers know of peers who have struggled with depression.
Taylor-McGee
Psychologist Debra Taylor-McGee specializes in treating attorneys. She said that lawyers may resist seeking help for depression due to the nature of their jobs and societal views of mental illness.
While on the East or West coasts, people may be more open to talking about therapy, she said, "In the rest of the country, it's seen as a weakness – if you have to go to someone for help, then something is wrong with you."
She said depression is a combination of biochemical issues and environmental stressors, but lawyers may blame themselves for their symptoms.
"They see depression as more of a moral indictment that you're not working hard enough," she said.
Behavior patterns
Harrell runs a depression support group for JLAP. She said that many people seeking help are mid-career and in their 40s, 50s, and 60s. Sometimes, they find their way to JLAP because they've lost control of their personal and professional lives, and in some cases, they've become unable to keep up with their caseload.
"When you have a severe depression it's difficult to function, it's hard to get out of bed, and so, eventually, they may not get their phone calls returned because they can't get out of bed," Harrell said.
She said that JLAP volunteers can help lawyers in need by doing something as simple as helping someone get through a pile of unopened mail or helping prioritize tasks. But Terrell said that when people are depressed, they behave in ways that alienate those who care about them – either intentionally or unintentionally – cutting themselves off from others who want to help.
"People withdraw into themselves, and when they withdraw into themselves, they don't have that network of support … and you don't have someone around assuring you that you will get through this, and it will get better down the road," he said. The loneliness of depression may lead to repetitive, negative thoughts that eventually become overwhelming.
"You are left alone with your own thoughts, and those thoughts seem to be rational and make more and more sense, and you don't see any other way out – and suicide seems like a logical, rational act," Terrell said.
Harrell said that while depression can be debilitating, most of the time it is manageable.
Terrell
New participants in JLAP's depression support group may be surprised to see some familiar faces when they first attend a session. "They see a group of highly functional lawyers," Harrell said. "They know them, and they had no idea."
Avoiding depression
"A trait of lawyers is that we feel a tremendous responsibility for our clients and the quality of our work, and that can cause a lot of anxiety," Harrell said. Anxiety is often a precursor to or a companion to depression. "Working super long hours and not taking enough time to take care of yourself will also set yourself up for depression," she said.
Taylor-McGee said lawyers should make sure to treat themselves well, allowing adequate time for sleep, exercise, and social interactions. She said she has seen associates who – in an effort to increase billable time – have been working 60 to 80 hours a week.
"Lately I've been seeing some younger ones – in their 20s, their first or second year out of law school … They're coming in and excitement is starting to wane," she said. "They're overworked, they don't know how to please various partners. And so they're just saying, 'How do I do all of this?'"
She said her female lawyer patients are generally married with children and feel guilty that they're not spending enough time with their children.
"With men, it's family issues, but it's more related to extended family pressures – paying off the bills, and 'This isn't what I thought it would be.'"
How JLAP can help
Through its network of volunteers, JLAP can help attorneys work through their depression and other issues in a confidential environment. JLAP began offering a series of volunteer training sessions on June 21, with five other sessions scheduled around the state through October.
"We don't expect them to be mental-health clinicians," Harrell said of JLAP's volunteers. Training focuses on how to be a good listener and how to connect people with resources. But because many volunteers are attorneys themselves, JLAP staff encourages volunteers to simply say no when they are too busy to help.
"We try and make sure we don't overload any one volunteer … we also try and only ask volunteers to do things that they are comfortable and qualified to do," Harrell explained.
"We spend a significant amount of time on suicide prevention … although most cases don't rise to the level of suicide," Harrell said. "But when it does, what could be more important?"•
 
Please enable JavaScript to view this content.