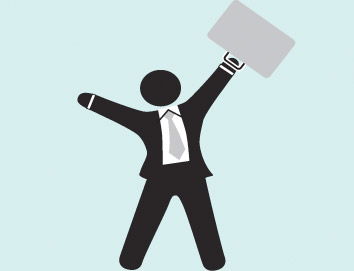 Are they unhappy as lawyers, or are they just unhappy with the direction their legal careers have taken?
A recent poll by the Indiana Lawyer asked the question, "If you had it all to do over again, would you still become a lawyer?" Results revealed that less than half could affirmatively say they were happy in their chosen profession. While 43 percent answered "yes" to the poll question, 37 percent said "no" and 21 percent were unsure what they would do.
 
The opinions expressed are in the ballpark with national lawyer satisfaction surveys done in recent years. A 2007 survey commissioned by the American Bar Association showed that career satisfaction among lawyers nationwide hovered around 55 percent. The ABA survey revealed that satisfaction comes with age: 60 percent of experienced attorneys – those having over 10 years of experience – said they were satisfied with their careers, compared to 41 percent with six to nine years, 50 percent with three to five years, and 49 percent with less than three years in practice.
Individuals who study career satisfaction are not surprised by these findings. They say that by the 10-year mark, many who had come to the conclusion that law was not to be their life's work had changed careers, and those who stayed had, perhaps, found their practice niche, become comfortable with their clients, and made partner. The gap between satisfaction levels among the six-to-nine-year group and the over-10-year group indicates those may be pivotal years for lawyers.
Making lemonade
So what can lawyers wondering if their law school investment was worth it do to reignite the passion felt as a 1L?
The good news is that while just over half say they are satisfied with their careers, 80 percent say they are proud to be lawyers.
"Proud and happy are different emotions," said Nancy Levit, University of Missouri-Kansas City School of Law professor and co-author of "The Happy Lawyer: Making a Good Life in the Law." "Pride is a feeling of self satisfaction or a belief in the worth of your career. Happiness has much more to do with the state of contentment and satisfaction in daily activities. Even if lawyers think the job has worth and prestige, they may be light years away from being happy."
Levit and her co-author, Douglas O. Linder, point out that it is important to differentiate between happiness at this very moment and happiness overall.
Studying happiness is a science, and those who do it say we must understand where personal and professional happiness comes from to know how to sustain it. Researchers Sonja Lyubomirsky, Kennon Sheldon, and David Schkade have reported that genetics account for about 50 percent of an individual's happiness level – about half of an individual's predisposition to seeing the cup half full or half empty is hard wired. Another 10 percent comes from life circumstances – education level, marital status, age, etc. Most life circumstances are more controllable than the genes a person is born with, but many represent long-term commitments.
The third group – voluntarily controlled activities – represents 40 percent of a person's happiness quotient and seems to be where the answer lies in the quest to boost happiness.
Managing expectations and maintaining a sense of control are necessary ingredients to career satisfaction and happiness, according to Levit.
Control has multiple dimensions, Levit said. It involves an individual's ability to have a say in client and work assignments, their physical work environment, and the people who surround them and relationships that exist. "Another big part of workplace control is believing that your contribution matters," she said.
It is no surprise that a sense of control over work-life balance is another key element in the quest for professional satisfaction. Although 98 percent of law firms, mostly larger firms, reported in a recent survey that they permit part-time work schedules, fewer than 6 percent of all lawyers work part-time, Levit reports. But those who do, she added, are happy with their part-time or flexible schedules.
Proffitt-Reese
Ice Miller is among the Indiana law firms that offer flexible work arrangements, and the firm recognizes it can be "fundamentally important for the success of a person long term," explained partner Melissa Proffitt Reese.
When structuring part-time arrangements, Reese, a former managing partner, said the firm looks at requests on a case-by-case basis and tries to find the arrangement that will work best for the individual and the practice group. Whether that is working five days with fewer hours or three extended days depends on the needs of the clients, the practice group, and the lawyer. Part-time arrangements don't typically work well for new lawyers, she cautioned, because they need time to be mentored and learn the fundamentals of how to be a lawyer.
Most concede there is still a stigma attached to requesting a part-time work arrangement.
"The practice of law is two things," Reese said. "It is wonderful in that it truly provides the ultimate professional flexibility long term for an individual. … The flip side is that it requires a tremendous amount of time, devotion, and attention."
If someone is a really good lawyer, Reese added, a firm should want to work with them. Retention of good lawyers is as important for the firm as flexibility is for the individual.
Work-life balance 101
Is the expectation versus the reality of practicing law really that different?
Through the course of their study, Levit said she and Linder began to wonder if law schools were addressing the emotional needs of students – "Do we talk about career satisfaction, happiness, and the ability to achieve work-life balance?" They discovered that 95 percent of law schools have no courses about career satisfaction.
Recognizing that a necessary ingredient to professional happiness is alignment with an individual's values, strengths, and interests, the UMKC law professors created a course called "Quest for a Satisfying Legal Career." Topics they explore include the science of happiness, causes of stress, how to use individual strengths, and what lawyers and law firms can do to create thriving, happy lawyers.
 
Kane McDougal
"Lawyers, by and large, are a driven group," said Jonna Kane MacDougall, Indiana University School of Law – Indianapolis assistant dean for external affairs and alumni relations. "For many of the helping professions, part of the training involves self-care, but attorneys don't get that."
MacDougall, who is also a professional career/life coach, said the source of disillusionment for some lawyers may not be the practice of law, but that they aren't doing anything aside from practicing law. She advises doing a little excavation to let the interests that existed pre-law resurface.
Mental cross-training
The specialization of the law may also be contributing to disillusionment. Ingrid Cummings, life coach and author of "The Vigorous Mind," recommends cross training the brain in much the same way people cross train their bodies.
"The individuals who are most specialized in our society are often the most unhappy. They are bright and have these powerful brains, but they feel something is out of whack," Cummings said. "Specialization is turning them into one-trick ponies."
 
Cummings
Cummings does not advocate returning to a society of general practitioners. But striving to become a renaissance person and engaging the mind in diverse learning experiences, she says, will motivate the discovery of new interests. Her "triumph in twenty" exercise challenges individuals to spend 20 minutes per day in bursts of learning, and that learning can focus on anything from cooking to foreign language or the arts.
"Much of this has to do with how you position yourself, how you see yourself," Cummings said. The law is what you do, not who you are. Doing these cognitive exercises will create more well-rounded people and, ironically, better lawyers, she said.•
Please enable JavaScript to view this content.