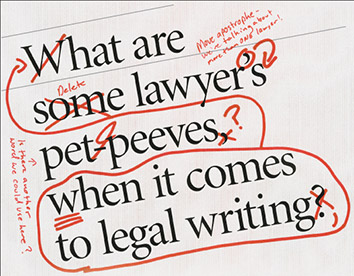 In April, a Missouri attorney filed an eight-page motion seeking clarification of the opposing counsel's pleading. Attorney Richard D. Crites criticized his opponent's grammar, use of apostrophes, and lack of detail, writing in his motion that the pleading "is the worst example of pleading that Defendant's attorney has ever witnessed or read."
Legal bloggers quickly picked up the story, with lawyers around the country chiming in about what distinguishes good legal writing from bad.
Stodgy wording
Anne Cowgur, a litigation partner for Bingham McHale in Indianapolis, talked about some of the language she could live without.
 
"'Enclosed please find …' – my reaction to that is: Are we begging them to find it?" Cowgur said. "Why can't we just say 'Enclosed is'" and continue with the thought.
Cowgur has an undergraduate degree in broadcast journalism from the University of Illinois. Her mother was an English teacher, so she said her disdain for poor writing may be hereditary.
"I have a big problem with when you use a lot more words to say something than what you really need," she said.
Cowgur said she objects to: "Anything that's like, 'Lookie here! I'm about to say something!'" The phrases, "Further affiant sayeth not (or naught)," and "Comes now the plaintiff" are among her least favorite in legal writing.
Terry English, a solo attorney with offices in Bloomington and Bedford, said that while some lawyers could benefit from stronger writing skills, he thinks legal writing is clearer today than in years past.
"I've seen it evolve over the past 30 years or so – it used to be, from my perspective, substantially more stilted," he said.
English
English is a former managing editor for the (Bloomington) Herald-Telephone, which later became the Herald-Times. He also taught advanced newspaper reporting at Indiana University and is a board member for the Indiana Journalism Hall of Fame.
"If you keep in mind that the sole reason you write is to communicate, then that takes a lot of the stuffiness out of it," English said.
Lawrenceburg solo attorney Leanna Weissman holds undergraduate degrees in English and journalism from Indiana University. She works solely on appellate cases.
"I think having the journalism degree has helped me to write as a lawyer," Weissman said. "Because you learn how to put things out there clearly, and you learn how to organize your thoughts in such a way that you put the most important thing first.
"Especially in the appellate arena, clear language is important," she said. "I think they want you to get to the point and say it clearly and directly."
English said judges may have limited time to read court documents, and that's one reason why attorneys should be succinct in their writing.
"One of the things that I do notice about language is that I believe that a lot of attorneys believe that a judge in a particular case will have the opportunity to read and understand everything that they say, and I don't believe that's the case," he said.
English relies on a tool of journalistic writing – the inverted pyramid – to make sure judges read the most important information first.
"I don't believe that judges have the time to go over 10- or 12- or 14-page briefs," he said.
Indiana Rules of Court, Rules of Trial Procedure, Rule 8(E)(1) specifies that: "Each averment of a pleading shall be simple, concise, and direct." Although, not all court documents follow those guidelines.
"You'll see these relatively simple motions that start with the complete history of the case," Cowgur said.
Know your audience
In July 2010, the Indiana Judges Association's Civil Instructions Committee announced the debut of simplified jury instructions. The Indiana Model Civil Jury Instructions use plain language and simple examples that help jurors understand concepts like circumstantial evidence. Lawyers, however, don't need clarification of standard legal terms or concepts, English said.
English said that terms such as "res gestae" or "res ipsa loquitur" could be explained more clearly, but doing so isn't necessary when writing for other attorneys.
Weissman agrees that attorneys should tailor their writing for the people reading it.
"A brief that you write to the trial court is going to be a lot different than the brief you write to the court of appeals," she said.
Although lawyers and judges may be accustomed to seeing Latin phrases and other terms not found in everyday writing, some legal documents could benefit from a little fine-tuning, Cowgur explained.
"Especially in litigation documents … when you're filing court pleadings, and when you write 30 days, it bothers me when you write 'thirty (30) days.'" She said that using both the numeral and the word for "thirty" is a safeguard, because typographical errors are common with numerals.
"So that's the reason for it, and it makes sense in complicated transactional documents, but when you're asking for a 30-day extension of time, it really doesn't make sense," she said.
Teaching good writing
"Education in America now doesn't teach students to be grammarians or great spellers," English said. He said that while teaching journalism at IU, he spent a substantial amount of time teaching students about basic grammar.
"I think quite honestly that there needs to be even more of an emphasis on legal writing in law school," he said. "You're only required to have – as I recall – one class, one year, of legal writing and research. I think it would be beneficial to attorneys to have more than that."•
Please enable JavaScript to view this content.