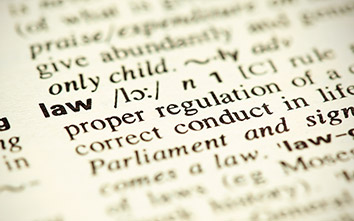 A single word might determine the fate of a case before one of Indiana's highest courts, so it's no surprise that judges will often turn to dictionaries to help interpret what a word and statute might mean.
But judges face a daunting challenge in being the wordsmiths responsible for providing context for what the law means and how it's applied in practice and principle. Despite its regularity, dictionary usage isn't something everyone thinks is good practice and little guidance exists for when and how courts rely on dictionaries.
"Dictionaries are tools that provide effective guidance for the beginning of the process of defining terms – not the end – and lawyers and judges have other tools to give more precise definitions in context," says a recent Marquette Law Review article written by a New York law professor and Arizona juvenile court judge. "Otherwise, those responsible for dispensing justice would defer too much to the dictionary author."
View from the top
In the Marquette Law Review article entitled "Scaling the Lexicon Fortress," the authors examined the past decade's activity at the Supreme Court of the United States and found the justices had used dictionaries to define 295 words or phrases in 225 opinions between October 2000 and 2010. That's in line with the 1990s that saw similar numbers and accounted for half of all the court's dictionary-citing opinions in two centuries. By comparison, the 1980s had about 100 opinions defining 125 terms, while the 1960s had 16 opinions using the dictionary to define 23 terms.
The justices once relied on dictionaries mostly to refresh their memories about word meanings or to provide potential meanings the court could use based on statutory interpretation. But that's evolved in cases in the past decade to the point where dictionary definitions have sometimes driven the decision more than policy or context.
The practice has drawn opposition from some nationwide, such as the Federal Circuit Court of Appeals that wrote in a decision that dictionaries "aim not to select or give meaning to a word or phrase but to report the meaning already established and commonly understood." State courts in Tennessee have also criticized dictionary use as an imperfect interpretive tool, and the SCOTUS justices have, on occasion, criticized each other for too readily relying on dictionaries.
Legal scholars cite potential problems in using dictionaries for legal reasoning, such as arbitrary and possibly biased selection of dictionaries by judges, and lack of determination as to the qualifications it might have.
"Dictionaries, despite their allure as seemingly perfect arbiters of word meaning, do not reach the end goal of word definition," the Marquette Law Review article says.
The study says that despite the growing use of dictionaries through the years, the SCOTUS had offered little guidance for when and how dictionaries should be used as a source. That leaves litigants, lawyers, and other courts to gather what principles they can from bits and pieces scattered through various court rulings.
Indiana
In the state-level appellate courts, dictionary use is a common occurrence. A LexisNexis search for the past two years shows the Indiana Supreme Court included the word "dictionary" in 16 opinions while the Court of Appeals used the word 197 times. A majority of those cases appear to have used Black's Law Dictionary, though some include more than one reference and the courts fluctuate between legal, specialized, or standard dictionaries based on the case and issue at hand.
Sometimes, the exploration focuses on word tense in trying to gauge legislative intent while other times it's the word itself – such as whether lawmakers used "shall" or "may" in crafting a statute.
Attorney Joel Schumm, a law professor at Indiana University School of Law – Indianapolis, says the courts here have made decisions in recent years about what type of dictionary to rely on in certain situations. He pointed to one of his cases, Richard Brown v. State, No. 49S05-0612-CR-494, where Schumm argued a statutory term on criminal confinement was unconstitutionally vague and that it wasn't appropriate to cite Black's Law Dictionary as the state had. The justices agreed, writing that they preferred to consult standard dictionaries rather than specialized legal dictionaries for cases hinging on how ordinary people understand the law.
 
"Different dictionaries say different things, and even the same dictionary often has multiple meanings for a term," Schumm said, noting that other cases have hit on that point as well. "When it comes down to a single word, sometimes having the right place to find a definition makes the difference."
"It's not unusual at all for parties to resort to dictionaries and for courts, in turn, to resort to them in trying to define words," said Indianapolis appellate attorney Bryan Babb, an avid court watcher who has cited dictionaries in his own briefs. "There's a statutory principle where statutes will be given their plain and ordinary meaning, and so the courts will do that when the Legislature doesn't specifically define a word."
More interesting than a traditional legal or standard dictionary, though, is the use of Wikipedia as a dictionary source in legal writing, Babb said. He pointed to one of his cases where he used a Wikipedia definition specifically because the state's intermediate appellate court had already mentioned it.
"I couldn't find any other dictionary to aptly define it and would've needed multiple sources to adequately explain that word and my argument," he said. "So I used an opinion where the Court of Appeals had done that… if it's OK for the Court of Appeals in deciding a case, then I figured it'd be OK for me to use in a brief."
In the end, the judges, lawyers, and legal scholars reviewing or writing the briefs and opinions say judicial interpretation comes down to more than what a dictionary says.
The Marquette Law Review article sums it up well: "As noted more than 150 years ago, 'the lexicographer is a historian, not a law giver.'"•
Please enable JavaScript to view this content.