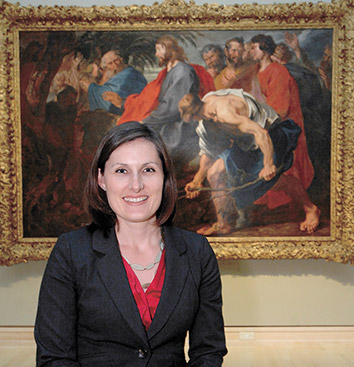 Katie Zarich, deputy director of public affairs for the Indianapolis Museum of Art, had worked for the IMA for a year when she decided to go to law school. She applied only to Indiana University School of Law-Indianapolis, knowing that she wanted to continue working for the museum as she attended class at night.
"There's no better time to go to law school than when you're young and don't have other obligations," she said.
Zarich, 29, completed her law degree and passed the bar last year, assuming the role of legal counsel for the IMA while continuing to promote the museum in her role in public affairs.
 
It is possible the museum has at some point in the past 127 years had an attorney on staff, but Zarich said she could not recall one in recent history. IMA's former chief financial officer handled legal affairs, and when she left Zarich was tapped for the job.
"Max asked me if I would take on being our point person," Zarich said of IMA Director Maxwell Anderson. At the time, Zarich hadn't finished law school or passed the bar, so she was nervous about accomplishing those two tasks.
The IMA, she said, houses more than 54,000 works of art. The museum enters into agreements with other museums for purposes of borrowing or lending art or for scheduling traveling exhibitions.
"I can't take credit for preparing all the contracts, but I review them," she said. "I have drafted and prepared a good number of them myself, particularly if they are unusual in any way. Our registration department and our curators are heavily involved in this process, too."
Zarich also helps staff interpret complicated paperwork, like bequeaths from donors.
"One thing that I run into the most is finding out that a donor has passed away, and helping someone on our staff interpret an agreement that may have been written a long time ago," she said.
As general counsel, she also tries to anticipate legal problems before they occur.
"I often am thinking of the worst-case scenario; people run a lot of things by me: 'Should we be concerned? Should we develop a policy on this matter?'" she said.
The museum receives many requests for use of images from its collections, from "scholarly publications, catalogs, greeting cards – everything you can think of," Zarich said. The Rights and Reproductions Department is generally able to handle those requests independently, she said, and added it would be nearly impossible to police Facebook or other venues for violations of the museum's reproduction policies.
"We are most concerned about commercial uses, and there have been times when we've had to intervene because somebody was reproducing artwork that they didn't have permission to use," Zarich said. On the rare occasion litigation becomes necessary, the museum enlists the help of outside attorneys with expertise in certain areas.
Zarich has been actively involved in promoting the museum through public policy, using some of the skills she learned in John L. Krauss's public policy mediation course. Krauss, adjunct law professor and director of IU's Public Policy Institute, became acquainted with Zarich when he served on the IMA's board of governors.
"She's got a wide portfolio of things – of making constituencies aware of the museum, through public relations, through liaisons, through a variety of groups," Krauss said. "I think one of the challenges that we saw is that the days of expecting government or business or not-for-profit to support an institution no matter how good it is … I think are long gone. I think what you have to do is you have to make people aware of what the opportunities are to invest and partner with the museum."
Zarich also assists the IMA's retail director, Jenny Geiger, with the sometimes-complex agreements that allow the IMA to license retail items that are based on an artist's work. Recently, the museum arranged an agreement that allowed the IMA to adapt designs by Alexander Girard – interior designer for the IMA's Miller House in Columbus, Ind. – for use in household items. Throw pillows based on Girard's textile prints sell online for about $95 each. And Zarich said the museum is expanding its retail efforts, so she anticipates working on more projects with Geiger.
By far, the most popular retail item offered by the IMA is a small-scale version of Robert Indiana's LOVE sculpture, which Zarich recently saw in the gift shop of the San Francisco Museum of Modern Art.
Kimberly Harms, who was the director of the Indianapolis Convention and Visitors Association's PR Council when she met Zarich about five years ago, said Zarich embodies the perfect combination of ambition and humility.
"I think it's incredible that you have someone who constantly aspires to be better in everything she does," Harms said. "She's a very smart person, but she doesn't patronize others, and she is just very friendly and outgoing."
Krauss, too, spoke about Zarich's skills relating to other people.
"To be a good mediator, you've got to be curious," he said. "You also have to know how to listen, and with those tools, if you can have a third tool of knowing how to frame issues in the conversation so that you can invite someone to participate in the conversation and they feel comfortable in doing that … I think all three of those things make a good mediator, and I've seen them exhibited with Katie."
Zarich is an avid cyclist and is proud of the fact that during her junior year at IU, she was on the winning Little 500 team.
"She's an accomplished athlete, a PR person, an attorney – she doesn't do anything half-hearted," Harms said. "Everything is full-speed ahead with attention to detail and enthusiasm, so you can't help to be excited when she's excited."•
Please enable JavaScript to view this content.