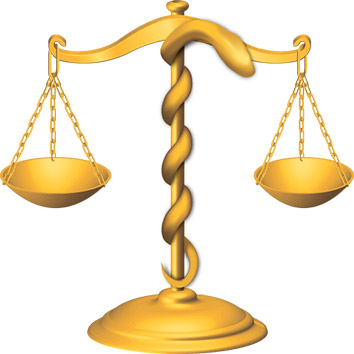 Indiana University School of Law – Indianapolis and the IU School of Medicine have partnered to create the first joint JD/MD degree program in the state. Educators are fine-tuning the details of the program and plan to begin promoting it soon.
"We're hoping to roll out the marketing of it in the fall of 2011," said Priscilla Keith, adjunct professor at the law school and director of research and projects for the William S. and Christine S. Hall Center for Law and Health.
Keith said that she and Eleanor Kinney, Hall Render Professor of Law and co-director of the Hall Center, conducted most of the research for the new degree program. Part of their research involved looking at other JD/MD programs around the country. As of spring 2010, the American Association of Medical Colleges showed 24 schools offering a JD/MD degree.
 
"We looked at notably the ones surrounding us," Keith said. "The University of Illinois (Urbana) – we looked at the Mayo Medical School, and we definitely looked at the Southern Illinois University School of Medicine, and the University of Minnesota."
IU's six-year JD/MD program will offer students two degree tracks, beginning with either law school or medical school. Most JD/MD programs do not offer that kind of flexibility. IU's program may also be more appealing to students who want to be able to attend law and medical school in the same city.
Kinney
Students pursuing a JD/MD degree through Southern Illinois University are required to attend law school in Carbondale before moving 168 miles away to Springfield to complete their medical education. The joint JD/MD degree through Mayo Medical School in Minnesota is made possible through a partnership with the Sandra Day O'Connor College of Law at Arizona State University. Students study medicine for two years at Mayo before moving to Arizona to study law. In creating IU's program, Kinney said the university tried to accommodate its non-traditional students.
"That's in keeping with how we want education to be at IUPUI," Kinney said. "We have a campus that caters to people who live in Indianapolis and Central Indiana and are likely to be working – our students are pretty businesslike – so we want to offer those students the maximum flexibility that we can."
Practical applications
David Orentlicher, Samuel R. Rosen Professor of Law and co-director of the Hall Center, has JD and MD degrees from Harvard University. He completed his medical degree before deciding to attend law school.
"In my case, I had been unsure about whether to pursue a career in medicine or law; I was interested in both," he said. "I started with medicine, thinking that would be the better choice."
Orentlicher
He said a career itself is secondary to whether that career is a good fit for someone's personality.
"Working through legal problems is something that fit me better than dealing with medical problems," he said. So he decided to pursue his law degree.
"Having a medical degree helps tremendously in my work, because as I deal with issues in medicine and law, having practiced medicine and gone to medical and law school gives me insights that I wouldn't have."
Orentlicher, who was the director of the American Medical Association's Division of Medical Ethics, combines his background in law and medicine
to write about some of the most hotly debated medical ethics topics of today.
Kinney, who earned her JD from Duke University and her Masters of Public Health from the University of North Carolina, said that increasingly, lawyers are choosing to pursue a secondary advanced degree that demonstrates their expertise in a certain discipline.
"In health care, it's particularly important because the healthcare system is so complex," Kinney said. "Lawyers often need to know a lot about the industries in which they practice."
For serious students only
Summer sessions are a must for anyone who intends to pursue the JD/MD degree.
"You really can't do it in six years unless you go through the summers," Keith said. "It takes a special student to say that I'm going do both the MD and JD program and try to complete it in six years."
A student enrolled in the combined program must complete the 90 credit hours required for the JD degree; at least 84 of those credit hours must be obtained in classes offered by the law school. Up to six credit hours toward the JD degree may be obtained from appropriate courses offered by the medical school, but Keith and Kinney recommend students work closely with advisers to ensure they're choosing courses that would count toward both degrees.
In the 2011-2012 school year, the in-state student cost per credit hour for law school is $694.10, plus a $600 fee per academic year. A first-year, in-state medical student currently can expect to pay about $31,400 per academic year. Total tuition for the six-year JD/MD degree would be approximately $200,000, and it could be higher or lower, depending on the cost of books, whether classes can be applied toward both degrees, and whether tuition rates increase.
Given the cost and time commitment, educators understand that the new program may not bring in hundreds of new students; that wasn't the goal in creating the joint degree.
"What history tells us is that not many students avail themselves of this option," Kinney said. "We just felt this would round out our interdisciplinary offerings that we offer an array of students."•
Please enable JavaScript to view this content.