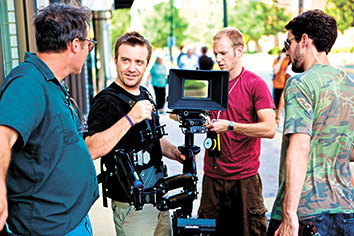 Indiana history buffs may remember Eugene V. Debs as the five-time Socialist candidate for president who, in 1918, represented himself in his own sedition trial, in defense of his anti-war statements. Now, two young filmmakers have added a new chapter to the life of the Terre Haute native, creating a fictional descendant – a hard-drinking grandson – who aims to become governor of Indiana.
The film, "The Drunk," is the brainchild of William Tanoos and Paul Fleschner, whose names may ring a bell – their fathers, Anthony A. Tanoos and G. Steven Fleschner, are partners with the Terre Haute firm Fleschner Stark Tanoos & Newlin, which specializes in Social Security disability law nationwide. William is an associate with the firm, but lives in Los Angeles. The younger Tanoos began shooting the film with Fleschner in Terre Haute on July 18 and expects to wrap on Aug. 15.
The story follows Debs' fictional grandson from his drunk-driving arrest to his run for Indiana governor against a corrupt prosecutor. Actor Tom Sizemore, whose numerous film credits include "Saving Private Ryan," has signed on to play the crooked prosecutor.
"It's kind of a unique approach to storytelling, because it's not a biopic," Tanoos said. "The central theme is redemption and friendship."
Both Fleschner and Tanoos have dabbled in filmmaking over the years.
"I started making short films in high school with friends – five, 10, 20 minutes long," Fleschner said. "And in college, I did some short films."
Tanoos, a graduate of the Indiana University School of Law – Indianapolis, made a few short films in college and wrote a few screen plays. And one day, he came up with the idea for "The Drunk," and sent it to his longtime friend Fleschner to review. Fleschner liked the rough draft.
"William – he has real passion about political causes and making a strong statement … and that really appealed to me," Fleschner said. "I really like stories that have a point to them."
The two began working together to fine-tune the screenplay. And tying the story to the life of Eugene V. Debs presented the perfect opportunity for the filmmakers to return to their hometown for shooting.
"We have this rough draft which could've been set in Anytown, U.S.A., and suddenly we had this eureka moment … then we were full-steam ahead about making this in Terre Haute," Tanoos said.
"Film and film production, and basically filming a movie, is almost foreign to small town Indiana … I don't believe Terre Haute has ever seen a full feature-length film production," Tanoos said. But he said the locals have all welcomed their presence.
"They're certainly impressed with the professionalism," he said. "They see it's a real movie and they're thrilled about that."
Tanoos and Fleschner have known each other since childhood because of their fathers' work together as attorneys. And the filmmakers say they are thankful that their fathers have respected their venture into making movies.
A crew member slates a scene featuring William Tanoos (playing the role of Joe Debs) in the background, sitting at the bar. (Photo courtesy Myles Beeson)
"Personally, my dad has been incredibly supportive through this whole process," Tanoos said. "You know, here's a kid who went to law school and now says, 'Hey, I wanna go make movies."
Fleschner said that he considers his father one of his closest friends and is someone who he turns to for advice often. So he appreciates having him nearby during the challenges of filming.
While filmmaker and attorney would seem to be two distinctly different career paths, both occupations can place considerable demands on a person's time.
"There's days where we're up for 21 hours, on set for 12 to 14 hours – constantly working," Tanoos said. But the grueling schedule doesn't seem to get in the way of enjoying the job. "I lie in bed at night and count down the hours until I can get up and do it again. It just really is fun," he said.
Both Tanoos and Fleschner say they have a lot of faith in the crew they work with, from the set designers to the cinematographer.
"Filmmaking is such a collaborative art," Fleschner said. So rather than instruct the crew about every detail of production, they allow a lot of creative flexibility. "We like to be surprised to see whatever they come up with."
After filming wraps in August, Tanoos and Fleschner will turn over the raw footage to an editor, who will work independently to ensure that the film is edited objectively. The filmmakers will rejoin the editing process after initial edits, and then they'll begin looking for distributors as well as film festivals where their work can be showcased. "The Drunk" is scheduled to be released in early 2012.•
Please enable JavaScript to view this content.