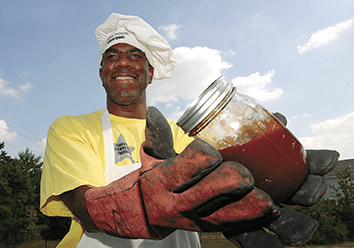 Before attorney Mark Nicholson left for work, he placed a slab of spare ribs on his indoor slow-cooker grill. By 4 p.m., the aroma of the meat – seasoned with Nicholson's secret "magic dust" – is so enticing that it could cause even the most diehard vegetarian to waiver. Collard greens and baked beans simmer on the stove as sweet cornbread cooks to perfection in the oven.
 
Barbecue is this public defender's specialty. He has been cooking since before he was old enough to drive, and after taking a judging class in Ohio this year, he earned the distinction of becoming a "Certified Barbeque Judge" from the Kansas City Barbeque Society.
(Submitted photo)
Igniting a fire
Nicholson's love for cooking began when he was a boy. His father – whose signature dish was a butterscotch cream pie – showed 10-year-old Nicholson how to fry bologna.
"When he showed me how to cook,
 
Mark Nicholson (IL Photo/ Perry Reichanadter)
I had it as a hobby right then and there," he said.
From his humble beginnings sautéing pre-packaged lunch meat, Nicholson has learned how to cook shark, alligator, and kimchi, a spicy Korean dish prepared with pickled or fermented cabbage. When he's looking for meats that can't be found in a garden-variety store, he goes to Saraga International Grocery, where he enjoys wandering the aisles, looking for new and interesting temptations.
Nicholson's love for food has motivated him to set forth in search of great barbecue – in Indianapolis and beyond. For the past six or seven years, he and friend Marion Superior Judge Robert Altice have gotten together about once a month on a quest to find outstanding barbecued ribs.
That search has taken them to some unusual destinations, like one mom-and-pop restaurant on the east side of the city. "They have a big sign up that says 'barbecued goat,' and I said, 'Do you really want to eat here?,'" Judge Altice said.
Judge Altice and Nicholson share a passion for cooking outdoors; although the judge says Nicholson's grilling skills are superior.
"I cook all year round, and I'm like Mark, in that to me, it's all about charcoal," he said. "But I have to admit I do have a gas grill … and that comes in handy, at least in the winter."
Judge Altice, who used to live in Kansas City and participated in barbecue competitions there, said he would never admit to his peers there that he's got a gas grill on his property.
Nicholson uses charcoal only in its raw form. But he prefers to grill with wood – applewood, cedar, mesquite – all of which infuse meat with flavors that cannot be achieved with gas.
Nicholson is a purist – he shuns the use of gas or other chemicals in grilling. "I don't mess around with gas at all," he said. That's probably in his best interest, as the Kansas City Barbeque Society will disqualify from competition any participant who uses gas or accelerants inside a grill.
A job well done
For Nicholson's 42nd birthday this year, his wife, Gina, surprised him by arranging for him to take a barbecue judging class through the Kansas City Barbeque Society. KCBS offers classes throughout the year and around the Midwest, and Nicholson's one-day class was in Ohio. Afterward, he began perusing the KCBS newspaper, Bull Sheet, looking for a barbecue team to join. He found a classified ad seeking a team member posted by Thin Blue BBQ and joined in time to participate in the Smoke on the Square barbecue competition in Franklin, Ind. In that competition, Nicholson won fifth place for his brown bag grilled apple pie, and the team won the people's choice first-place award for their pulled pork.
"To my knowledge, I was the only attorney competing in the event and several competitors were somewhat surprised to see an attorney out there grilling and barbecuing with the pros," he said.
Now, Nicholson is sometimes torn about whether to judge or participate in competitions – especially prestigious events like the KCBS-sanctioned "Wine, Brew & Bar-B-Q Too!"
"I was planning on judging next week in New Palestine, and then I was thinking about competing, so I haven't really made that final decision – that's my dilemma," he said. Barbecue ethics won't allow him to be both a chef and competitor in the same competition.
Sharing the bounty
As Nicholson talks about cooking, a common theme emerges: He enjoys sharing his creations – and swapping recipes – with others. He regularly trades recipes with colleagues in the Marion County Public Defender's office. And he and his wife host three large get-togethers each year. Of course, Nicholson mans the grill. He prepared food for 80 people for his brother-in-law's high school graduation, with other relatives bringing side dishes.
Friend and fellow attorney Enrique Flores is among those who have had the opportunity to sample Nicholson's cooking. Times have changed. Flores said he actually used to prepare meals for Nicholson when the two attended law school together at Indiana University School of Law-Indianapolis.
"My girlfriend and I didn't have a car. He used to drive us to get groceries, so as a thank-you, I would cook dinner for him on Thursday," Flores said. "He used to bring side items, but for the life of me, I cannot remember what they were, but they were all very good."
Flores also talked about Nicholson's hobby of photographing food.
"He loves food. On Facebook, he always posts things that he makes, or if he goes to a restaurant and he likes something, he'll take a picture of it," Flores said.
Last course
Nicholson opens the oven again to peek at his cornbread. "Oh, that's perfect!" he says, as he pulls the cast-iron skillet from the stove. He grabs his new camera – a Father's Day present from Gina – so he can snap a picture of his handiwork.
In his household, Nicholson said he does most of the cooking (except for when he took the bar exam, and Gina handled most of the meal preparation). It's no surprise that Gina is so supportive of her husband's hobby. Nicholson recalls that when they were first dating and Gina had suggested they go out for breakfast one morning, he instead showed up on her doorstep with a tote full of supplies to make her a breakfast that would put Bob Evans to shame – pancakes, bacon, sausage – the works.
"I've always said that the way to a woman's heart is through her stomach," he added.•
Please enable JavaScript to view this content.