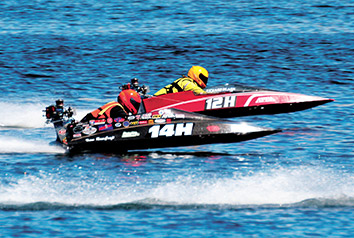 In the summertime, about every other weekend, Valparaiso attorney Edward Hearn can be found out on the water. But don't blink, or you may miss him.
Hearn races powerboats – small, speedy crafts that zip along the surface of the water at speeds of 60 to 65 mph. A managing shareholder for Johnson & Bell's Crown Point office, Hearn says racing is a good fit for his personality.
"The thing that I like about it is, I'm competitive, so it's another outlet for that besides being a trial attorney," he said. "It's a family sport and it's always served a dual purpose for me – it really does now. It's an opportunity to get together and race my boat, and to see my family."
His family name is well known among members and fans of the American Power Boat Association. This year, Hearn brought home two national APBA titles, winning the B Stock Runabout (a flat-bottom boat) and B Stock Hydro (hydroplane) competitions. Hearn's sister, Beth Anne (Hearn) Chew was the first member of
the family to be inducted into the APBA Hall of Champions in 1987, when she won the junior-class national titles for J Hydro and J Runabout competitions. She also was the national high point champion that year in both classes. Hearn's nephew, Grant Hearn, won the J Hydro and J Runabout National Championships last year. And it's a legacy that began with Edward Hearn's father, R. Steven Hearn, deputy prosecuting attorney in Kosciusko County, and Steven's brother, Jim.
 
"My grandfather – my dad's dad – was a car salesman that lived in Wabash, Indiana, and he and his neighbor bought a piece of property on Lake Tippecanoe … and so back in the '50s when my dad and his brother were growing up, the biggest boat on the lake was a 12-foot Jon Boat with a 25 (horsepower) Johnson on it," Hearn said. "They would race around the lake. There was no such thing as a Sea-Doo, or a WaveRunner – those were the predecessors to what we race now."
Hearn's parents still have a home on Lake Tippecanoe. "We all take the 4th of July off and all go to mom and dad's house in Kosciusko County," he said.
A family tradition
As children, Hearn; his sister, Beth Anne; and their brother, Richard, who also races; would travel the country to watch their father compete in powerboat races.
"Growing up, it was coming back from a boat race that I got to go to the Grand Canyon," Hearn said. He said many of the tourist destinations he's seen in his lifetime – Gettysburg, Cape Canaveral, Mount Rushmore – he saw on the way to or from boat races. And Hearn has an RV, which allows him to load up his four children (who are too young to race) and his wife for weekend boat-competition road trips. His father no longer competes, but, Hearn says, "He goes to all the races; he's the crew chief."


Hearn said the boats he and his family members race are quite different than the monstrous Unlimited Hydroplanes people may remember from the annual Thunder on the Ohio race in Evansville or the Madison (Ind.) Regatta. Those boats can reach speeds of 200 mph, which means crashes can be deadly.
But even small boats carry a risk of injury, although serious accidents are rare, Hearn said. He hasn't "fallen out of a boat in a while," he said, but recalls flipping his boat a few decades ago.
"I raced at the national championships the first year out of high school in 1989 – and I was leading … and I flipped in the first turn," he said. "I was not seriously injured, but my fingers were cut pretty badly, and they were stitched back together by a nice doctor in Hershey, Pennsylvania."
Hearn said his wife, Kelly, used to race and her father, Joe Pater, still does. In fact, Pater races against Hearn in one class: the 25SSR. Hearn finished in fourth place when Pater won the national championship in that class.
 
Edward Hearn (boat number 14-H) and brother Richard Hearn (boat number 12-H) compete in the B Stock Runabout class at the 2010 American Power Boat Association Nationals, in Oroville, Calif. (Photo Courtesy Kelly Hearn)
Scoring for APBA races is based upon both speed and overall points per season. To be in the running for overall points, racers must compete in 12 races and the regional and national championships. The best average cumulative speed wins the national high point title, and Hearn said he is in the running for that award this year.
Stephen Tyler, also a shareholder at Johnson & Bell, said Hearn's passion for racing is evident.
"He clearly loves motorsports of all kinds, not just boat racing, but boat racing is clearly a long-standing tradition in the Hearn family," Tyler said.
When he was first getting to know Hearn, Tyler said he noticed a trophy from a national championship sitting in Hearn's office. "I can tell you that – in any kind of motorsports – winning a race is a big deal; winning a national championship is a really big deal. Most racers never win any races, let alone a championship. So, Ed's championship is no small feat. I know he is proud of that accomplishment, and rightly so. He doesn't talk about it unless asked. He has that quiet intensity and desire to win that a lot of good racers have, and I think it translates to his trial practice." 
Hearn, who is 42, has been racing more than half his life. Humble though he may be, he has been inducted into the APBA Hall of Champions more than any other racer. If inducted at the end of the 2011 season, it will mark the 15th such occasion.•
 
Please enable JavaScript to view this content.