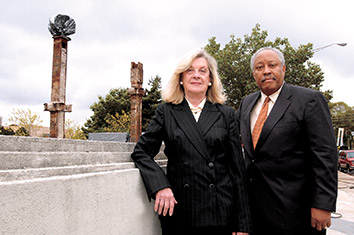 Even now, chills run down Mary Beth Ramey's spine when she stands along the canal in downtown Indianapolis and thinks about how that spot ties into the litigation she's been involved in for the past decade.
The longtime Indianapolis attorney recalls standing with family members of those killed on Sept. 11, 2001, overlooking the World Trade Center site that was still smoldering a few months after the attacks. That experience played a key part in her decision to fight for those families in the federal court system.
For her husband and law partner, Richard Hailey, the full impact of that same litigation hits home when he thinks back to interviewing the exiled president of Iran on foreign soil and wondering whether that deposition and even his life might be in jeopardy from bomb blasts or attempted assassination at any moment.
Those are the most poignant memories that the Hoosier lawyers have experienced as part of the legal team representing plaintiffs who had family members killed in the 9/11 terrorist attacks on the United States.
Ten years after 9/11, the two lawyers say the focus of the litigation hasn't much changed: accountability of those they believe are responsible, based on a decade of high-risk international interviews, meticulous review of classified materials, and heart-wrenching visits to the terrorist-struck sites.
 
"We wanted to be a part of figuring out how this all came to be, to tell that story and expose this terrorist matrix that did this to us," said Hailey, a personal injury lawyer and former president of the American Association of Justice who's been practicing for more than three decades. "We believe this will result in an enormous, record-setting judgment against Iran, but these nation-state cases are about proving what happened and holding them accountable."
First filed in 2002, the initial Washington, D.C., suit was on behalf of Fiona Havlish, whose husband was killed in the World Trade Center attack. That case has since been consolidated into a single piece of multi-district litigation in the Southern District of New York, In Re Terrorist Attacks on September 11, 2001, No. 03 MDL 1570. The families of the more than 3,000 victims killed are accusing Iran of aiding and abetting Al Qaida in carrying out the mass-casualty plot. Plaintiffs have a default judgment against Iran, and Hailey says the suit could lead to billions in damages, but the principal focus is for the U.S. to admit Iran's involvement and mount further investigations into that.
The Indiana lawyers were part of a group of 15 firms that gathered in New York just months after the attacks, when a friend and fellow attorney in Pennsylvania asked them to get together to discuss how this litigation might be possible using the Foreign Sovereign Immunities Act.
"We got involved because of a call from a friend, but we became committed by being there, seeing this, and talking to people who lost the ones they loved," Hailey said. "I was angry and needed to do something. If I was 32, I knew what I would've done – that would have been to enlist. But at my age, the legal process is what I could do; it's what I knew and believed in."
The central component behind the litigation is the Foreign Sovereign Immunities Act of 1976, which Hailey describes as saying: "we'll respect your government's sovereignty unless you do certain acts that give way to a private cause of action in our federal courts."
Nine firms remain on the case after a decade, and Hailey describes the expensive and sometimes-dangerous litigation as "a hell of a journey."
Some of the most memorable moments are sealed by court order, and Hailey can only tell the stories of what happened in those times of international travel through expressions on his face and emotion in his voice reflecting what he went through. He's been to France, Germany, Spain, Iran, Iraq, and many other parts of the world to speak with former military and intelligence operatives. Hailey recalls once in France, finding out a former Iranian intelligence official was brutally murdered by a death squad the night before a deposition.
"This has been a career changer, "he said. "When you're on the Feds' watch list because you're talking to murderers and foreign intelligence operators, or sitting in a room in France deposing the exiled president of the Islamic Republic of Iran, hoping that the building doesn't blow up … that's when it gets real. You have all that in the background, and it proves this isn't just another case."
Ramey didn't travel overseas and instead handled many of the U.S. components, and so she was not exposed to the same level of danger as Hailey was. The most vivid memories for Ramey come from the very beginning, just months after the attacks when the two traveled to New York and talked to members of the 9/11 victims' families and stood on a hotel platform overlooking Ground Zero. At the time, the site was still smoldering and those images, smells, and sounds still come to mind when she stands in front of the 9/11 Memorial in downtown Indianapolis and looks at the two beams from the World Trade Center on display. That sends a chill down her spine and brings back vivid memories.
"It takes you right back there, and really enforces why we're doing all of this," she said.
Appropriateness offederal courts
Not everyone agrees with this type of litigation. G. Robert Blakey, a Notre Dame law professor who is nationally known as an expert on federal racketeering, has also previously been involved in some 9/11 litigation. He doesn't believe the Iran suit will be successful, since he sees that proving that a country may have intended money to go to terrorism is next to impossible and these organizations don't have money on hand to collect. He also noted that the Foreign Sovereign Immunities Act doesn't provide a RICO element, making collection even more difficult.
"I don't think that civil litigation is the way to deal with terrorism," he said. "Criminal or military tribunals, maybe. But not the civil courtroom in this way."
Ramey and Hailey disagree, looking to one Washington, D.C., attorney on a similar Foreign Sovereign Immunities Act case against Hezbollah and Iran that has already collected some of the money. They see that seized assets and money in foreign banks, or even held in the U.S. Treasury, can be used to collect. Another possibility is a new democratic regime that is emerging in Iran, and the new leaders could agree to pay of some debts in order to make peace.
The defendants didn't respond to the suit – Hailey says more than $100,000 was spent ensuring Iran received adequate legal service – and the court has entered a default judgment against Iran. After 10 years of investigation, the legal team filed its proofs in May and is now awaiting a decision from the judge on whether proceedings can be held to assess potential damages. The lawyers hope to know in the next year what happens next and if they're able to proceed, or if other decisions need to be made about the litigation's future.
"We'd hoped to close the book by now, to have some finality to this legal chapter," Ramey said. "Litigation can keep wounds open, and many of these families want closure. But they do want to keep this alive and get disclosure, so that Iran is held accountable."•
Please enable JavaScript to view this content.