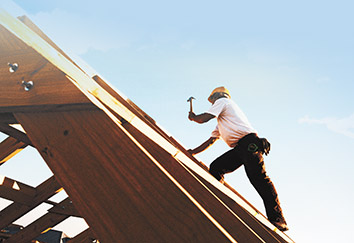 On Oct. 1, the Occupational Health and Safety Administration will begin enforcing fall protection plans for residential contractors. The regulations have long applied to commercial construction, but this year marks the first that OSHA will begin requiring residential contractors to exercise the same level of caution when employees are working more than six feet above the ground.
Sean Devenney, who practices construction law for Drewry Simmons Vornehm in Carmel, said contractors have sensed this change coming for quite some time.
 
"It's been 12 years of comment, and now (OSHA is) saying: Hey listen, the technology in fall protection has gotten good enough, cheap enough, and we've decided that it's just too important, and the statement that it's economically infeasible just doesn't hold water – you've got to protect your employees."
What it means
According to OSHA regulation section 1926.502, all residential construction companies must ensure that workers are protected from falling by means of safety nets, guardrails, or other safety mechanisms like harnesses. This new directive seems to be a direct response to the high number of workplace fatalities that are caused by falls.
Preliminary findings of the Census of Fatal Occupational Injuries show that 115 people died on the job in Indiana last year, 18 of whom worked in construction. Across all occupations, falls were the third most common cause of fatal workplace injury, accounting for 17 deaths. Transportation incidents and contact with objects and equipment were the most common causes of workplace fatalities.
Ripley
Mike Ripley, vice president of health care policy and workplace safety for the Indiana Chamber, said that being in compliance with OSHA's guidelines may be easier for some businesses than others.
"The additional personal restraint guardrail systems that are required over six feet are going to have some impact on small business," he said. "There will be some added costs."
Ripley said that a greater concern for the chamber is that under the Obama administration, OSHA seems to have become much more aggressive in enforcing policies. For example, he said, OSHA now cites as a recurring offense anything that happens at least twice in a five-year time frame, rather than the previous standard of three years. Repeat violations lead to higher fines.
"They're cracking down more and looking at repeat offenders … it makes business the bad guy," he said. "Please don't get me wrong – we are for protecting workers and employees
and making sure they have a safe environment." But he questions whether potentially levying higher fines, with increasing frequency, is the right approach.
Devenney points out that fines can add up quickly for small-time contractors.
"The fines can range from $7,000 to $70,000, so for a roofing contractor … you get fined $7,000 for a full violation, and that's the whole roof that you just put on," Devenney said.
Todd
Ronald Todd, a Noblesville personal injury attorney, thinks his perspective may be different, because of the nature of his work.
"It's sad if people don't want to spend a little extra money to protect people from getting injured," Todd said. Even though he does not handle OSHA complaints, he has handled civil cases involving parties seeking recovery due to workplace injury or death, and he said he believes all construction companies – no matter how small – should have a comprehensive safety plan in place.
"Most of these things could've been prevented, if they had just followed OSHA," Todd said.
Enforcement
OSHA has given contractors the better part of a year to make sure they're in compliance with the fall protection guidelines. In December 2010, OSHA announced that it would begin enforcing the guidelines this year, although that date has been pushed back a few times. As of Oct. 1, however, the "grace period" for contractors to adapt to the standards is over.
"I don't know whether it's only speculation on my part that Indiana OSHA will focus on this, but my sense is that if you issue a new rule like this, you're probably going to do the regulatory thing and make sure it's known that: we're taking it seriously," Devenney said.
Chetrice Mosley, spokeswoman for the Indiana Department of Labor, the office that oversees the Indiana OSHA office, said IOSHA has not hired additional inspectors to enforce the revision to its regulations. Generally, she explained, IOSHA investigates a business when a complaint has already been filed; but there are times when businesses are randomly selected for inspection. In any workplace where a fatality has occurred, IOSHA investigates.
She said if inspectors were to see a violation in plain sight – like a roofer teetering precariously with no safeguards against falling – they could do an on-the-spot inspection.
"But we're not necessarily driving around looking for that," she said. "While we're going to be enforcing this as it comes to our attention … we also have a division called INSafe, in which we work with Indiana employers, employees, labor unions, etcetera." Through INSafe, companies may ask IOSHA to inspect their businesses so they know whether they're in compliance.
Fetty
Jeremy Fetty, of Parr Richey Obremskey Frandsen & Patterson's Lebanon office, said he thinks that contractors who are affiliated with trade organizations are probably aware of the new OSHA requirements.
"But my sense is that some of the smaller and general contractors that aren't as involved in trade associations … I'm not sure how much they even are aware of what the requirements are, and if they are, I'm not sure if they're taking them seriously yet."
He echoed Ripley's statement that OSHA seems to have become more aggressive under the Obama administration.
"Do I think they're going to spend a lot of time and resources chasing down contractors? Probably not," he said. "But you're probably going to get a lot of OSHA inspectors who are going to keep a better eye out."•
Please enable JavaScript to view this content.