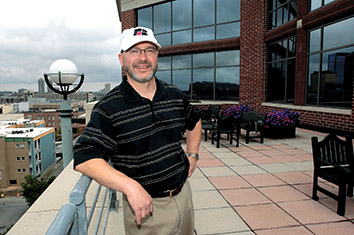 Mark Thornburg, general counsel and director of legal affairs for the Indiana Farm Bureau, never considered becoming an attorney until he was 30 years old. His father was a "small-time" farmer, he said, and Thornburg grew up with an eye on the issues that mattered most to farmers.
He graduated from Purdue University with a bachelor's degree in agricultural economics, and he earned a master's in business administration from Ball State University. He ultimately decided to pursue his law degree after returning from a Washington, D.C., fellowship offered through the United States Department of Agriculture and National Association of Counties.
"I could see the importance of the legal component for agriculture, and it was not a total void – there were ag attorneys out there, but not nearly enough," Thornburg said. He enrolled in Valparaiso University School of Law and earned his juris doctor in 1998.
Indiana Farm Bureau hired Thornburg as an environmental attorney in 1999. Nowadays, as the director of legal affairs, he oversees the bureau's legal team and handles a wide variety of legal tasks. The bureau has about 280,000 members statewide. Around 80,000 of those members are farmers, and the rest are either people with an interest in agriculture or Farm Bureau Insurance policyholders. (Insurance, Thornburg points out, is just one of the many perks of bureau membership).
 
Thornburg plays a significant role in developing Indiana Farm Bureau's public policy agenda. The bureau's structure as a 501(c)(5) – a status granted only to labor, agricultural, or horticultural organizations – allows it to be classified as a non-profit while granting it the ability to lobby. Thornburg and one other attorney on the legal team are both registered lobbyists.
Issues that are important to farmers are important to the Indiana Farm Bureau. "And that can be a variety of things from grain contracting to bankruptcy to natural resources to land use planning to the Farm Bill – transportation, health regulations – a wide variety of things," Thornburg said.
Under Thornburg's direction, the bureau gained significant ground in the legal community. In 2005, he helped launch the Indiana Agricultural Law Foundation, a non-profit subsidiary of the farm bureau.
Indiana Farm Bureau President Don Villwock said, "Mark's vision of the need for and the founding of the Indiana Bar Ag Law Foundation has been a key to helping farmers in precedent-setting cases in our state. He was also one of the original attorneys that saw the need for an Ag Law section of the Indiana State Bar Association."
Thornburg said the non-profit Indiana Agricultural Law Foundation does not provide one-on-one legal advice to farmers. But it may provide funding in support of some cases it believes have broad applications in the agricultural community.
"We have an advisory committee that reviews cases that's made up of agricultural attorneys and farmers, and then the committee makes a recommendation to the board for approval and denial," Thornburg said.
The subject matter in some of the cases the foundation has supported has included the right of property owners to allow high-fenced hunting on their own land, Indiana's Right to Farm Act, and whether violating an administrative statute constitutes a crime (the charges were dropped in that case).
He said that the foundation has limited financial resources and therefore must be selective in deciding which cases to support. Increasingly, it has been funding educational programs. Thornburg said he hopes attorneys around the state feel free to contact the Indiana Farm Bureau legal team about any cases that may be relevant to farming.
Outreach efforts
Because of Thornburg's background – including 18 years working for the Purdue Cooperative Extension – he understands some of the ongoing, deep-seeded issues that affect farmers. And he understands the culture.
"I guess it's like any industry," he said. "There's kind of a culture and vocabulary that's very specific to their business."
He said that people may not realize that even today, many farm agreements or leases are either oral or sealed with a handshake.
"Eastern Livestock went bankrupt earlier this year and they did a huge-volume business with most of it not in writing," he said. "What I like to say is you don't write agreements for the times that go well. Farmers need to be – and for the large part, many of them have become – very sophisticated business people."
Thornburg said that one cause of anxiety in the farming community is that the people making decisions that directly affect farmers often don't understand the farmers' point of view. Eminent domain, he said, is one such cause of concern.
"Where public utilities go is generally the path of least resistance, which is through our members' farmland," Thornburg said. And when a builder is making money off of something built on a farmer's land, it causes tension.
"A lot of regulators don't understand the culture of what they're trying to regulate," Thornburg said. "There's no smokestack to measure the output of a farm like you would the output of a factory."
The Indiana Farm Bureau legal team tries to bridge that gap between farmer and regulator, helping farmers understand the rationale behind certain regulations and how those regulations could affect their livelihoods.
"We've tried to work with American Farm Bureau in other states to develop a system where states talk about these issues more," he said.•
Please enable JavaScript to view this content.