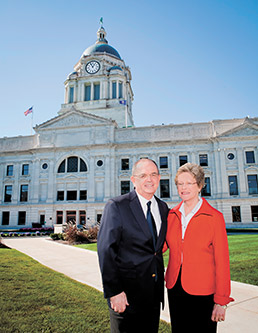 In a 45-minute conversation with C. Erik Chickedantz, the accomplished lawyer and Vietnam veteran never boasted about his own accomplishments, although the many awards in his office are a testament to his service to Indiana's legal profession.
Chickedantz, the new president of the Indiana State Bar Association, explained that years ago, Fort Wayne attorney Tom Yoder – who was bar president at the time – asked him to serve on the association's board of governors as secretary. He's been part of ISBA's leadership ever since then, taking on increasingly more responsibility in the last decade.
"I can remember when Tom Yoder called me from Indianapolis and said, 'Hey, Ace, we've nominated you to be the vice president,'" Chickedantz said. "My response to him was, you need to get somebody younger; I'm too old for that job. I'm 70 years old now – and I was 68 or 69 then – and I said you need to get some younger person with more energy. And he said, 'I hate to tell you, this is a job you can't say no to.' So, anyway, I said, all right, let's go with it."
Going with it
Chickedantz, a partner with Hawk Haynie Kammeyer & Chickedantz, has been a member of the ISBA and Allen County Bar Association since 1972. He served as the ACBA president from 1994 to 1995, so he understands that at the local and state level, certain factors are necessary for the organization to thrive.
"The success of any bar association – the Allen County bar, or the state bar – is to provide value, so that people who are thinking about being a member, want to be a member. I've got to pay $280 a year – what do I get for this?"
Chickedantz said that in the next year, he thinks the bar will help more people understand the value of that membership. He cites Casemaker – an online legal research service provided free to ISBA members – as one of the most obvious benefits of membership.
"Lawyers anymore don't go to the law library and pull out a law book and fiddle around like I used to do," he said. He thinks law students and young lawyers, especially, could benefit from having free access to Casemaker as members of the bar.
"Law students can be members of the state bar – we give them a great deal. We're looking to increase what I think is a fairly low participation to high participation. And … if I was going to be a solo practitioner and I was thinking about legal research, and I knew that as a member of the state bar association I could get this Casemaker benefit free – that's a no-brainer," he said.
Chickedantz said that while Indiana's bar already has a participation rate of about 80 percent, he thinks that it could be higher. Looking to boost participation among law students and young lawyers is especially important to the longevity of the organization, he explained.
"We have a Young Lawyers Section, which is the largest section we have. If your young lawyers section is not a vibrant, active, energetic section, that does not bode well for the association," he said. "We have really a terrific bunch of young lawyers, and law students are the farm system for the Young Lawyers Section. The Young Lawyers Section is the lifeblood of our association. We're going to continue to focus on young people and try to convince them that an Indiana lawyer cannot afford not to be a member of the state bar association."
Personal goals, personal life
One of Chickedantz's big pushes is the bar's new wellness committee (see related story on page 1).
"I'm not the prime example of wellness, but I believe in it," he said. "Never smoked, and back in high school and college days, I was captain of the cross country team. At West Point, I ran all four years, ran track. And in the service, the airborne units, they're big time into gung-ho exercise, so I did a lot of running there."
Chickedantz graduated from the United States Military Academy at West Point in 1963 and then served in the Army for six years.
"I started out at infantry school, then airborne school, then ranger school, and then my first duty assignment was with the 101st Airborne at Fort Campbell (Ky.), and I was there for 18 months or so, and then got my first orders to Vietnam." After receiving his orders, Chickedantz went through additional training at Fort Bragg (N.C.), and then went to language school in Monterey, Calif., where he studied basic Vietnamese. His first tour of duty began in 1966.
"I was an adviser with the Vietnamese Airborne Division – that's their paratrooper division – and that was just a wonderful duty assignment, as a first lieutenant, and then as a captain. And then I came back home and went to Fort Benning (Ga.) for a while, and then up to Fort Bragg, with the 82nd Airborne Division, then back to Vietnam for a second tour."
After returning from his second tour, Chickedantz knew he wanted to get out of the service, but he wasn't sure what to do next. His inspiration came from a friend and fellow soldier.
"One of my best friends from West Point was a guy named Bob Mayer – we ran cross-country and track together, and during our first tour in Vietnam we were in locations where we could spend some time together. He came back and went through the JAG program and went to law school in the service, and then was an Army lawyer. He got out of the service, one thing led to another, and he is now a judge sitting on the Circuit Court for the Federal Circuit in Washington, D.C.
"When Bob was in law school and I was talking to him on the phone saying I'm thinking about getting out of the service, he said, 'Well, you might wanna think about going to law school. You don't have to be a lawyer, but you can use a law degree for all sorts of things.'"
Chickedantz enrolled in The University of Michigan Law School and graduated in 1971.
He and his wife Anita knew they wanted to stay in the Midwest. They had both grown up in Washington, Ind., where their romance began when Anita was in 7th grade and Chickedantz was a freshman. The couple had friends in Fort Wayne, so they decided to settle there and raise their family – two sons and two daughters.
Looking back, and forward
Beneath the broad windows overlooking the Allen County Courthouse, a ledge in Chickedantz's office is a showcase for his many family photos. He has worked hard to get to where he is today, but not at the expense of his family – a simple principle that young lawyers should remember, he said.
"Particularly, if you have a family, you've got to look at other things in life. Have hobbies – working is not the key to success," he said. "There are other things in life than simply trying to break your neck working. That's not to say that working hard isn't a good thing – it is – but you just can't be working hard all the time."
Chickedantz said he considers himself fortunate to be part of the ISBA, which has one of the largest participating memberships in the Midwest.
"And that's not because of me, that's because of our past board of governors, our past presidents," he said.
Jeffry Lind, immediate past president of the ISBA, commented on why he thinks the ISBA will continue to thrive under Chickedantz's leadership.
"Erik's years of litigation and mediation experience combined with his vision of building the strength of leadership within the ISBA spells nothing but great things for the Indiana State Bar Association," Lind said. "He is quiet, yet affable. A listener, yet a leader.  An honest critic, yet a good friend."•
Please enable JavaScript to view this content.