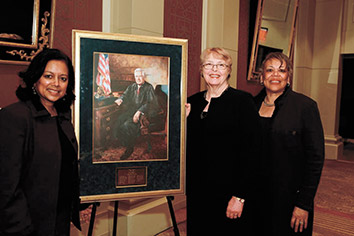 When Indiana Justice Brent Dickson joined the state's highest court more than two decades ago, his wife was unsure whether she could take a specific job in her area of education.
His appointment came in January 1986, and Jan Dickson was hoping to use her education in pioneer family structures to land a position with the Indiana Historical Bureau that had opened up. But a potential conflict existed: the chief justice at the time was a board member of that organization and she didn't know if it would be appropriate to take that job, given her husband's new position with the Indiana Supreme Court.
The state's judicial conduct code at the time didn't address that issue and no guidance existed, so she didn't apply. But that led Jan Dickson to begin searching for answers, not only on the issue she'd confronted but many others that raised ethical concerns for judges and their family members in ways that no one had addressed before.
"The judicial code back then was written for male judges and on the assumption that family would just follow the same rules," Brent Dickson said. "Everyone had shared concerns about these things, but these were sudden surprises that weren't expected by anyone and hadn't been addressed."
The answers were unclear on an array of issues including how spouses could interact when it came to local politics or social activities, how they navigated security in their homes, how children and families might respond when contacted by a reporter or acquaintances about a particular case or issue and what types of jobs or community involvement might present potential conflicts.
Jan Dickson went to work talking about those issues, setting in motion the creation of an organization that during the past quarter century has become a national educational resource instituted in multiple states to help judges, spouses and family members navigate the unique issues they might face.
"Any challenges we face in the context of judicial families is in the context of the importance of administration of justice," she said.
That work has earned Jan Dickson a prominent place in the country's legal history books. She was inducted into the Warren E. Burger Society in November. Membership honors those individuals who've demonstrated "an exemplary commitment" to the administration of justice through their contributions of service or support to the National Center for State Courts, which former U.S. Supreme Court Chief Justice Burger founded in 1971.
Specifically, she received recognition for creating what has become the Judicial Family Institute, a nonpartisan organization that she began as a corporation with a quarterly newsletter in the late 1980s and with early support from the Indiana Bar Foundation. It became so popular that in 2001, the Conference of Chief Justices formally adopted the program as one of its own committees. The CCJ sponsors educational programs and conferences for the nation's jurists and their families, with many programs coupled with state and federal judicial conferences. Multiple states also have created their own local efforts.
Jan Dickson recalled one of the earliest ethical issues that she and her husband faced – charitable fundraising – something that many judges and their families encounter on a regular basis. She had been involved in the Tippecanoe County March of Dimes efforts, and the justice's wife wondered if she could have her name attached to any fundraising letters – especially those going to attorneys – because of her husband's judicial role. She read and studied national judicial conduct codes addressing that issue.
"It's been fun to watch the changes over the years and see how the judicial codes have evolved to embrace not only the changing judiciary, but their families," Jan Dickson said.
Through the institute, judges and their families can find information on any number of broad topics: emergency preparedness, ethics, family and children, finances, health and quality of life, high-profile cases, judicial assistance, media interaction, adapting to change on the bench, political life, retirement and home or courthouse security concerns.
The institute's services are widely sought by judges nationally and statewide, many say. Some issues that arise involve the tough lessons about what a judge and his or family might encounter when interacting in a local community, particularly smaller, more rural areas. Some might face conflicts when attorneys or community members try to befriend or associate with a judge or family member about a legal issue through a community activity or school function, judges say.
"Jan Dickson is the history of the JFI, and her work toward founding and growing the organization has provided an invaluable resource to judges around the country and closer to home," said Jane Seigel, executive director of the Indiana Judicial Center. "Of course, Indiana's judicial families have benefited from the JFI's education and information, but the judges themselves also tell me what an impact Jan's work has had on their quality of life."
Many lawyers and judges in Indiana who have a spouse either on the bench or bar say they don't discuss case specifics with their significant other. Some have a standing order in the firms or court clerks' offices that trigger an automatic recusal if a lawyer who is the spouse of a judge or sometimes the firm itself is involved in a case before that particular judge.
Michael Hebenstreit, a partner at Whitham, Hebenstreit & Zubek in Indianapolis, said he has that arrangement on cases that might go before his wife, Marion Superior Judge Robyn Moberly. Technically, there'd be no conflict for another firm member to practice in her court, but they've just decided "not to go there." They don't have many other ethical issues or conflicts that have come up, he said.
"Marion County is big enough where we just kind of blend into the world a little bit better," he said.
Boone Superior Judge Matt Kincaid learned about dealing with the home front of being a judge long before he took the bench a decade ago. His dad, Warren A. Kincaid III, presided over that same court before he did. The son recalls little things – having a burglar alarm installed for what seemed like no reason, and an apparently "dicey" Marion County case which led to threats and his school being put on notice. But overall, Kincaid said his parents operated mostly as he tries to do: with a balanced perspective at home.
"You always have to be cautious of the appearance of the judiciary," he said. "It isn't good enough to just be correct, it has to be 110 percent above board and transparent. That does go into your personal life as a judge."
Jan Dickson sees the online world and aging judiciary as key issues to discuss in the future. Judges and their families interacting on Facebook and social media has been a concern nationwide, as have discussions about how judges face retirement and what they do after leaving the bench, she said.
Whatever the future holds for the Judicial Family Institute and the Dicksons individually, the justice who is now in his 25th year says the importance of the effort can't be understated because it goes to the heart of what the legal system is about.
"We're all in this together and they make us better judges," he said of judicial family members.•
 
Please enable JavaScript to view this content.