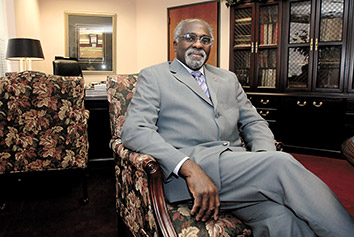 Indiana Court of Appeals Judge Carr Darden has worked every day since he was 13, but that's soon going to change.
The state's mandatory retirement age of 75 for appellate judges is knocking on Darden's door, requiring him to step down this summer from the job he's held for almost 18 years.
Darden submitted a letter Jan. 3 to the Indiana chief justice and the governor's office announcing he will retire as a full-time appellate judge on his 75th birthday, July 21. He plans to stay until the last day, balancing the line between "leaving too early" and staying around until he's "ineffective or callous in judging."
Darden said he's been preparing for several months, hoping to ease into retirement with a smooth transition.
"There's no doubt I would say yes, that I'd stay on longer if the law didn't say I had to leave at this point," he said. "But on the other hand, I look at all the years I've worked and this is a relief in that sense."
Darden was appointed by Gov. Evan Bayh in 1994 to fill a vacancy created by Judge Stanley B. Miller's death. He graduated in 1970 from Indiana University Robert H. McKinney School of Law and spent the first part of his career in the State Public Defender's Office and Marion County Public Defender's Office.
Darden originally laughed at the idea of becoming a judge when others suggested it, but he later became a Marion County master commissioner to see if it was a career path he'd like to pursue. That led to him serving on the Marion Municipal and Superior courts in the late 1980s and early 90s until his appointment to the COA.
Since then, caseloads have increased by more than 14 percent and Darden said much of the way the court does business has changed significantly – from technological changes to how the appellate panels are structured to decide cases. When he started, the panels were divided up by each of the four judicial districts instead of the rotating nondistrict-focused organization the appellate court uses now. That meant each panel was together for at least two years instead of only a few months as they are now before a random rotation of new judges occurs.
But change has been a good thing. Darden said the court collaborated better after blurring those divisional lines.
"Now when we speak, we do so as a unified court of appeals that operates in three-judge panels representing the state," he said. "That was a significant change."
Darden doesn't discount the significance his presence on the court has had in the area of diversity – he's the only African-American on the Court of Appeals since Justice Robert Rucker left the intermediate appellate bench to join the Supreme Court in 1999. He hopes diversity will be a consideration when his successor is chosen to ensure at least the same minority representation on the court.
"I wish I could guarantee another African-American could be a part of the process," he said. "Having diversity on the court makes an impact, since we can enlighten each other on our own views and reading of the laws. We shouldn't blindly follow that, but know that diversity is important and needed because everyone has to be represented in what we're doing here."
Darden said he spoke with Chief Justice Randall Shepard in August about his retirement, indicating he would gradually phase out his leadership responsibilities. Darden decided to submit his letter at the start of 2012 to allow the Indiana Judicial Nominating Commission enough time to begin interviewing judicial applicants.
Shepard's announcement in mid-December about his plan to retire in March was a surprise, Darden said, and he wonders how that will impact the selection process for his replacement. The process to find Darden's successor has not yet started.
To prepare for his retirement, Darden stepped down from leadership roles with the Judges and Lawyers Assistance Program Committee, the Criminal Court Benchbook Committee of the Indiana Judges Association and the Senior Judges Committee for the Indianapolis Bar Association. He isn't able to decrease his caseload, but he has started saying no to new assignments in order to allow others to take on those tasks.
"My staff doesn't like to leave me alone, because it seems like every time they step away, I'm answering the phone talking and agreeing to something," he said. "I'm cutting back on that."
The Judicial Family Institute has said that retirement is something too many judges fail to adequately think about while they're on the bench, not considering how they'll truly feel about being retired before they get to that stage.
Senior judges who've gone through the retirement process say that the administrative planning Darden's doing is about all that anyone can do before stepping down. How much a judge can gradually withdraw depends on the level of activity and involvement each person has.
Senior Judge Patrick D. Sullivan, who left the Court of Appeals in 2007 after four decades, said he evaluated in advance of his retirement whether he could continue to contribute as a senior judge.
"You have to know when your time's come and look ahead to what you'll want to realistically do," he said.
No other Court of Appeals judges are required to retire soon due to age, but that doesn't mean they can't choose to leave at any point, court administrator Steve Lancaster said.
"There's not much you can actually do and plan for until there's a new judge named, but you can gather your resources and energy mentally," he said. "We don't assign cases differently and there's really not a lot the court can do about the loss of experience because that's inherent. You really have to make sure the staff is ready for a smooth transition and the new judge has the ability to hit the ground running."
Darden plans to be a senior judge at the appellate and trial court levels, but he is concerned about how much the trial court experience has changed in the nearly 18 years he has been a COA judge.
Darden recalls a conversation with his friend, U.S. Senior Judge William Steckler, prior to his death. For so long, Steckler said, he and his wife had put off "living life off the bench" until he retired, and then within only a few years of his retirement, she died. Darden has used that experience as guidance in his own life, traveling and spending time with his family and doing church activities as much as he can.
"I've been living my life while on the bench, not waiting until after I've left," he said, noting that he and his wife of 57 years have maintained a balance between his judicial work and leisure. "This has been the best job in the world and this is my home, but we've tried to make sure we're not waiting for something that might never come."•
 
Please enable JavaScript to view this content.