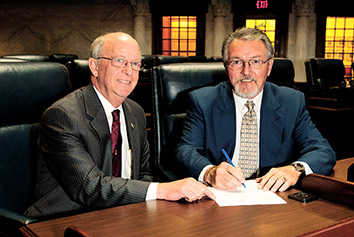 Two Indiana lawmakers have introduced a bill that may offer hope to financially strapped pro bono districts.
Sens. Ron Grooms, R-Jeffersonville, and Brent Steele, R-Bedford, authored Senate Bill 235, which would funnel $1 from each civil filing fee to the Indiana Bar Foundation to augment funding for the state's 12 pro bono districts. The districts are funded by interest on lawyer trust accounts, and with interest rates currently below one percent, pro bono plan administrators have been searching for new funding sources.
If the bill passes, it could result in about $500,000 in annual support for pro bono providers. That's roughly twice the amount of the $253,865 in total IOLTA funds awarded for 2012.
Finding funds
Charles Dunlap, the IBF executive director, said Steele approached him with the idea for SB235.
"It's not often that you have a senator take an interest in something and contact you," Dunlap said. But Steele is a lawyer who has volunteered his time for pro bono work over the years, and he's seen the economy put a strain on providers.
"Until interest rates come back up in this county, we're going have to add some fuel to the fire – some funding – and this is the only thing I could think of," Steele said.
 
Dunlap said he and Steele discussed how much money would be needed to prop up the districts. Arriving at a figure of $500,000, Steele then approached the Legislative Services Agency and asked for staff to come up with a funding model.
"We worked backward and tried to get LSA to estimate the number of civil filings a year – if we'd had enough civil filings, it could've been 10 cents per filing," Steele said. "We didn't raise any more money than what we needed."
Grooms appreciated the opportunity to carry the legislation by Steele, who signed-on as co-author on Jan. 9.
"To be able to have an opportunity to introduce this I thought was a good decision to make, to show the residents of the state of Indiana that we do care about your ability to seek legal service and that we care about providing legal service to everyone, regardless of their ability to pay," Grooms said.
Diane Walker, plan administrator for Pro Bono District H, based in Bloomington, said Steele and his siblings – Byron Steele and Darlene Steele McSoley – are known for their pro bono volunteerism, often logging the most pro bono hours in Lawrence County.
"We've been giving awards since 2007, and every year one of them wins it," Walker said.
Grooms, who is a pharmacist, said that the desire to give back is not unique to the legal community. He said that independent, locally owned pharmacies often find ways to help people of modest means.
"You ask them how many prescriptions they give away per year, and you would be amazed," Grooms said. "You have an obligation to your community to not let some child get sick because of some $5 or $10 prescription."
Success in other states
In Pennsylvania, similar legislation has resulted in a significant increase in funding for legal services. The Pennsylvania IOLTA Board released a report in 2009 announcing results of the Access to Justice Act. Enacted in 2002, the legislation changed state statute to establish a $2 surcharge on filings in state courts. In 2006 and 2011, the legislature extended the act, which now has a sunset date of Dec. 21, 2014.
Between 2004 and 2008, the AJA produced $36.5 million in funding for the Pennsylvania's IOLTA-supported pro bono providers. In that timeframe, more than 138,000 people directly benefited from that funding.
Many other states have earmarked filing fees for civil legal aid programs, according to the American Bar Association.
SB 235 initially did not have a sunset date for the new funding model, but Grooms said he plans to amend the bill to include one.
Indiana has not done as much as some other states to support legal aid, Dunlap said, and the proposed legislation was a welcome departure from that tradition.
Steele said that sharing authorship of the bill with Grooms is a natural fit.
"That's what I think makes the citizen legislature what it is. You get a lawyer and a pharmacist working together – go figure that," Steele said. "It is a matter of personal relationships and professional responsibility that we each have. He's a professional in his line of work, and me in mine, but you're all trying to get the same end product."•
Please enable JavaScript to view this content.