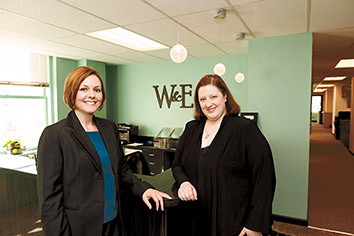 Holly Wanzer remembers a client whose marriage of more than three decades was ending due to her husband's infidelity. Because Indiana is a state with no-fault divorce, the painful reasons behind the woman's broken marriage would be of no relevance in a courtroom. But in collaborative divorce, clients can speak candidly about how they're feeling.
Gathered in a room with her future ex-husband, his attorney and Wanzer, Wanzer's client confronted her spouse. "She felt like the weight of the world had been lifted off her shoulders because she got to say, 'You hurt me; this changed my life,' and he listened," Wanzer said.
Wanzer and law partner Elisabeth Edwards say that one of the reasons they practice collaborative divorce at Wanzer Edwards is because of the closure it offers clients. But they also enjoy simply practicing law in a different way.
More time, less paperwork
Spouses using collaborative divorce hire their own collaborative law attorneys and sign a pledge stating that they will not attempt to take the case to court before a collaborative agreement is reached. Working as a group, they hash out the conditions of their divorce. If either party breaks the agreement barring litigation, their collaborative attorneys must withdraw and the parties must hire new lawyers. That provision means clients are generally motivated to make negotiations work.
Edwards said meetings with the parties and lawyers are usually two or three hours long, and Wanzer said she's seen some divorce cases come to resolution in two meetings.
"For litigation, if you involved the court, you're doing really well to get in and out in eight or nine months," Edwards said.
Both Edwards and Wanzer said they enjoy not being at the mercy of the court's calendar and that any deadlines they have are self-imposed. Collaborative divorce also eliminates the time that would be spent preparing paperwork.
"It's much more efficient – it's the way I like to lawyer," Wanzer said. "I have a piece of information and I'm going to give it to you so we're both on the same page, instead of I'm going to wait for it to be asked for and then only give you what you asked for – those kinds of litigation games disappear in the collaborative process."
Catherine Stafford, managing attorney at Stafford Law Office in Bloomington, said the collaborative divorce cases she has handled have generally been resolved in two to four meetings – but those meetings are sometimes contentious.
"Those meetings can be very tense. It's not an unstressful situation," Stafford said. "However, it cuts through a lot of layers of negotiation with everyone there in the same room. We can just say what needs to be said in a meeting rather than file a lot of pleadings about it."
Stafford, Wanzer and Edwards are all mediators, and many of the skills they learned in that capacity apply to collaborative law, too. But a key difference between mediation and collaborative divorce is that in mediation, the mediator is not representing the interests of either party, but rather serving as a neutral third party.
The agreement reached in collaborative divorce must be submitted to the court, which issues the final divorce decree. If at some point in the future either party should violate the agreement, the other could pursue a remedy in court.
Wanzer said that people tend to take more ownership of the results they achieve in collaborative divorce as opposed to court because agreements decided in court are usually handed down from a judge.
"The prospect of standing before a stranger, a judge, and letting that stranger make a decision about where my child is going to live and what my child's schedule is going to be would terrify me and be terribly uncomfortable," Wanzer said.
A slow-growing trend
Stafford said the practice of collaborative law has existed for about 20 or 25 years – but it's just beginning to catch on in Indiana.
Stafford
"You're always hesitant to pick up each new fad as it comes along," Stafford said. "It's been really effective – I was a little dubious at first."
She attended a two-day training in 2008 hosted by the St. Joseph County Bar Association to learn how to practice collaborative law, but such trainings aren't always easy to find in Indiana. Wanzer and Edwards said they hope to see training offered this summer and said the International Academy of Collaborative Professionals lists training opportunities farther from home, such as the 2nd annual IACP Institute, which will be offered in Phoenix this March.
In order to successfully orchestrate a collaborative divorce, each party must have an attorney who is trained in collaborative law, and that can be a problem in some parts of the state where the practice hasn't taken off. Stafford said she knows of six other attorneys in her area who also practice collaborative law.
"I think that maybe some attorneys are scared of the process because they think it might put them out of a job, or that there's going to be less work for them to do," Edwards said. "I think that so many clients want the assurance that the threat of court is off the table." Wanzer explained the importance of preserving the family relationship.
"Of course, I represent a client, but at the end of the day these people need to be co-parents together long after attorneys have left their lives. And I'm not doing my job, in my opinion, if I'm employing a scorched earth approach that's going to ruin that co-parenting relationship," Wanzer said.•
Please enable JavaScript to view this content.