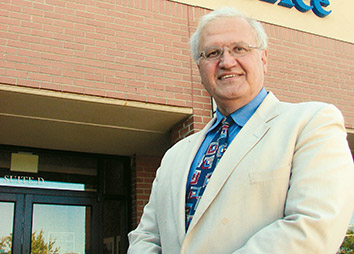 Lawyers are familiar with how to construct contracts, estate plans, briefs – the necessary but often uninspiring writing that's part of the job. Sometimes lawyers seek a more creative outlet, the opportunity to put pen to paper in a more fulfilling way.
Alyce Miller, professor of creative writing and literature at Indiana University, has noticed that in classes and workshops she leads for the public, many of her students are doctors and lawyers. Miller is also a lawyer, and she said that while legal writing and creative writing require different ways of thinking, she sees a strong connection between those two abilities.
"The law itself is all about narrative," she said.
With planning, peer input and exemplary time management, some attorneys have used their knack for narration to write the kind of books you won't find in a law library.
The process
Solo attorney Stephen Terrell has worked as a journalist and editor and has written extensively for magazines and legal publications. Recently, he finished his first legal thriller, "Stars Fall," and published it online.
"The story's been in my head in various forms for more than 10 years, probably. And at one point in time, I wrote about the first 60 or 70 pages and circulated it to some friends … and got some comments back that were saying things that I knew, which was, it was way overwritten," he said. "And so, I let it sit for a while and really went back to it I guess a couple of years ago and spent a good part of the summer writing it."
Terrell knew that if he was going to finish his book, he'd have to make time to write.
For the six to eight months that he was working on all the details, outline, plot and characters, Terrell would visit Starbucks or Dunkin Donuts up to four times a week to get coffee and devote a couple of hours to work on his book. And on the weekends, whenever he had an hour or two to spare, he wrote.
"That's a really hard thing to do, and maybe that's why it took me so long to get this done. But I just decided at my age, I wanted to do this, and by God, I was going to do this at least once."
Marti Starkey, like Terrell, had been pondering an idea for a book for years. But fiction wasn't her calling. She wanted to write about the role spirituality played in her life.
"I just knew that I needed to do it, but it didn't ever really seem like the right time," she said. "And certainly, my life was so full, just being a lawyer and being a mother – it's a very full life."
In 2010, Starkey's father died, and almost immediately after his death, she felt a renewed focus on writing her story. But she told only the people closest to her about her plans, one of whom was her law partner, Lisa Adler.
Adler told Starkey, "Marti, you take two weeks, and you just write." Starkey didn't know if it would be possible to put her book together in two weeks or how Adler would be able to juggle the additional work during that time. She quickly figured out that she was most productive in the morning, so she would write each mo
rning, working half days in the afternoon.
She hired a driver to take her to a business meeting in Chicago so she could edit her work on the way there and back. And one day, after taking her husband to a doctor's appointment, she waited for him in the car, working on her book.
"I just made every minute count," she said.
Motivation
Laurie Gray was a deputy prosecuting attorney for the Allen County Prosecutor's Office in Fort Wayne for 10 years. During that time, she worked with young people who had been victims of sexual violence and with young perpetrators, too. As a former high school teacher, she understood how to relate to young people, and she sees writing as a way to have a positive influence on the lives of teens.
"Really, literature is such a great way to meet kids where they are … and to just really have a dialog with kids," she said.
Her book, "Summer Sanctuary," about a boy who befriends a homeless girl won the Moonbeam Children's Book Gold Medal award in 2010 in the Young Adult Fiction – Religion/Spirituality category. And her forthcoming book, "Maybe I Will," is about a teen attempting to overcome a sexual assault.
"You read the whole book from the first-person perspective not knowing whether Sandy is female or male," Gray said. "The whole point is Sandy is both. Sandy is actually human, and you can read the whole book one way or the other."
Gray said she doesn't care if her books make money and that she does plan to continue writing. And Terrell said his goal is simply for people to read his work.
Starkey said she won't profit from sales of her book; all proceeds are earmarked for overseas missionary organizations. And she's not sure if she'll write another book.
"I do not feel compelled to write another book; I'm not saying that I wouldn't write another book, but this is the only book I've felt compelled to write," Starkey said. "It's actually been one of the most amazing journeys I've ever had. The joy and peace I felt on that Thursday when it was completed, it was just beyond my understanding."
Learning
Miller said that while age and experience are helpful for aspiring writers, all lawyers are not necessarily outstanding creative writers.
"Legal writing is very different from creative writing, and there are extremely beautiful legal writers, but not all legal writers are beautiful writers," she said. "I don't think it's specific to lawyers, but when you write you have to be a really broad and deep reader."
Both Miller and Terrell believe workshops may be helpful for lawyers who want to become authors because they offer writers the chance to talk to each other and share ideas.
"I would encourage somebody who's a closet writer to take the time to go to some writers' conferences, particularly the Midwest Writers Workshop at Ball State – it's really close, and it's not expensive, and it gives you the ability to network with people who share your same interest, Terrell said. "It's more than just about writing classes, it's learning – talking to people at lunch about how they find time to write, how do you find an agent, how do you find your story ideas, how do you find the inspiration for it – I think that's really important, to get out and be among people who write."•
 
Please enable JavaScript to view this content.