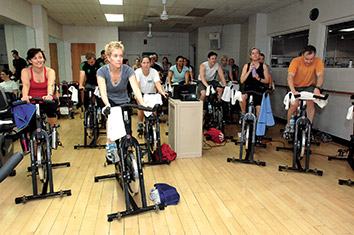 Sneakers, shorts and T-shirts aren't what most attorneys typically wear to continuing legal education sessions. But on Jan. 30, lawyers put on their workout gear and hit the gym for a one-hour CLE on ethics.
Led by Indiana Supreme Court Justice Steven David, the CLE combined spinning – riding stationary exercise bikes – and a lecture and PowerPoint presentation on ethics. David's co-presenter was Don Lundberg, former executive secretary of the Indiana Supreme Court Disciplinary Commission and current chair of the Indiana State Bar Association's Committee on Wellness.
The sold-out session was part of the state bar's new "Fit to Practice" initiative, which encourages attorneys to lead an active, healthy lifestyle.
David – in his first time leading a spinning class – presented on issues that arose during his time as chief defense counsel for Guantanamo Bay detainees.
Deputy Attorney General Jordan Church participated in the program and said he liked the way David presented the information.
"He kind of took you through a slideshow, so as we were riding the spin bikes, it was as if we were going on a bike tour, going to Cuba, going down to Guantanamo, seeing it through his eyes and what his experience was like," Church said.
 
Participants seemed to be more engaged in the presentation than they might typically be at a standard CLE, because they weren't able to access their smartphones or read a newspaper, Church added.
"There was some concern that the folks taking the class might not get as much out of it in that format, but I think people were actually more focused and got more out of it because of the limited distractions," he said.
Getting people moving
C. Erik Chickedantz announced last year as incoming bar president that one of his primary goals was to get lawyers to be more active. David explained that the wellness committee's goal is simple.
"They're just trying to get lawyers doing something – and if they're already doing something, then doing a bit more," he said.
David exercises regularly and plans to run a marathon this year.
"I like to engage in multiple activities and probably do them poorly," he said. "In the past 20 years, I've done a plethora of triathlons … so I'm a mediocre swimmer, a mediocre biker, a mediocre runner."
Rushville attorney Julie Newhouse does Pilates two days a week and some type of cardiovascular exercise twice a week, but she wondered if she would be able to keep up with the class.
"I was really afraid that I was going to tank, but I made it through the whole hour without tanking!" she said.
Lawyers learn about ethics while getting a workout. (IL Photo/ Perry Reichanadter)
Church, who regularly bikes to work, enjoyed the combination of fitness and learning.
"It got some attention, and it really did just put a nice point on: here's a way to combine a normal activity with wellness and exercise, and I think it really did a nice job of emphasizing Erik Chickedantz's focus on fitness," he said.
David believes the wellness committee has been discussing offering similar opportunities, although combining fitness and CLE does have it limits.
"Obviously, swimming and CLE may not work," he said.•
Please enable JavaScript to view this content.