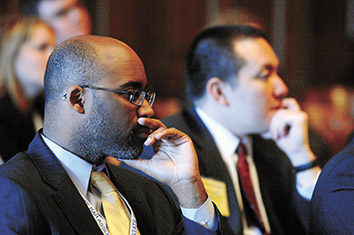 A group of 25 young lawyers is learning about the importance of leadership skills in the legal profession and why those skills matter beyond the office. As members of the Indiana State Bar Association's first Leadership Development Academy, the group will travel around the state through May to attend monthly two-day sessions on topics including diversity, education and law enforcement.
The state bar hopes the academy will foster leadership skills that lawyers can use not only in their practice, but in governmental and community roles, too. And developing those skills may lead to more professional opportunities.
Lawyer leaders
Marisol Sanchez, general counsel for Endress + Hauser, was on the planning committee for the LDA.
"I wanted to use what I've learned to help mold the Indiana State Bar Association's LDA … because of all the things that I've done, and because I want to help people who are starting out in their careers," she said.
In her role as general counsel, Sanchez said she relies on her leadership skills daily.
"Leadership skills come in very handy in being able to communicate effectively, work with people and also bridging gaps between one department and another," she said.
Mike Biberstine, who focuses on mass transit and government reform as director of public policy for the Greater Indianapolis Chamber of Commerce, regularly uses leadership skills while interacting with the City-County Council and Mayor Greg Ballard's office. But he didn't have the benefit of participating in a leadership program before landing in his current role.
"I'm still learning," he said. "I've always been a very good observer, so I've been very cognizant of the folks around me and tried to pay attention to the way they dealt with issues."
The state bar's LDA curriculum allows participants to receive advice directly from people in key leadership roles. The group learned about leadership in the judiciary and government Feb. 13 and 14, traveling to the Statehouse on Valentine's Day to meet with some of Indiana's most influential lawyers.
"One of the things that all of us were impacted by is the genuineness and authenticity of the people – particularly the Supreme Court justices. They're down-to-earth, normal people," said Jaime Oss, a participant in the academy.
Setting examples
Sanchez formerly clerked for Indiana Supreme Court Justice Randall Shepard.
"Chief Justice Shepard was truly a role model. He exemplifies leadership in its totality, so to speak. Just being a part of his day-to-day activity and seeing the impact that he has had not only on the legal profession, but on the community as a whole – and nationally he is recognized for all he has done in the judiciary," she said. "It really set an example as to what a leader really looks like and how I wanted to mimic that in my professional career."
Oss works alongside her role model in Michigan City.
"My dad is probably the person I look up to – he is the Huelat in Huelat Mack & Kreppein," she said. "He's very active in the legal community; he's very active with the Defense Trial Counsel, Defense Research Institute. I guess I'm following – or trying to at least – in his footsteps."
Whitney Mosby, an attorney with Bingham Greenebaum Doll, learned about leading by example when she participated in the Indianapolis Bar Association's Bar Leader Series in 2005-2006. That program – established nine years ago – also selects 25 attorneys, with three to 10 years of experience, who attend leadership sessions in Indianapolis and complete a community service team project.
She learned in the Bar Leader Series that good leaders need to be able to create "buy-in" from the group they're leading – and that's mostly done by being a good example.
"If you are not excited and passionate and involved in the group, then the team members aren't going to buy into the ultimate goal of the group either," she said. "People are inspired if you are inspired."
Basic applications of leadership
Scott Chinn, president of the Indianapolis Bar Association and past president of the Indiana Municipal Lawyers Association, has held many leadership positions in his career. And he said leadership skills are necessary in daily life, too.
Lawyers find themselves thrust into many types of leadership positions, "even if they don't want to be," Chinn reflected. "Lawyers get called on all the time to resolve disputes."
Shontrai Irving, Gary, left, and Terry Tolliver, Indianapolis, listen during their visit to the Statehouse as part of the state bar's Leadership Development Academy. (IL Photo/ Perry Reichanadter)
Chinn suspects lawyers routinely use their leadership abilities informally – in their churches, their neighborhoods or other settings where people turn to them for guidance.
He said leadership begins with the ability to understand people's concerns and aspirations. Oss – through her participation in the LDA – has picked up on those fundamentals.
LDA participants took a personality test and shared the results with the group. The results helped them understand which members were reflective, which were pragmatic, and how to interact with people of different dispositions.
Oss is involved in groups at her son's school, and she sees how lessons she's learning through the LDA may explain why groups aren't necessarily as productive as they could be.
"You're thinking more about your own goals and reason for being there, and sometimes you forget there are other people, and things that they're looking to accomplish, and sometimes that gets in the way of consensus," she said.
Branching out
LDA participant Shontrai Irving, a litigator for State Farm Insurance, said he appreciates that the LDA scheduled sessions in varying and diverse locations. And that's one of the reasons he made time in his busy schedule to participate.
"We all have work to do, but I wanted a greater awareness of what was going on around the state," he said.
Oss
Sanchez explained that taking steps to grow professionally, as the LDA participants are, is a wise move.
"If you show the interest, and you show that you try to make your mark in this world – personally or professionally – it pays off," she said.
Mosby has held several leadership roles since her time in the IndyBar Leader Series. She served on the board of directors for the Indiana Chapter of the Leukemia & Lymphoma Society and was chair of the IBA's Young Lawyers Division. She said the personal connections she made from the Bar Leader Series caused her to seek out roles where she could be around other lawyers she might not interact with regularly. Specifically, she mentioned that as a current board member for the Indianapolis Bar Foundation, she enjoys "just being around a fun group of people."
Public image
Lawyers increasingly find themselves adapting to changes in the profession, like finding ways to be competitive with online legal services, Chinn said.
"I think one thing that can really help lawyers stand out is to be leaders – to show in demonstrable ways that we're adding judgment that you can't just get from the Internet," he added.
Oss thinks that by being more engaged in their communities, lawyers may be performing a service to the profession.
"The opinion that people hold of lawyers isn't that great. We as a group would like to change that attitude, and I think that being out there and being leaders in our communities and leading by example can hopefully change that attitude that people have toward lawyers, in general," she said.•
Please enable JavaScript to view this content.