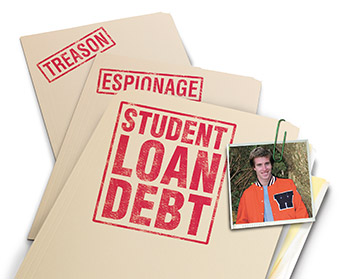 Statutes of limitations exist for nearly all federal criminal actions – except for espionage, treason, and since 1991, student loan default.
Delinquent borrowers may be relieved to learn that student loan default – unlike espionage and treason – is not punishable by death. But defaulting on a student loan can have disastrous effects on a borrower's personal credit and lead to a lifetime of financial difficulties.
In February, the National Association of Consumer Bankruptcy Attorneys called on Congress to restore bankruptcy discharge for student loans in its report, "The Student Loan 'Debt Bomb': America's Next Mortgage-Style Economic Crisis?" In the meantime, colleges, federal assistance programs and state governments are taking steps toward reducing loan debt before it becomes unmanageable.
Gradual changes in bankruptcy law put the squeeze on borrowers
In 2010, student borrowing for higher education surpassed $100 billion and total outstanding student loans exceeded $1 trillion for the first time in 2011.
Before 1976, federal student loans could be discharged in bankruptcy. But that year, Congress created an exception to United States Bankruptcy Code to exclude federal student loans from discharge unless they had been in repayment for five years. That exception was included in the 1978 Bankruptcy Act; then in 1990, the five-year repayment provision was changed to seven years. In 2005, Congress eliminated altogether the ability to discharge all federal and most private student loans – with one exception.
Borrowers may – in rare instances – be able to discharge student loan debt if they can prove in court evidence of undue hardship.
"Impossible – I've never seen it done," said Jeff Hester, chair of the Commercial & Bankruptcy Law section of the Indiana-polis Bar Association. "I stopped reading the cases."
David Ollis, chief counsel for the Chapter 13 trustee in Seymour, said most lawyers don't even mention that slim chance of proving undue hardship.
"It's such an uphill battle that most attorneys are putting in their plans: 'The undersigned debtor will not discharge student loan obligations,'" Ollis said.
The NACBA mentions in its report the challenges in proving undue hardship.
In the case of Marie Brunner v. New York State Higher Education Services Corp., 831 F.2d 935 (2d. Cir. 1987), the 2nd Circuit Court of Appeals affirmed the finding that Marie Brunner failed to meet a three-pronged test of undue hardship: (1) that the debtor cannot maintain, based on current income and expenses, a "minimal" standard of living for herself and her dependents if forced to repay the loans; (2) that additional circumstances exist indicating that this state of affairs is likely to persist for a significant portion of the repayment period of the student loans; and (3) that the debtor has made good faith efforts to repay the loans.
In some cases – such as Denise Megan Bronsdon v. Educational Credit Management Corp., 435 B.R. 791 (BAP 1st 2010) – where borrowers attended college later in life, with no evidence to suggest that their job prospects would improve, courts have granted undue hardship. But in order to prove undue hardship discharge, borrowers would need to hire an attorney to sue their lender – an expense that struggling graduates generally cannot afford.
Dangers of default
Last September, the U.S. Department of Education released 2009 cohort default rates, which had increased across all sectors from the prior year.
The rates only consist of borrowers whose first loan repayments came due between Oct. 1, 2008, and Sept. 30, 2009, and who defaulted before Sept. 30, 2010. Among that group, public institution defaults increased from 6 to 7.2 percent, private institution defaults increased from 4 to 4.6 percent and for-profit default rates jumped from 11.6 to 15 percent.
Ollis said that once student loans enter default, people who enter bankruptcy and make good-faith efforts to repay their debt find their problems are compounded by some sections of the U.S. Bankruptcy Code. Ollis helped litigate such a case several years ago.
In Joseph M. Black, Jr., Trustee, Plaintiff-Appellant, v. Educational Credit Management Corp., and Margaret Spellings, Secretary of Education, Defendants-Appellees, 459 F.3d 796 (7th Cir. 2006), Ollis was part of the plaintiff's counsel in a dispute about collection fees on two defaulted loans.
In that case, David Barnes received Federal Family Education Loan Program loans for $2,000 and $2,625 to attend truck driving school. He defaulted in 1989. Barnes and his wife filed for Chapter 13 bankruptcy protection in 1999, and in 2000, Educational Credit Management Corp. filed an unsecured proof of claim in the Barneses' bankruptcy proceeding for $9,108.01, which represented $7,714.88 in principal and interest on the two defaulted student loans and $1,393.13 in collection costs. The collection costs were 18.06 percent of the $7,714.88 total of the principal and interest Barnes owed by then. ECMC arrived at this figure by using the methodology prescribed in 34 C.F.R. Section 682.410(b)(2), which allows the use of a flat "make whole" rate, in lieu of actual collection costs in the particular case.
Ollis argued that the law unfairly penalizes people who are attempting to make good on their defaulted loans. The Higher Education Act makes defaulters liable for "reasonable" collection costs, which the FFELP calculates based on the loan guarantor's entire portfolio. That means a borrower who defaults but is trying to repay that debt is paying a pro rata share of collection costs for all other defaulted loans, regardless of whether those other borrowers in default are attempting to repay their debts.
People who enter Chapter 13 with defaulted student loans pay down their other debts so that they may be able to repay their loan debt after emerging from bankruptcy three to five years later. But during that time, their loan debts continue to grow.
"The thing that separates a credit card from a student loan debt is, they're both unsecured debt, but in a student loan, the interest continues to accrue during bankruptcy," he said.
Read a related story on how higher education is looking at address the student-loan economic crisis.
The call for reform
Hester said that most clients under age 40 or 45 who file for bankruptcy have student loan debt.
"What I've never understood is, why are they non-dischargeable? What is so special about this debt?" Hester asked. He also said that a simple fix – and one not available to student loan borrowers – would be the ability to refinance existing student loans at the prime interest rate.
Alan White, professor of law at Valparaiso University Law School and visiting professor of law at City University of New York, has written extensively about mortgage foreclosure, fair lending and other consumer law issues. He does see some parallels between what's happening with student loan debt and the housing bubble – particularly because borrowers' loan debt is growing faster than their ability to pay.
"It's really the non-dischargeability of the student loan that's the problem," he said. "We like to think that bankruptcy is a screening device – there are rules in bankruptcy that keep people who can afford their debts from turning their backs on them."
Among NACBA's many recommendations for reform is that Congress re-impose a reasonable statute of limitations on student loan collections. The Higher Education Act Amendments of 1991 removed those limitations. Since then, the government has had the power to pursue for a lifetime people who have defaulted on federal student loans.
Over the years, Ollis has seen a shift in the people filing for bankruptcy.
"We're seeing more and more student loan debt in these Chapter 13s, and the interesting thing about Chapter 13 is it has moved from people who were formerly working in factories and things like that," he said. "It's kind of gone middle class, so to speak."•
Survey data from the National Association of Consumer Bankruptcy Attorneys.
Please enable JavaScript to view this content.