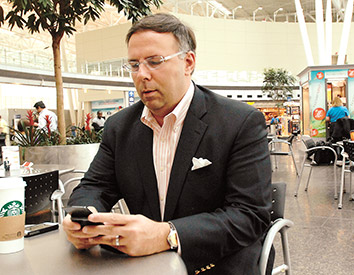 If you travel more than a few hours to get to work, you may be a "super-commuter."
According to a report from the Rudin Center for Transportation and Policy Management at New York University Wagner School of Public Service, super-commuters have become more common in recent years. More people are traveling great distances by car, bus, rail and air either to work or for work. With advances in technology that allow people to work remotely or while they travel, super-commuting may be poised to change the concept of a typical work week.
Creative commuting
 
Dina Cox, a trial attorney for Lewis Wagner, travels extensively for work. She has clients in Arkansas, California, Ohio, and has commuted frequently to Michigan to meet with a client. What's the key to managing so much travel?
"Be optimistic about it, and try to have fun," she said. "A lot of people who travel for their jobs really hate it, but I've done some kind of crazy things to make it fun."
When Cox was driving to Michigan for work several times a month, a longtime friend was struggling with a failing business. Cox encouraged her friend to obtain her chauffeur's license, and soon, Cox had a driver – and a companion – for her more than 10-hour roundtrip. Cox billed the client for the driver's time, but waived her own hourly fee during travel. So she was able to help a friend and create a situation in which she could work while on the road – the key to staying on top of a busy caseload.
Have iPad, will travel
On his way home from Chicago, 7th Circuit Court of Appeals Judge John D. Tinder uses his iPad to catch up on emails as his law clerk drives. He makes the roundtrip between Indianapolis and Chicago about 25 times per year, and he's experimented with different modes of travel over time.
Tinder
"I've tried the Megabus, I've tried flying – I haven't taken the train. The train from Indianapolis to Chicago takes almost six hours, because it makes a lot of stops along the way," he said.
He once was stuck standing on a bridge in Chicago on a blustery winter day, waiting on a bus for two hours. Tinder said he prefers to drive, so he's not at the mercy of delays. He and his law clerk usually take turns at the wheel.
"It was something I hadn't factored into the equation when I started the job," he said of the roughly seven-hour roundtrip. "It either comes out of your work time, or it comes off your leisure time; and you've got to get the work done, so you can't take the hours out of work. So I try to make the travel time as useful as possible."
Jet-setting professors
Gregory Castanias catches up on tasks after arriving at Indianapolis International Airport. (IL Photo/ Perry Reichanadter)
Gregory Castanias is a busy intellectual property lawyer who heads the Federal Circuit practice at Washington, D.C.'s Jones Day. Every Thursday, he boards a plane for Indianapolis, and either rents a car or takes a shuttle to Bloomington, where he's teaching a spring semester course on federal circuit advocacy at Indiana University Maurer School of Law. He makes the return trip the same day.
"A lot of people ask me, 'How do you possibly do what you do?' and I say I get more work done on Thursdays when I'm strapped to a seat on an airplane … I'm able to edit and review briefs, and the iPad is very handy," Castanias said. "When I land … if I have calls that I need to return, I make those calls while I'm traveling to Bloomington."
This is Castanias' third semester teaching at the school. He's had to miss two out of 13 classes this semester, but nonetheless was able to teach remotely, via Skype, using his iPad.
John Steele also commuted to teach at IU Maurer – from Palo Alto, Calif. He said that being technologically savvy is a must for long-distance commuters.
Steele
"I think you have to stay up on the modern means of connectivity, you have to have patience for the down times in the airports, in the hotels, on the planes, and I think you have to have a theory of how to be productive on a plane, otherwise, the time sink is massive," he said.
When teaching at IU Maurer, Steele would wake up at 4 a.m. Pacific time on a Sunday to begin his cross-country trek. He'd fly back to California after class on Wednesday, around 2 p.m.
"It was a lot of time, but it's interesting, because as a solo practitioner, I don't have to sit in a law office surrounded by a law library anymore," he said. Most of what he does is provide advice remotely.
"My clients didn't care – I could be in Timbuktu for all they care, as long as we could get on the phone as needed and talk through an issue," Steele said.
Tips for travelers
Cox, who is a vegetarian, said she's always on the lookout for good vegetarian or ethnic fare when she travels. And when she's traveling to nearby states, she tries to find pet-friendly accommodations, so she can take along her German shepherd.
"If time permits, the other way to enjoy traveling is books on tape. If I have a driver I'm working, but if I have to drive, I listen to a book," Cox said.
Tinder maintains a residence in Chicago, which means he has to spend less time figuring out what to pack when he travels.
"Basically, I kind of duplicated my Indianapolis life in Chicago, in a sense that I keep clothing up there, there's a dry cleaners nearby – I try to minimize what I take back and forth, because the less I take back and forth, the less time it takes to think about what I need to take."
As busy as Castanias is, he and his wife think their daughters – ages 2 and 5 – should learn early that life shouldn't be consumed by work. When Castanias had a partners meeting in Orlando, the whole family came along and took a trip to Disney World. And the couple hires a babysitter for Friday nights so they can enjoy dinner and a movie.
Castanias also said that teaching at IU Maurer helps demonstrate for his daughters the importance of service. At the end of each semester, rather than submit his travel expenses for reimbursement, he provides a total for the school's records, but writes off the cost as a donation.
"I sometimes get asked why do you do this in Indiana when your office is across from George Washington (University) Law School?" he said. "And the answer is I'm an alumnus of the law school, and I can't imagine devoting this opportunity to anyone else but my alma mater."•
Please enable JavaScript to view this content.