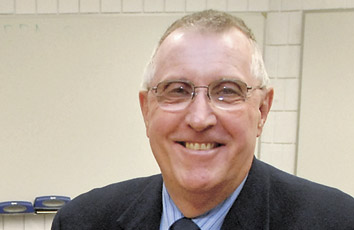 Professor Bruce Berner has been at the law school since 1971 and is a student favorite. He was repeatedly voted by students to address them at commencement – until he became disqualified because of his position as associate dean. While a student, Bruce helped found the "Valparaiso University Law Review." His name may be familiar to those who kept up with the Ford Pinto case in the 1970s – he served as a special prosecutor. Today, he is working with the Indiana Supreme Court by evaluating a pilot project that will open certain court proceedings to the public through webcasting.
The best advice I ever received was
as I left for college, my father advised me to be a little suspicious of anyone who was certain about anything.  
I wish I had known when I graduated law school that
law school had only begun.  Many lawyers, including me, often have a hard time accepting legal principles which developed after we graduated.
My best stress reliever is
music.
If I weren't a lawyer, I'd be
a math teacher (but only because I couldn't hit well enough to be a major league baseball player). 
In 2012, I'd like to
live until 2013.
The three words that best describe me are
lucky, humorous and hopeful.
In the movie about my life,
Woody Allen would play me. (We look a little alike and both were born in Brooklyn.)
In my community, I'm passionate about
getting people to talk with each other and find that they agree about far more than they think they do.
Please enable JavaScript to view this content.