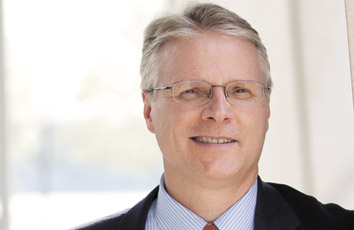 Thanks in large part to Jeffrey Knight's expertise, integrity and passion for the law, Old National Bancorp is a recognized leader in the corporate governance arena. His extensive knowledge of the law and unerring instincts have been essential to the company's success. Jeff has a tireless commitment to the legal community – brought to life through his passion for mentoring – and to the community at large.
The best advice I ever received
from a business standpoint was the advice to accept the position of general counsel at Old National Bank after having spent three years outside of the practice of law leading a small manufacturing company.
I wish I had known when I graduated law school that
even though law school was the hardest thing I would ever accomplish from an academic standpoint, the law degree would open up before me opportunities that I could not even imagine at the time.  I tell law students today that law school was the hardest and best thing I ever accomplished in life.  
My best stress reliever is
exercise.
If I weren't a lawyer, I'd be
well, I actually can't imagine not being a lawyer, but since I loved the time I spent leading a small manufacturing company, I suppose I would be active in the business world if I weren't a lawyer.
In 2012, I'd like to
spend more time with my wife, family and friends.
The three words that best describe me are
conscientious, persistent and unaffected.
In the movie about my life,
Harrison Ford would play me.
In my community, I'm passionate about
serving as an Elder in my Church, teaching the Word of God, and mentoring college-aged students.
 
Please enable JavaScript to view this content.