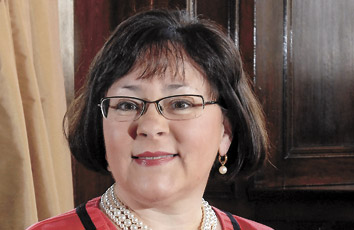 Elizabeth White is a strong advocate for civic education and outreach and a champion for voter rights. Her leadership in election law makes her a "stand-out" among her peers, specifically in her work to expand access to voting for people with disabilities, the elderly and otherwise vulnerable citizens. Beth is a hard-working, bright and generous person who continues to positively impact her community through initiatives such as yVote!, a youth-outreach program that brings hands-on civics lessons to schools and has registered thousands of students to vote.
The best advice I ever received was
the race is long, so do the right thing and it will turn out right.
I wish I had known when I graduated law school that
relationship is everything.  Be nice to everyone, you never know when you will encounter them again.
My best stress reliever is
playing with my 3-year-old son. He is so funny and joyful and crazy.  He makes me laugh, and being with him helps me keep things in perspective.
If I weren't a lawyer, I'd be
a teacher.  My parents are teachers and I teach a SPEA course at IUPUI. I love being in the classroom, which is why our yVote! program has been so much fun and very rewarding.  There is nothing like the look on a student's face when they really understand.
In 2012, I'd like to
run two good elections.
The three words that best describe me are
loyal, optimistic and humorous.
In the movie about my life,
Tina Fey would play me because my job requires a sense of humor.
In my community, I'm passionate about
voting! Civic education is the key to making sure we have an engaged and participating electorate.
Please enable JavaScript to view this content.