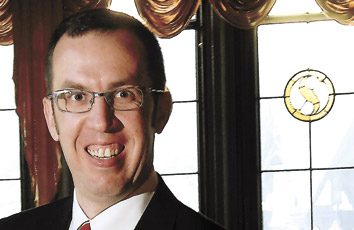 Russell Brown is the embodiment of a person who became a lawyer to effect positive change in his community, and he practices law for all the right reasons. In addition to practicing in real estate law, the Marion County Lawrence Township trustee is active making sure all people have access to justice.
In 2012, I'd like to
help a couple of great projects get off the ground in our community.
The best advice I could give a recent law school graduate is
get involved with a cause or two you care deeply about and find a practice area you enjoy, even if it pays a little less than other alternatives.
The three words that best describe me are
wonkish, community-minded and competitive.
My long-term career goal is
to play an increasing role in the on-going development of our community and our community's public assets.
If I weren't an attorney, I'd be
either a legislative aide or a land planner.
My escape from work is
vacations or trips with my wife and son; Pearl Jam. 
My mentor has taught me
it's good to develop a diverse set of skills as a young lawyer, even if you don't want to build a practice which utilizes each and every one of those skills on a daily basis.
In the movie about my life,
"Say Anything…."-era John Cusack would play me.
Please enable JavaScript to view this content.