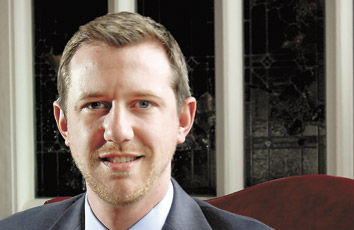 Andrew Campbell is an accomplished litigator in product liability and commercial matters, but his contributions extend beyond his litigation skills and work ethic. He has led and advanced pro bono services in Indianapolis and has been recognized for his commitment to serving those in need.
In 2012, I'd like to
continue to build a more independent practice.
The best advice I could give a recent law school graduate is
be imaginative about your employment prospects, the legal field is very broad.
My long-term career goal is
to be constantly challenged.
If I weren't an attorney, I'd be
a (very) starving musician.
My escape from work is
my wife and best friend, Emily.
The three words that best describe me are
organized, responsive and committed.
My mentor has taught me
look for creative solutions; cooperation and compromise often lead to better solutions for your clients.
In the movie about my life,
Judge Reinhold – because he is my doppelganger, and I'm a bit of a close talker – would play me.
 
Please enable JavaScript to view this content.