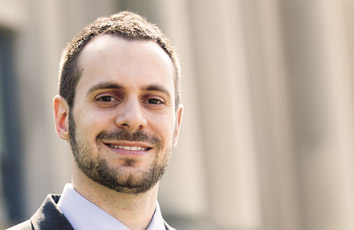 James Godbold is diligent about having a positive influence on society and potential attorneys. The litigation attorney is active in the Evansville community, working with Teen Court and the Evansville Bar Association High School Mock Trial. He is also involved with the federal court's Mediation Assistance Program and the Indiana Appellate Pro Bono Project. His professionalism and community service is a blend of competence, experience and dedication.
In 2012, I'd like to
see the Cubs win the World Series (nobody said this had to be realistic).
My long-term career goal is
to make partner with my firm, and maybe eventually become a judge. 
The best advice I could give a recent law school graduate is
to be yourself.  If you try to carry yourself and practice law in a way that does not fit your personality, you will end up being miserable.  Be yourself in the way you handle clients, in the way you deal with opposing counsel, in the way you interact with partners or supervisors.  You will be happier and more successful in the long run if you do this.
The three words that best describe me:
I'm never good at talking about myself, so I asked my wife.  She said humble, compassionate and easy-going. 
If I weren't an attorney, I'd be
a teacher.
My escape from work is
spending time with my family, reading and Crossfit.
My mentor has taught me
to always remember to be courteous.  You will run into situations and people in this profession that will bother and frustrate you.  The only thing you can control in those situations is yourself, so remember to be courteous. If you develop that reputation early, it will stay with you for a long time and will benefit you in the future.  
 
Please enable JavaScript to view this content.