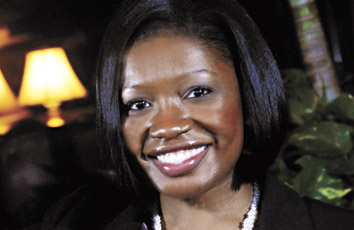 TaKeena Thompson is not only focused on developing a solid legal practice, which includes medical malpractice matters and insurance coverage and fraud litigation, she also has a desire to give back to the community through organizations dedicated to inspiring children and adults to overcome obstacles.
In 2012, I'd like to
establish and maintain a consistent workout routine.
The best advice I could give a recent law school graduate is
to immediately find a mentor who is supportive and encouraging and will provide guidance as you start this journey. There will be many times when you are expected to have the answers, but don't, and there will be times when your confidence is shattered. A good mentor will fill in the gaps in your knowledge and will help lift your spirits.
The three words that best describe me are
supportive, nurturing and passionate.
My long-term career goal is
to be well-known in the legal community as a powerful and effective attorney. I want to be the first attorney who comes to mind to handle a case.
If I weren't an attorney, I'd be
a personal stylist and image consultant. I am a firm believer in when you look good, you feel good (and you perform even better). For this reason, I volunteer as a personal shopper for Dress for Success.
My escape from work is
watching reality television. I admit, it's my guilty pleasure.
My mentor has taught me
to be my own biggest advocate and to not waste time or energy seeking affirmation from others.
In the movie about my life,
Kerry Washington would play me because she is a versatile and fearless actress.
 
Please enable JavaScript to view this content.