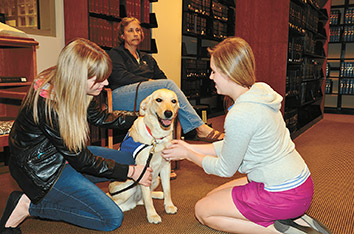 Graduating from law school is no simple feat. For many students participating in commencement ceremonies this spring, leaving the law school halls with degrees in-hand will mark one of their greatest accomplishments thus far. While it's an exciting time, new challenges abound.
Landing a job
The transition from law school to the real world is a little easier when you've got a job lined up.
Luke Fields, of Brownsburg, Ind., is graduating from Indiana University Maurer School of Law and will soon begin working for a large law firm in Washington, D.C.
 
"That was my goal coming in," Fields said, adding that he sees scholastic success and participation in on-campus interviews as keys to landing a good job.
For Kate Flood, of Indianapolis, obtaining summer employment seemed a little too easy. The Indiana University Robert H. McKinney School of Law student watched for job opportunities through the Office of Professional Development's online career center and saw a posting by a solo practitioner in need of help at a family law practice. She sent a résumé, interviewed and was hired for the summer, with the possibility of staying on after passing the bar. Flood will be working on family law issues including dissolution, child support and child custody matters.
"This is where I want to start," she said. "I just realized the other day that I went to school to be a lawyer, and I am going to be one. That's pretty cool."
School programs prepare students
Many law students rely on what they have learned in law school to ease the transition from student to practicing lawyer.
 
Flood
Valparaiso University Law School Dean Jay Conison said the law school tries to help make the transition process smoother for students through mentoring programs, bar preparation courses and encouraging interaction between students and alumni.
"There is a pretty strong culture among our faculty of addressing students' needs in knowing what is involved in transition," he said, adding students also have opportunities to participate in externships and clinics where they gain practical hands-on experience.
Kasie Gorosh, of West Bloomfield, Mich., immersed herself in student activities and involvement at Maurer School of Law and began preparing for the transition from law school to a legal career from day one. She will sit for the Michigan bar exam and clerk for a judge in late summer.
Rodriguez
Mercedes Rodriguez, of Indianapolis, who is graduating from the Robert H. McKinney School of Law, also took advantage of the law school's in-house and community programs to hone the skills needed to practice law. Rodriguez enjoyed working for the law school's immigration clinic, which receives referrals from The Neighborhood Christian Legal Clinic in Indianapolis.
"I have grown a lot as an individual during these years," Rodriguez said. "I feel like I have become a much more outgoing person than I used to be, and a lot more assertive than I used to be."
 
Family matters
With graduation and searching for, or starting, a new job comes the often-discussed challenge of work-life balance. Embarking on a legal career means considering relocating and making other choices that may influence a new lawyer's professional and personal life.
Scott
Maurice Scott, from Brunswick, Ga., is graduating from Robert H. McKinney School of Law. He doesn't have a summer job lined up yet, but he is optimistic and does have some promising lunch meetings scheduled. He hopes to work in some sort of administrative capacity.
After sitting for the Indiana bar exam, Scott has another life-changing event scheduled – he's getting married in August.
Scott is excited about the approaching nuptials, but admitted it is hard to concentrate on wedding planning while also job hunting and preparing for the bar.
Some grads are packing their bags and saying goodbye. Fields, who has lived in Indiana his whole life, said that one of the main challenges he faces is leaving home.
"This is a wonderful place to have been raised," Fields said. "Indiana will always be home."
The big test
Bar exam preparation is of utmost importance to law school grads. Some students turn to outside organizations to get ready for the big test. Rodriguez has signed up for a bar review course through BarBri; Scott will be reviewing for the Indiana bar exam in live morning sessions with the help of the IndyBar Review, the official bar exam review course of the Indianapolis Bar Association.
"There is something special about the bar exam that I have never encountered in another test," said Fields, who will sit for the Indiana bar this summer. "It all boils down to one exam. It's a daunting thing because it is such a critical part of entering the profession."
For Flood, it's all about time management.
"I'm not sure how to balance studying for the bar and working," she admitted. But she added she is happy to be able to earn money and experience this summer.
"I didn't want to have to take out a bar loan, those are like desperation loans," Flood said of the loans available to those studying for the bar, which generally carry much higher interest rates than government student loans.
Financial matters
Student loan concerns, for many new grads, remain on the back burner for now. Some take comfort in the fact that student loans can be deferred for several months after graduation and that there are repayment options.
Scott has student loans to repay, but he isn't letting that get to him. Before going to law school, he read the autobiography of United States Supreme Court Justice Clarence Thomas. He took some comfort in the fact that Thomas didn't finish paying off his own student loans until 1990, although he graduated from law school in the 1970s.
Student loans are not Fields' main concern right now, either. They were a necessary element of earning a law degree and, at this stage in the game, are viewed as one part of the professional degree process.
"The debt I have taken on to get a law degree absolutely will be an investment worth every dollar," he said.
The great unknown
Fear of the unknown, for many graduating students, is what concerns them most.
"I am excited to graduate, I just don't like the uncertainty of not knowing what's next," Rodriguez said.
Although she doesn't know what the immediate future holds, Rodriguez has a clear picture of what type of law she'd like to practice.
"I am looking in the areas I am interested in working, which are immigration law or working in a nonprofit setting," she said. "I also would be interested in criminal law, and so I've been sending out materials but have had limited success."
While Fields said he is happy with his law school education and the opportunities he has been afforded, he acknowledged that entering the legal field today has challenges.
"I think it has been a fascinating time to be a law student," Fields said. "A lot of things are in shift in the national economy and the law has not been exempt from that."
Scott continues to job hunt. For him, it's about remaining optimistic.
"I wouldn't change a thing. I enjoyed law school. It was stressful – a lot of sleepless nights. I'm excited to have the opportunity to apply what I've learned," Scott said. "I came to law school to help people. I get to get out there and, I hate to sound cliché, change the world."•
__________
Terrie Henderson-Stockton is a 3L at Indiana University Robert H. McKinney School of Law and graduates in 2012.
Please enable JavaScript to view this content.