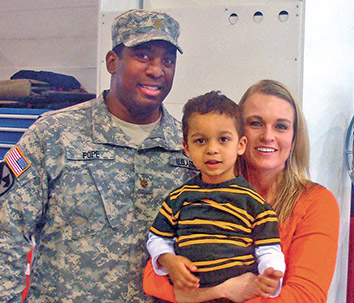 After graduating from The Ohio State University Moritz College of Law in 2003, Lauren Pope passed the Ohio bar examination on her first try. She passed the bar exam again seven years later in Illinois, and last year in Indiana.
Pope – like many spouses of military members – relocated frequently while her husband was in the Army. After moving back from Germany in 2006, Pope and her husband lived in Chicago while he earned a Master of Business Administration. She looked for a law job in Illinois, but she didn't get favorable responses to her résumé.
"They didn't understand the employment gaps, I guess," she said.
Pope, who now lives in Carmel, said she was frustrated that people in charge of hiring lawyers didn't know that moving frequently is a requirement for military families. But she found she wasn't the only one whose frequent moves were creating a barrier to legal employment after learning about the Military Spouse JD Network.
"My husband actually sent me a link," Pope said. "I don't know where he found it – they haven't been in existence very long – and he said, 'Hey have you seen this?'"
Support for spouses
Last year, Erin Wirth – an administrative law judge in Washington D.C. and wife of a U.S. Coast Guard officer – began looking online for other people like her.
She learned that the Ohio Women's Bar Association in 2009 signed a resolution advocating for provisional military spouse admission rules. Behind that effort was Mary Reding, a lawyer and Air Force spouse. Wirth contacted Reding, and in 2011, the two women launched the Military Spouse JD Network, a national bar association for military spouses.
Since graduating from law school, Wirth has moved seven times, in accordance with her husband's Coast Guard orders. Like Pope, she has taken and passed the bar in three jurisdictions.
"The actual passing of the bar isn't really the hard part. I think the hardest part is maintaining your career, and what the bar exam does is cause a huge gap because it's only offered twice a year," Wirth said.
According to the National Conference of Bar Examiners, most states require significant advance notice from lawyers who plan to take the bar exam. Arizona's deadline for submission of applications is Aug. 15 for the February exam. Delaware offers the exam only in July. Military spouses may, therefore, end up moving to a new state and waiting months to take the bar exam.
Even in states that offer reciprocal admission, Wirth said that gaps in employment created by frequent moves may affect eligibility to be admitted to the bar. For example, when she moved to Minnesota – which offers reciprocal admission to attorneys who have practiced for 60 of the 84 preceding months – she learned that the bar didn't consider one of her prior jobs to be an "active legal job," which made her ineligible to be admitted.
Military spouse JDs also hope to be understood by their peers, who sometimes question why anyone would choose to enter a marriage that could stunt their career growth.
"I said from the beginning I didn't want to be a military spouse, it wasn't good for my career, and yet, here I am," Pope said. "Yes, it's a choice to marry someone in the military. Once you're in, you've got to go along (with relocation), or you succumb to the high divorce rate."
Wirth said she's not sure everyone understands that relocation orders are not optional; her husband can't simply refuse to go where he's told to go.
Lawyers can talk about these and other concerns through the Military Spouse JD Network and its Facebook page.
"We love reading the comments because they are always very touching, and they keep us very motivated," Wirth said.
Challenges with overseas employment
In 2006, Pope and her husband moved to Germany. She knew enough German to get by in day-to-day life, but Pope didn't feel she would be able to practice law in a foreign language.
"I spent nine months just applying for anything," she said.
She found a civil service job as a tax preparer with the Office of the Staff Judge Advocate, a low-level position, but one with some legal component. She then moved up to a better position in civil service and in March 2008, landed a high-ranking job where she supervised attorneys and provided legal advice for hundreds of Americans based in Germany. But when she returned to the United States, she found that hiring managers did not understand how civil service operates, or that her ending rank of "GS21" reflected the importance of her job.
At an interview in Indiana for a clerkship, the person reviewing her résumé noted that she never seemed to stay in one job for long.
"People don't really understand. Yes, you're moving and you do the best you can, and even once you get out, you still get that moving stigma," she said. "I'm somehow in a category with suspicious characters."
The push for reform
In February, three months after hearing testimony from Wirth and Reding, the American Bar Association House of Delegates adopted a resolution endorsing the waiver of bar exam requirements for military spouses.
On April 18, Idaho became the first state to adopt military spouse admission guidelines, and other proposals are in the works. Carissa Long, assistant director of communications for the Indiana State Bar Association, said the state bar was not currently aware of any discussions regarding relaxed admission requirements for lawyers who are military spouses.
Wirth said that the network continues to grow. So far, it has added about one lawyer per day since its inception.
"We sort of expected it to slow at some point, and we haven't hit that point yet," she said.
Wirth and Reding will continue to advocate on behalf of military spouses, hoping that new employment opportunities will come along with relaxed admission requirements.
"I don't think these rules were put in place to make life more difficult for us, I think people just didn't know that military spouses were out there," she said.•
Please enable JavaScript to view this content.