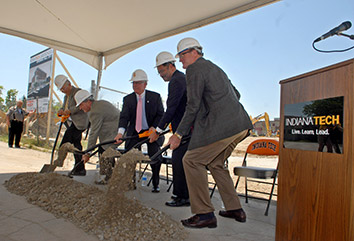 On May 18, leaders from Indiana Tech gathered in Fort Wayne to celebrate the groundbreaking for the college's new law school. The event comes one year after Indiana Tech announced plans for the school.
Peter Alexander, the law school's dean, has been pounding the pavement and promoting the benefits of the law school. He said he's met all of the judges in Allen County and many in the surrounding counties.
"We have some skeptics, but overall, we're winning them over," he said.
Identifying a need
When Indiana Tech first announced plans for the school, it said it was fulfilling a need, as many Indiana residents apply to out-of-state law schools and because the state's existing law schools are not close to Fort Wayne.
 
"There's always room for another good law school," Alexander said. "I don't think people should think about it as adding another law school, because I think in
five years, 10 years, we'll see the number of law schools declining, because those schools will disappear if they don't change their model."
Alexander said too many law schools try to be "Harvard-like," by cutting admissions from the bottom up and by "adding all kinds of requirements, but not in a thoughtful, systemized way, that makes it hard for students to know what to expect." He predicts that schools clinging to strict admission requirements will have trouble attracting students and will therefore lose money.
Frank Motley, dean of admissions for Indiana University Maurer School of Law, said IU Maurer plans to cut back on admissions this fall, simply because it had much larger incoming classes the past two years than what it normally accommodates, and those increases put a strain on resources. Motley said the incoming class is usually around 200 to 210 students, but for the 2011-12 school year, the school accepted 242 students. The year before, it accepted 251 students.
 
Above, Indiana Tech Law School groundbreaking May 18. (left to right) Judge William C. Lee, Northern District of Indiana; Robert Wagner, chairman, Indiana Tech board of trustees; Arthur E. Snyder, president, Indiana Tech; Indiana Tech Law School Dean Peter C. Alexander; Indiana Sen. David Long, R- Fort Wayne. (IL Photo/Steve Linsenmayer)
This fall, IU Maurer will return to having about 200 students in the incoming class, and Motley said they've seen a 15 percent decline in the applicant pool.
"I think half the people that apply to law schools are not accepted," Motley said. "There was always the sense that somebody was going to walk in and fill that gap. (Indiana Tech) will have an applicant pool – we have more applicants here than we're able to accept among Indiana's four schools … but like anything, it's a question of quality."
Offerings
The Indiana Tech Law School plans to accept 100 students for the fall 2013 term, and Alexander said he expects about 360 students total by the time the school has students enrolled in 1L, 2L and 3L courses.
"We have had over 850 inquiries, the interest is high and we have not even started to advertise in the northeast Indiana region," Alexander said.
He said students have been asking about the school's concentrations, which allow upper-level students to focus on one of four areas of law: advocacy and dispute resolution, intellectual property and technology law, transactional law or global law, and leadership.
Alexander said the school has had between 30 and 40 questions about transfers.
"I think some students who have chosen other schools see what we're offering," he said. Initially, Indiana Tech Law School will be unable to accommodate transfer students.
 
Anderson
The school will offer practical clinics in estate planning, mediation and immigration. In the mediation clinic, students will help mediate disputes between Indiana Tech students. In the estate-planning clinic, students will write wills, healthcare directives and other documents for employees of Indiana Tech. And in the immigration clinic, students may have some interaction with the community in representing clients, under the guidance of a supervising attorney.
Jessica Anderson, assistant dean for admissions, will be overseeing recruitment for the school. She thinks the law clinics will appeal to students because they'll get a lot of hands-on legal experience. But she also thinks the school's location and facilities will be a big draw.
"I think Fort Wayne's a really accessible city, so that's a big thing for students who are coming from out of town. We are looking to recruit nationally," Anderson said. "Another plus to Fort Wayne is that it's inexpensive and that will help (students) keep costs down."
Prior to groundbreaking ceremonies, two attendees examine an artist's rendering of the building that will house the new law school at Indiana Tech in Fort Wayne. (IL Photo/Steve Linsenmayer)
Annual full-time tuition, not including room and board, will be $29,500. Anderson said the school does plan to offer scholarships, but the amount and number is yet to be determined.
Alexander said the school cannot afford to offer the option of part-time enrollment, because the American Bar Association would require evening students to have access to the same resources as daytime students. That would drive up the school's cost of administration, he said.
"As long as I'm the dean, we'll probably just have a daytime program," he said.
Faculty
Anderson said that the school – which will be housed in one 70,000-square-foot building – is designed in a way that encourages interaction between faculty and students. Throughout the building, seating areas with cushy furniture will provide a comfortable setting for informal chats.
The school has hired four faculty members so far – two from Florida A&M University College of Law, one from Northern Illinois University College of Law and one from West Virginia University College of Law.
"We have a very diverse faculty so far, which is pretty unusual in most schools," Anderson said.
Alexander said that he's spoken to many people who are interested in serving as an adjunct professor. And for every required course, a judge or lawyer will lead the class for a two- or three-hour session, asking students to apply their knowledge to real-life situations. He said students may be asked to draft an order or write a memo pertaining to a case.
Goals
One of the school's primary goals is achieving ABA accreditation, but it must be in operation for one year before applying for provisional accreditation.
Alexander envisions a good working relationship with the legal community in and around Fort Wayne, and he predicts it will become a leader for legal education in the next decade.
He said that some law schools have been around so long that they can't or won't change how they do business, because of personal attitudes. But he's excited about what Indiana Tech Law School may be able to do.
"We have no history, we have no faculty who say we've never done it that way, so we can open up on day one with all these best practices," he said.•
Please enable JavaScript to view this content.