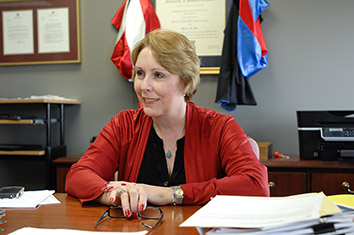 The outgoing chair of the Indiana Pro Bono Commission said she hopes Indiana takes more steps to encourage attorneys to provide free legal service as programs statewide continue to struggle with declines in funding.
"I'd like to see more law firms getting involved in helping to fund some of the programs," said Indiana Court of Appeals Judge Melissa May, who presided over her final meeting as commission chair in May. The judge, whose term officially expires June 30, reflected on the challenges of keeping the state's 12 pro bono districts afloat in a tough economy.
"One of the most heartbreaking decisions I've ever had to take was when funds got cut and we had to cut district funding dramatically," May said.
She remembers spreading the funding requests from each district across her desk and wondering how a burgeoning need for legal assistance could be met with a dwindling pool of money.
"I spent a solid week trying to figure out how to keep them open," she said of the pro bono district plan administrators. Some economized by closing their doors and moving into offices of a law firm to reduce expenses.
"It has not been easy," she said.
It was a crisis that May, the commission's first female chair, said she couldn't
walk away from. Her second three-year term was coming to an end last year, but it was extended by one year because state districts were being consolidated from 14 to 12.
"I basically volunteered to stay on because I knew it was going to be a tough time," she said.
The Pro Bono Commission distributes money to the districts based on revenue from Interest on Lawyers Trust Accounts. From 2007 until 2009, IOLTA revenue allowed the commission to distribute an average of more than $1.3 million per year and build a program reserve of almost $2.2 million.
Then the economy tanked and interest rates went flat. IOTLA revenue decreased 84 percent, and money distributed statewide plummeted this year to its lowest point – just $253,865, according to the Indiana Bar Foundation. Almost twice that amount was distributed from the reserve to make up some of the shortfall, but total statewide funding this year is less than half the amount at the peak of funding in 2009.
Districts got $554,880 less than they requested, and the reserve has dwindled to just over $800,000.
Through it all, colleagues said May's selflessness and volunteer spirit made her ideally suited for the work. Colleagues said May has been a booster and cheerleader as times got tough. She went to ballgames, dinners and other events in districts across the state to honor the work of pro bono attorneys and volunteers.
"I can't imagine how many miles she's put on her car," said Sue Ann Hartig, former executive director of the Legal Aid Society of Evansville who now works as a staff attorney for the organization. Hartig served two terms on the commission with May.
While pro bono work most frequently deals with family law, Hartig and May served when unprecedented numbers of Hoosiers faced foreclosure. Hartig said May was deeply involved in training more than 1,000 Indiana attorneys in foreclosure law when the housing market collapsed in 2009. Indiana trained more lawyers in foreclosure law than any other state, said commission executive director Monica Fennell.
That kind of commitment is in May's character, Hartig said.
"Judge May practiced in Evansville before she joined the court, and she's a product of the Evansville Bar and its commitment to legal aid," Hartig said. "She was committed to it long before we had a Pro Bono Commission."
"Her organizational and networking skills create energy and make things happen," said commission member Sarah (Sally) Holterhoff, an associate professor of law librarianship at Valparaiso University Law School.
May "has been a very hands-on leader, demonstrating to the rest of the commission really what it means to be involved in pro bono," said Allen Superior Judge David J. Avery, who also serves on the commission with May.
Fennell said May's commission leadership was on a list of trailblazing accomplishments.
May "has paved the way for many women lawyers in Indiana by being the first female lawyer and partner at the firm of Fine & Hatfield and one of the first to regularly try jury trials," Fennell said.
"Judge May does not hesitate to challenge assumptions and to speak up for what she believes is right," she said.
May became involved in pro bono work in private practice, where she handled insurance defense and personal injury cases. Her rationale for taking pro bono cases: "I can, I'm a lawyer, and I just want to help," she said.
She praised districts that have developed creative ways to use limited pro bono resources. Some have "unbundled" services, so that various attorneys may work on different aspects of the same case. Some have developed "self-help" centers for pro se litigants. Some have set aside designated times to provide free legal counseling.
Pro bono providers might have to continue finding creative ways to stretch their budgets.
May said that until interest rates improve, IOLTA money will be tight for the state's pro bono programs. To make up some of the shortfall, Indiana Bar Foundation Executive Director Chuck Dunlap said Gov. Mitch Daniels signed a law designating a $1 filing fee for the next five years on most civil cases. The fee is expected to bring in about $450,000 a year.
"We'll still have to use the reserve, but not to the extent we were," Dunlap said.
In the meantime, May said she hopes Indiana will consider rule changes that have encouraged pro bono service in other states. She said New York now requires attorneys in training to document 50 hours of pro bono work as a condition for licensing. Other states require annual reporting of pro bono service. May said a commission task force is considering such possible rule changes.
But May said she'd like to see more lawyers taking the initiative to work pro bono.
"In listening to attorneys who do pro bono cases, some of them tell me these are some of the most rewarding cases they've handled, because the people are so grateful to have assistance," she said.
May's successor will be selected by the Indiana Supreme Court, but those who know her by her commitment to pro bono work say she'll be tough to replace.
"Hopefully, whoever succeeds her will see better economic times, but whether they do or not, they're going to have big shoes to fill," Hartig said.•
Please enable JavaScript to view this content.