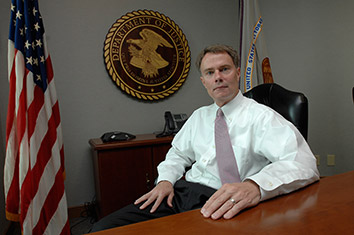 Joe Hogsett made a point after he was confirmed in 2010 to visit each of the 60 counties he represented as the new U.S. attorney for the Southern District of Indiana.
He met with local police, prosecutors and law enforcement officials. But he often needed no introduction due to his long involvement in Democratic politics, including election to statewide office as secretary of state under Gov. Evan Bayh.
After his appointment by President Barack Obama, Hogsett's new persona was an aggressive law-and-order federal prosecutor. He told officials his office would train its resources on gun violence, going after "the worst of the worst" offenders, public corruption and white-collar crime.
"For the most part, they congratulated me, wished me well," Hogsett said in an interview. But he said another reaction commonly followed.
"In many cases they'd pull me aside and ask me, rather sheepishly, what the U.S. attorney does," he said. "I came into office with a real desire to raise the profile of the office, because I know firsthand the importance of the work this office does."
Hogsett said he also wanted to give credit to the approximately 30 attorneys and 50 support staff who work in the district's Indianapolis and Evansville offices.
Hogsett also found law enforcement officials were frustrated that cases they recommended for federal prosecution didn't get made. His response: "We're not going to promise you the moon. … We're going to turn over a new leaf and open up channels of communication we've never opened up before.
"If you are genuinely successful in reaching out to local law enforcement, if you are there to assist them … 50 percent of your job is accomplished right there," he said.
But some question why particular cases end up in federal court and similar cases don't, and wonder about motivations of a far-more public federal prosecutor.
Making federal cases
Since Hogsett took office, more than twice as many people have been prosecuted in federal court compared to the number prosecuted under interim U.S. Attorney Tim Morrison, who retired in 2011.
Hogsett said 442 defendants were charged in federal court in 2011 – he called it "a banner year for the U.S. Attorney's Office" in a press release – compared with 216 in 2009. Former U.S. Attorney Susan Brooks, who resigned in 2007, prosecuted 369 people in her final full year.
Brooks and Morrison declined requests for comment.
Hogsett said that in 2010, 103 indictments were issued for felony gun charges compared with just 14 in 2009.
Federal charges increase the likelihood of pretrial detention and severity of sentences. Federal prisons require 85 percent of a sentenced be served; Indiana Department of Correction guidelines can cut time served on a sentence by half or more.
But Indiana Federal Community Defenders Executive Director William E. Marsh said the numbers cut another way. There's reason to be troubled by the spike in federal prosecutions and by a higher profile for the U.S. attorney, he said.
"I don't know exactly what the purpose of raising the profile is. There are potential downsides to raising the profile," Marsh said. "From my perspective, that has the potential of changing the balance between state and federal prosecutions. We've always had what I consider a good balance … they've federalized a lot more things that traditionally have been state court matters.
"It's a change in our district for sure," Marsh said.
Longtime Butler University history professor George Geib said such debates have existed as long as have federal courts. "The beauty and the curse of the American system is the federal/state balance is imprecise," said Geib, who with Indianapolis attorney Donald B. Kite Sr. co-authored "Federal Justice in Indiana: The History of the United States District Court for the Southern District of Indiana."
"It's very hard to compare different U.S. attorneys one to the other because they operate at different times, the membership of the court changes, and to a degree the personality and the procedures of a courtroom change," Geib said. "Much more serious, the issues change."
The key issue for Hogsett is gun crime. "If you are a convicted felon, you have no right to possess a firearm, period," he said. "Yet there are enormous numbers of violent felons in possession of firearms."
Hogsett also has prosecuted "straw purchases," in which firearms are bought and supplied to felons who use them to commit crimes. He gained federal convictions against 14 people peripherally involved in the murders of Indianapolis police officer David Moore and Terre Haute police officer Brent Long. At least two gun dealers also have been charged in federal court with selling to felons and/or failing to collect required documentation.
Such crimes require the force of federal law, Hogsett said. But Marsh said federal prosecutors also are picking "low-hanging fruit."
"One concern that I've seen a little bit of evidence of is there may be a tendency to take into federal court some cases we would say are easy cases," Marsh said, "because it raises the number of arrests. The reality is that for every gun case filed in federal court, there are probably 50 out there that can be filed in federal court but aren't. We've seen some really unjust sentences."
Image and perception
Hogsett also is targeting public corruption, appointing a working group to investigate allegations that includes members from such diverse federal and state agencies as the FBI and state police to the U.S. Postal Service. A hot line at the U.S. attorney's office has been established for whistleblowers.
Prosecutions such as that of former Indianapolis City-County Councilman Lincoln Plowman on charges of attempted extortion and soliciting a bribe often come to light when Hogsett steps in front of cameras in news conferences to announce them. Marsh said such publicity disadvantages defense attorneys, who often can say little publicly.
Hogsett said it's part of the job. "I'm in the unique position of being the only person able to speak for the federal (judicial) family."
Geib said federal prosecutors have become more visible nationally.
"Many of the changes that have come about, including the use of publicity, is reflected in the way that a new generation of prosecutors have chosen to try the case," Geib said. "It's not so much Joe as it is the spirit of the times. You're swimming in a stream, and you have to adjust to the currents and the eddies that are there."
In a sense, that's how Hogsett's life in public service has been. Elected secretary of state in 1988, he unsuccessfully ran for U.S. Senate and U.S. House in the early 1990s. A former Democratic state party chairman, he managed Hillary Clinton's presidential campaign in the state.
Hogsett was a partner at Bingham McHale (now Bingham Greenebaum Doll) in Indianapolis when Obama tapped him.
While Hogsett doesn't rule out potential future political aspirations, he acknowledges that he serves at the president's pleasure.
"I would like to continue doing what I'm doing," he said. "If there is a change in the White House, there will be a change in U.S. attorneys. It's all up to the voters."•
Please enable JavaScript to view this content.