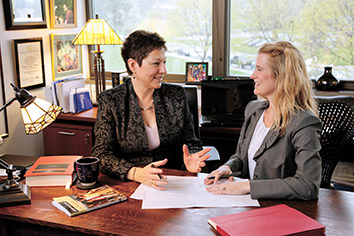 When Jennifer VanderVeen went to her first conference of the National Academy of Elder Law Attorneys about 10 years ago, things looked a lot different than they do now.
"There were maybe three or four of us younger attorneys under 40," said VanderVeen, 37, an attorney at Williams Barrett & Wilkowski in Greenwood who recently was appointed to NAELA's board of directors. "There's been a real explosion in younger attorneys in this area of law."
VanderVeen, who also chairs the elder law section of the Indiana State Bar Association, said those early meetings among more experienced lawyers felt intimidating at first. "But once you start talking to people and get involved, it's a very open group, it's very easy to be a part of, and you just fit right in," she said. "It's the most sharing and helpful group of lawyers you're going to find."
Reasons for the increase in young elder law practitioners vary. The aging boomer population and the anticipation of their growing need for legal service may be a factor, but most younger attorneys say they chose the career because they followed their hearts.
"We genuinely love what we do," said Connie Bauswell, 40, a private practice attorney with offices in Valparaiso and Schererville who in May received a master's degree in elder law from Stetson University College of Law in Gulfport, Fla. Bauswell thinks she might be the first Hoosier to earn the emerging degree offered by five or fewer law schools.
"Law schools are paying more and more attention to elder law," Bauswell said. "I think the focus over time will be less about tax planning and more about planning for the best quality of life and getting the best quality of care (people) can get than about dividing up the assets."
The development of these law school programs has motivated a number of younger lawyers to become elder law practitioners, said David McGuffey, a Georgia attorney who chairs NAELA's Young/New Lawyers section. McGuffey said the section has grown to 353 members since it was established four years ago.
"We have seen a remarkable change in the demographics," said McGuffey, who joined the organization as a young attorney. "The median age seems to have dropped."
Linda Whitton is the Michael and Dianne Swygert Research Fellow and professor at Valparaiso University Law School. Whitton has taught elder law at Valpo for about 20 years and is co-author of the book "Everyday Law for Seniors."
It's clear from demand to get into her course that more students are considering a career in elder law.
"We have to cap it at 50, and we usually have 80 students a year who want to get into the class," Whitton said. "There is a growing interest and certainly my law school has given it preeminence as subject matter in these times."
Indiana University Maurer School of Law also offers courses concentrating in elder law, as does Notre Dame Law School. The IU McKinney School of Law has no concentration course in elder law, according to a spokesperson. Maurer and Notre Dame personnel who could speak about the extent of their schools' programs or classes could not be reached for comment prior to Indiana Lawyer deadline.
Whitton said her students receive hands-on experience. They go into the field to interview service providers and learn about skilled nursing, agencies and programs that can offer assistance to potential clients, among other things.
As part of the class final project, Whitton creates mock fact scenarios to challenge students to represent the legal needs of a hypothetical client.
"I use elder law as really a template for teaching holistic client representation," Whitton said. "Your client isn't a legal problem; your client is a person who lives in the context of a family situation, usually, and a community. You're talking about a person's life here."
At 35, Amy Nowaczyk is a nontraditional student who took Whitton's specialized course. Nowaczyk graduated from Valpo law in the spring and is preparing to take the bar exam this summer.
A mother of three who also holds a master's degree in psychology, Nowaczyk became interested in a career in elder law after helping as a paralegal at the private practice of her stepfather, John M. O'Drobinak, in Crown Point. Nowaczyk hopes to broaden the scope of the practice to comprehensive elder law at the firm where she said O'Drobinak has been concentrating in estate planning for 50 years.
"I used to think the law was boring," she said. "To me, it was just rules and statutes and very dry." Her perspective changed after she began working with her stepfather and saw connections between law and psychology. Her experience persuaded her to become an elder law attorney.
Clients, she said, "had such a feeling of worry when they came in. They were scared to talk about death and what happens when they pass on. When I would meet with the clients and do signings, 90 percent of the clients when they left would give me a hug and say, 'thank you.' I could tell they felt at ease once we finished the process."
Elder law practitioners say they draw not just on client-relation skills but also a variety of intersecting practices such as estate and probate law, family law and administrative law.
The work may include matters such as simple wills or complex estate planning; crisis situations such as petitioning for guardianship of a wandering relative; or navigating the complexities of Social Security, Medicare, Medicaid and VA benefits.
"You have to be patient with the system and with your client," VanderVeen said. "What I can do in an initial meeting for an estate plan for a 40-year-old couple may take me an hour and a half with an 80-year-old."
The issues facing elder law attorneys have evolved since Whitton taught her first course in 1992. Among the changes is a greater emphasis on arranging for seniors to continue to live at home.
"The climate really is changing because boomers are becoming seniors," she said. "And boomers have elderly parents they are having to help navigate the issues of where to live and health care and that sort of thing." Boomers who've navigated the process are likelier to be proactive in planning for their own needs, she added.
Whitton remains troubled by what hasn't changed, such as the widespread mistaken belief that a senior must sell his or her home in order to qualify for Medicaid benefits.
"I really couldn't tell you where that comes from," she said in frustration. "That's a huge misconception."•
Please enable JavaScript to view this content.