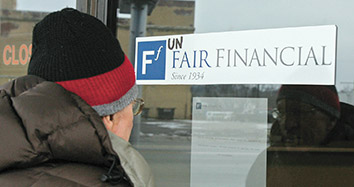 A New York firm is contacting Fair Finance Co. investors seeking to purchase their bankruptcy claims – a sign that investors in the defunct business could secure a sizable recovery.
Investors in the Tim Durham-owned company in June began receiving letters from Woodbury, N.Y.-based ASM Capital offering to buy their claims for 5.25 cents on the dollar.
While few investors are swayed by that amount, they figure an investment firm wouldn't have swooped in if its principals didn't believe the actual payouts would be far greater than the offer.
So-called claims trading isn't unusual in bankruptcy, especially in cases like Fair, where potential recoveries might take years to collect and many of the holders of claims are elderly.
"The people in that kind of business aren't running charities," said Doug Drushal, an attorney in Wooster, Ohio, representing about 200 purchasers of Fair Finance investment certificates. "They aren't going to make an offer unless they think there is a pot of gold at the end of the rainbow they can grab onto."
Fair, a consumer-finance company based in Akron, Ohio, halted payments on the notes after FBI agents raided its headquarters and Durham's offices in Indianapolis in November 2009.
 
The raid was part of a federal investigation that culminated June 20 with a jury convicting Durham on all 12 of the felony counts he faced. The jury found Fair co-owner Jim Cochran guilty on eight of 12 counts, and company Chief Financial Officer Rick Snow guilty on five of 12 counts.
A grand jury indictment unsealed in March 2011 alleged that, after Durham and Cochran bought the business in 2002, they raided its coffers for personal expenses and to cover losses at failing businesses they owned.
The transfers, recorded as related-party loans, never were repaid, and prosecutors said Fair soon was operating as a Ponzi scheme, relying on the sale of new investment certificates to pay off prior purchasers.
The outlook for the more than 5,000 Ohio investors who hold more than $200 million in Fair Finance investment certificates looked dismal until early this year, when bankruptcy Trustee Brian Bash sued two deep-pocketed financial firms he accused of aiding and abetting fraud.
Though by then Bash already had filed dozens of lawsuits seeking to recoup some of the insider loans and other transfers that investigators say gutted the business, many of the defendants had few if any assets. Even Kelly Burgan, an attorney for Bash, said a year ago that investors likely would recovery only a "teeny-tiny fraction" of what they were owed.
Attorneys for the trustee no longer will speculate on potential recoveries. During testimony in the Fair Finance trial June 18, Bash said he'd recovered $5.6 million, with just $518,000 coming from collections on the massive related-party loans prosecutors say brought down the company.
Under cross examination by Durham defense attorney John Tompkins, Bash acknowledged it is his "hope and belief" he'll be able to recover much more.
Lawyer fees
Bash in March asked Ohio bankruptcy court Judge Marilyn Shea-Stonum to switch compensation for his counsel – the Cleveland law firm Baker & Hostetler – from hourly fees to contingency fees, with attorneys collecting one-third of recovered funds.
Investors interpreted the move as a sign the legal team is so optimistic it can haul down large settlements or court judgments that it is willing to give up a sure thing – millions of dollars in hourly fees – for the potential of a much bigger payoff. Experienced attorneys working on Fair litigation have been charging as much as $400 an hour.
After the judge rejected the proposal, the trustee this month proposed lower contingency fees – 30 percent of the first $50 million recovered, 15 percent of the next $50 million, and 10 percent of all recoveries exceeding $100 million.
The judge has not ruled on the new request.
So far, expenses, including attorney fees, have eaten up the lion's share of recoveries, and there have been no distributions to investors.
While the legal fees frustrate investors, they're hopeful the lawsuit spree won't be for naught. Buoying their spirits was a suit the trustee filed in February seeking up to $1.2 billion from two of Fair's lenders – Rhode Island-based Textron Financial Corp. and New York-based Fortress Credit Corp.
The suit charges the companies, which have billions in assets, turned a blind eye to Durham's fraud because they held first liens on the company's only assets with real value – finance contracts it bought from health clubs and other firms providing extended-payment plans to their customers. As a result, they were positioned to collect what they were owed regardless of whether Durham looted the company.
The suit cites Textron emails sounding alarms about the extent of the withdrawals from Fair. One, sent by a Textron vice president to Durham in November 2003, expresses concern that Durham's use of proceeds from note sales "as a piggy bank" to fund losses at other businesses was "wrong" and "could come back to haunt us."
In March, Bash sued former Fair owner Donald Fair, saying he kept quiet about how Durham was running the company to ensure he received the full $20 million due from the purchase.
To collect the final $3.2 million in 2007, Donald Fair threatened to "create a 'run on the bank' that would halt the Ponzi scheme if he wasn't paid in full," the suit alleges. "In essence, Durham and Cochran 'bought' Don Fair's silence by paying him in full."
Including punitive damages, that case seeks more than $150 million.
'Allegedly salacious quotes'
To no one's surprise, the lenders and Fair deny the allegations and are girding for battle. In a motion to dismiss filed in April, attorneys for Textron scoffed: "The trustee here has engaged in an ill-considered rush to judgment, ignoring the facts on the ground at the time, and cherry-picking documents and allegedly salacious quotes from documents, while ignoring clearly exculpatory information that does not fit the trustee's theory."
The trustee's move to sue lenders with substantial resources "makes everybody a lot more optimistic," said David Mucklow, an Akron attorney representing about 260 investors.
ASM, which specializes in buying claims in bankruptcy, believes the recovery for Fair investors ultimately will be greater than what it's offering, but the litigation to collect that money likely won't wrap up for years, said Jared Muroff, the company's managing director of research.
"We do think … it is a good opportunity for investors to take money off the table now," Muroff said. He said the offer is open to all but the smallest investors, those with less than $10,000 in investment certificates.
Firms in ASM's field sometimes offer far more than pennies on the dollar. Reuters reports, for instance, that claims in the Bernard Madoff bankruptcy case are fetching around 60 cents on the dollar. The trustee in that case, Irving Picard, has recorded $9.1 billion through legal settlements, and his office has said creditors ultimately could get a full recovery on their more than $17 billion in allowed claims.
Mucklow, the attorney for Fair investors, isn't impressed with ASM's offer, in part because the contract appears to give it the right to claw back payments from investors under certain circumstances.
"I am cautioning my people to look closely," he said. "If I were in their shoes, I would wait."
James Coco, a certified public accountant in Medina, Ohio, who is owed $200,000, isn't interested.
"Fifty percent would get my attention," Coco said.
Donald Russell of Doylestown, Ohio – whose family lost $475,000 – was more outspoken.
"It's insulting, totally insulting," he said of the offer. "My view is we have been patient for 2-1/2 years, and we are finally getting some answers. Now, at this point, we have these bottom feeders who are trying to victimize us some more."•
Please enable JavaScript to view this content.