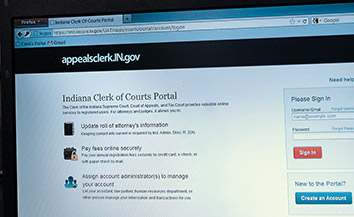 State court officials heard the grumbling of lawyers who for the first time last year had to register, pay fees and provide contact information online.
It was confusing. Difficult to navigate. Frustrating.
Now it will be different.
"We think this will make it a lot less stressful for people," Indiana Supreme Court spokesperson Kathryn Dolan said of the revised registration portal that will appear Aug. 1 at www.appealsclerk.in.gov.
Court officials provided a demonstration of the revised site that more than 20,000 active and inactive Indiana attorneys, judges and non-attorney judges are required to use to register and pay fees. Lawyers also can use the site to update contact information, office location and other information required by law or court rules.
When attorneys log in, they'll see new screens that court administrators hope address some of the concerns that were raised after the site debuted last year.
 
"The desire to make it easier to use did drive us to redo the front end," said Robert Rath, director of appellate court technology.
Court staff worked with attorneys and others in focus groups to learn what worked better and find improvements to make the system more intuitive, easier to navigate and more user-friendly.
"The key difference is the screens are rearranged and the processes are configured in a 'wizard' format," Rath said. That means for each step in the registration process, prompts will appear when information is required, and users will be cued when they've completed various portions of registration.
For returning users, information logged previously will carry over into the new portal. "The vast majority of attorneys won't have that many changes to make," Rath said.
A frequent complaint about the system has been that users were uncertain when they had completed various sections of the online registration forms. Attorneys are required to submit the following information:
• Basic contact information
• Home and business addresses
• Notification settings (where they prefer to receive various email notices)
• Bar status
• Interest on Lawyer Trust Account (IOLTA) certification
• Surrogate attorney designation
With the new portal, an attorney logging in will see a revised "dashboard" containing links to each of the registration sections. Each link navigates to a new window with prompts for the required information. When each section is finished, a "completed" checkmark icon appears for that section on the dashboard.
The new portal will look strikingly different on Aug. 1. Division of State Court Administration web coordinator Lindsey Borschel said that when the new site launches, the home page of www.appealsclerk.in.gov will include a banner reading "It's that time of year again," advising users that fees are due.
The licensing fee for active attorneys is $145. Those fees pay for programs such as continuing legal education, the Supreme Court Disciplinary Commission, and the Judges and Lawyers Assistance Program.
The home page will welcome users with a screen that asks, "What would you like to do?" and links to each of the sections where information can be updated.
"Everything they can do on the portal will be available on that screen," Borschel said.
Chuck Dunalp, executive director of the Indiana Bar Foundation, is among those who worked with court administrators to refine the registration portal regarding IOLTA certification. "One of the issues before was that attorneys didn't necessarily have to see that screen and verify everything" during registration, he said.
Another problem was outdated, incorrect or incomplete information, Dunlap said. To address those issues, the revised system will include a drop-down menu of financial institutions.
"I think we have a few systems in place that streamline it for attorneys," Dunlap said. "We're hoping to repopulate the data with the best information we have."
The bar foundation oversees IOLTA proceeds that are used to fund the state's pro bono districts. Dunlap said attorneys are required to complete IOLTA certification even if they are exempt; failing to do so constitutes an incomplete registration. The revisions to the web portal should reduce the follow-up required for attorneys who miss that step in registration.
Online registration saves hundreds of hours of duplicative work for Dunlap and court staff. In years past, Roll of Attorneys Administrator Darla Little received the 20,000 or so registration forms in the mail.
The forms included IOLTA sections that went to the bar foundation and copies were given to the Commission on Race and Gender Fairness to track responses to the optional questions of race and gender. Each section of each form had to be manually entered into databases.
"That was a time-consuming process," Dunlap said. It also was one that allowed submission of incomplete registration forms – particularly when an attorney failed to complete the IOLTA section. The revised portal will prompt attorneys when that section or other required sections haven't been finished.
The new site should help information stay current as well. Attorneys can visit the site to update information anytime it changes. Information such as change of address is required to be updated within 30 days of a change.
Rath said the portal also is designed with the potential of expansion to ultimately include other areas of licensing requirements such as continuing legal education. He said the attorney database "is the foundation of so much of the work we do."
Check, please
The introduction of online registration last year required attorneys for the first time to pay fees electronically.
Rath said enough people voiced a desire to pay by check that the option will be made available on the site this year. People at larger firms who file registrations on behalf of numerous attorneys were among those who wanted to pay by check for record-keeping purposes, he said.
In another change, attorneys will no longer receive notices in the mail about registration, Little said. Those notices now will be sent by email to the email address on file with the clerk.
Letters will be mailed to newly admitted attorneys registering for the first time.
Dolan said current registration figures show 18,037 active attorneys; 2,908 inactive; and 16 on probation.•
Please enable JavaScript to view this content.