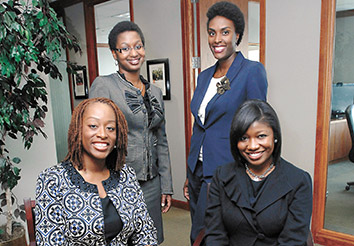 TaKeena Thompson, president of the Marion County Bar Association, wants lawyers to know that the MCBA is just as important today as it was when it was founded in 1925.
"The Marion County Bar Association is still relevant. We're here to serve, we're here to continue to make sure that diversity is taking place in the legal profession, and we want to be that support group to minority attorneys as well," she said.
To remind people about the relevance of the MCBA, Thompson came up with a slogan that captures its goals in 2012: "Revisiting Our Past, Rebuilding Our Present, Reshaping Our Future."
In keeping with that theme, the MCBA is unveiling new networking opportunities, a fresh approach to fundraising to benefit Indianapolis youth, and a partnership designed to foster diversity in the profession.
New efforts
At its strategic planning meeting this year, senior members of the MCBA reported feeling disconnected from younger lawyers. In an effort to close that gap, the MCBA rolled out a new program in June, "Coffee Chat," that allows bar members and judges to interact in a personal setting.
"I think a lot of people were excited. Our judges
were excited because it's a nice way to bring our younger practitioners and older practitioners together, which has kind of been a concern of the MCBA," she said.
 
The event featured Indiana Court of Appeals Judge Carr Darden, retired Marion Superior Judge Webster Brewer, current Marion Superior Judges David A. Shaheed and Barbara Crawford, and former Warren Township Small Claims Judge Ricardo Rivera.
Cohen & Malad LLP, where Thompson is an attorney, hosted the event, allowing for a small-scale get-together where lawyers could ask the judges questions and get candid responses.
Promoting diversity
When the MCBA was founded, the American Bar Association did not accept African-American lawyers as members – and the ABA maintained that restriction until 1952. Thompson thinks attitudes about diversity have changed for the better since then. She pointed to Indiana State Bar Association 2009-2010 president Roderick Morgan, the association's first black president. Thompson thinks that the selection of Morgan to lead the ISBA "speaks volumes" to diversity and how it's increased and progressed in Indiana.
But the MCBA is focusing on doing more to promote diversity and inclusion in the legal profession.
The MCBA is partnering with Shortridge Magnet High School for Law and Public Policy in Indianapolis and Indiana University Robert H. McKinney School of Law to introduce young students to the legal profession. Curriculum for the new program, which is to be implemented for the 2012-2013 school year, is in development.
"I'm hoping through that partnership, we can create a pipeline and help increase diversity that way, so that we see minority students going from middle school and high school into college and into the legal profession," Thompson said.
Jimmie McMillian, a partner at Barnes & Thornburg LLP, joined the MCBA as a law student in 1999. He said the MCBA may offer young lawyers the support they need early in their careers.
"It's an extremely comfortable and welcoming environment – and that's a lot of what you need. You're free to ask questions, to get information, you're free to be yourself, and I think in some ways it's almost a family-like environment. As a young lawyer, you want a place where you don't feel like you're in a foreign land," he said.
Community outreach
McMillian sees the benefit of participation in MCBA outreach efforts.
"Through my involvement in that organization and involvement in some of the community service that we were able to initiate, I think I became more visible to community leaders as a whole, and that has served me well professionally and personally," he said.
MCBA board member Noell Allen talked about a new outreach effort planned for July 21. The James C. Kimbrough Bar Association, an African-American bar association based in Merrillville, contacted the MCBA about working together on a fundraising project. The MCBA identified the Wheeler-Dowe Boys & Girls Club, in Indianapolis, as a worthy cause because of its efforts to combat childhood obesity and associated health problems.
"We chose the Wheeler-Dowe Boys & Girls Club because we wanted to focus on some of the elements that affect the African-American community, one being diabetes," Allen said.
The two bar associations initially considered having a charity golf outing, but wanting to do something original, they decided to hold a basketball tournament.
Allen said the event at Wheeler-Dowe will include a lawyer basketball game comprised of two 10-minute halves, a three-point contest, and a half-court shootout contest. The event is open to all members of the legal profession, and they're still looking for contestants who can participate for a fee of $15. Allen said the MCBA is also working on getting a few celebrities to attend the event and sign autographs for children.
The MCBA expects donations and sponsorships to bolster their fundraising efforts.
"If we can give the Wheeler-Dowe Boys & Girls Club a nice check of $15,000 to $20,000, that would be a success," Allen said.
The day after the Wheeler-Dowe fundraiser, the MCBA will hold its "Going to Church" pro bono program – which is similar to the ISBA's "Ask A Lawyer" program – at Friendship Missionary Baptist Church in Indianapolis.
The MCBA will also hold a retirement dinner for Darden on Sept. 14 at the Indianapolis Marriott Downtown. Thompson said save-the-date reminders will be mailed soon. Bar leaders also hope to host two more Coffee Chat gatherings this year.
New energy
Thompson credits an active and dedicated board of directors with bringing new momentum to the MCBA. And Allen said that if the MCBA seemed a bit silent in the past, all of the new initiatives will help remind people of the group's relevance.
McMillian explained that through his MCBA membership he has forged connections with people who share his cultural heritage, and found new opportunities.
"As a lawyer, you're planting seeds and you're hoping that they grow, and the MCBA is definitely a place – definitely fertile ground – to plant those seeds and see them grow, and that's what it's meant for my career," he said.
For more information about MCBA events, contact TaKeena Thompson at [email protected]•
Please enable JavaScript to view this content.